How to Use Lego® Horses in a Small World Equestrian Event
Round up some LEGO® horses and riders for this small world equestrian event. Build an obstacle course with fences and walls, then jump in and have fun!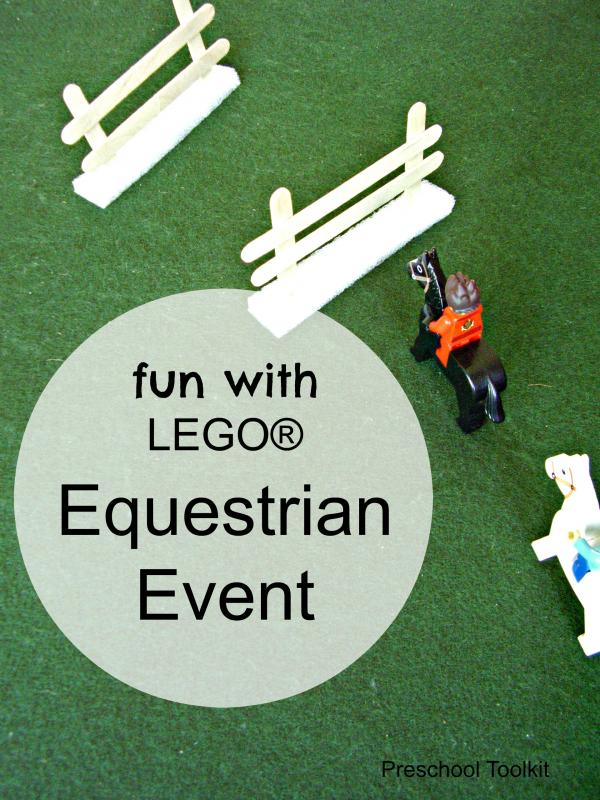 This post contains affiliate links. Privacy and Disclosure
These little bricks offer amazing opportunities for imaginative play - they can easily become towers in a castle or rockets on a launchpad. You can extend the play with accessories such as fences, vehicles and animals.
If you have a few horses and riders you can set up an obstacle course for your own equestrian event.
Disclosure: LEGO®is a trademark of the LEGO Group of companies which does not sponsor, authorize or endorse this site. The activity and images in this post are entirely my own.
Equestrian event with Lego®

Equestrian jumping is an exciting Olympic event. Horses are trained to jump over fences, ditches and even brick walls! The grace and strength of these animals never fails to impress me.
Creating an obstacle course for small world play presents an interesting challenge for you and the kids.
Learning with Lego® (affiliate)
Supplies for equestrian event

LEGO® bricks, horses and riders
artificial flowers
burlap or felt
homemade fences
Along with the building bricks, gather materials you have on hand such craft sticks, small plastic containers, wood blocks, or small boxes.
Plan fences, bushes, walls, water hazards or other obstacles for your course.

Instructions for equestrian event
1. Spread a piece of burlap fabric on a table or on the floor to outline the arena.
2. Build a brick wall using LEGO® bricks.
3. Make fences with craft sticks as shown in the photo. Support the fences in solid foam pieces or play dough. The fences used here are the ones from our farmyard small world play.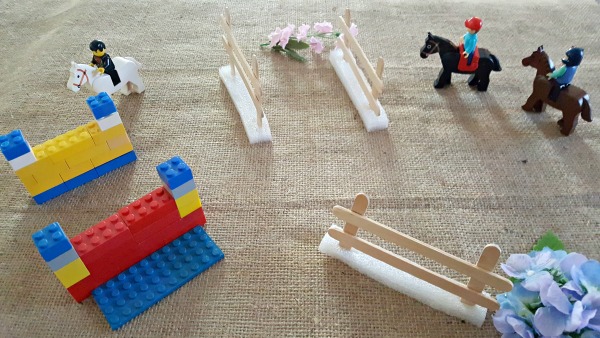 5. Arrange the walls and fences to form the obstacle course for the horses and riders.
6. Add a water hazard with a piece of flat blue brick or a piece of blue felt.
7. Place some flowers next to the fences.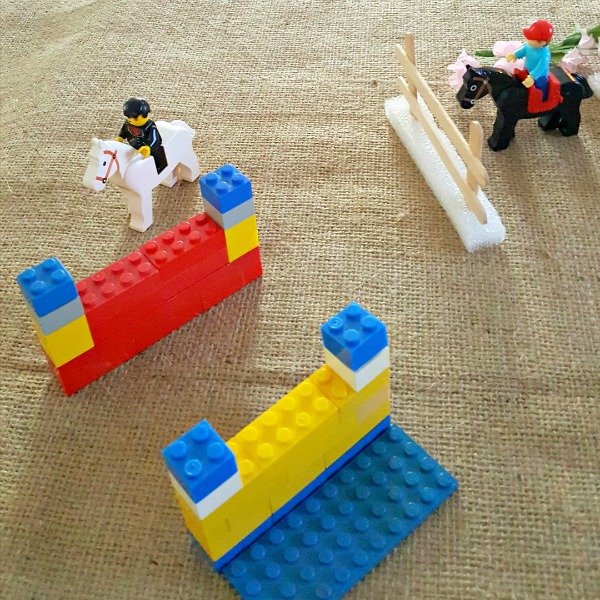 Line up the horses and you are ready to begin the main event!
Equestrian event: jumping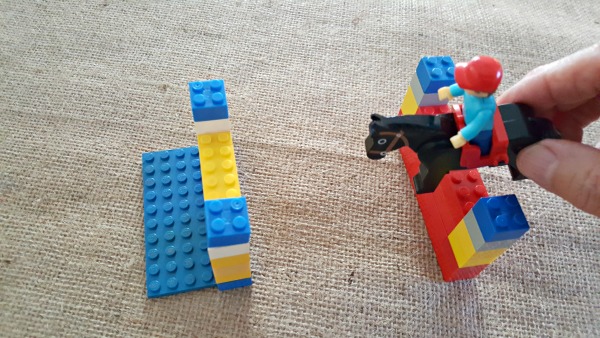 Here are a few options you can include in the play:
Time each rider as he goes through the course.
Count the obstacles as your horse jumps over them.
Count the strides your horse takes between fences.
Measure the height and length of a fence or brick wall.
Set an actual dish of water on the felt pond for your horse to splash into!
Have fun training your horse to make some amazing jumps!
Visit our LEGO Pinterest board for imaginative ways to build and have fun!