Preschool Sorting Activity Using Recycled Denim Pockets
This unique sorting activity is easy to make with pockets removed from worn or discarded denim clothing. You'll reduce waste, and kids will have fun counting and sorting as they fill the denim pockets.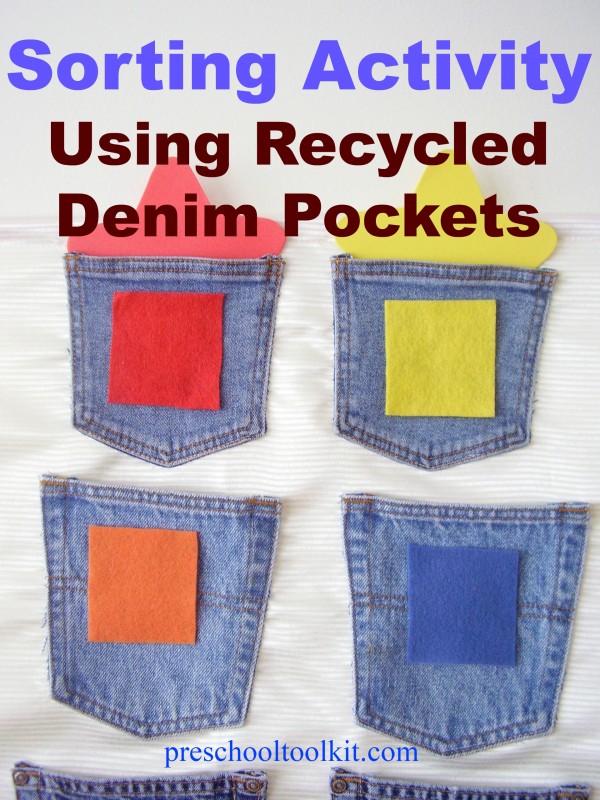 This post contains affiliate links. See our full disclosure.
Teachers and parents love finding ways to recycle materials to provide opportunities for learning through play.
Denim pockets are easy to up-cycle for a matching and sorting activity.
Preschool math activity with denim pockets
This is such a fun way to recycle denim! Simply remove the pockets from jeans and other clothing.
Before sending clothes to the landfill, look for other ways to recycle them. This might include sending to donation boxes, nearly-new retail, or friends and relatives.
This DIY project is a fun way to demonstrate recycling to your kids. Reuse denim pockets for counting and sorting games to support beginning math skills.
Supplies for denim pockets games
Instructions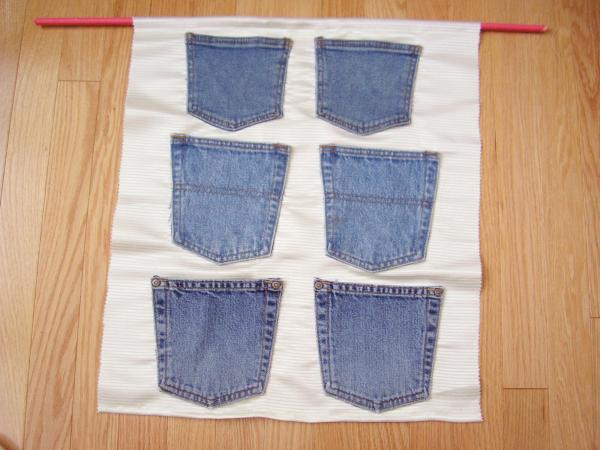 We used a sewing machine for this project but you can also sew the pockets on by hand.
1. Remove denim pockets from clothing.
2. Lay the pockets onto a fabric panel. Pin in place.
3. Stitch three sides, leaving the top open.
4. Fold over the top of the panel to make a rod pocket.
5. Insert a dowel for hanging the panel.

How to play math games
Sort colors:

Stitch felt squares of different colors to the pockets or apply with a glue gun. Insert the foam shape into the pocket with the matching color.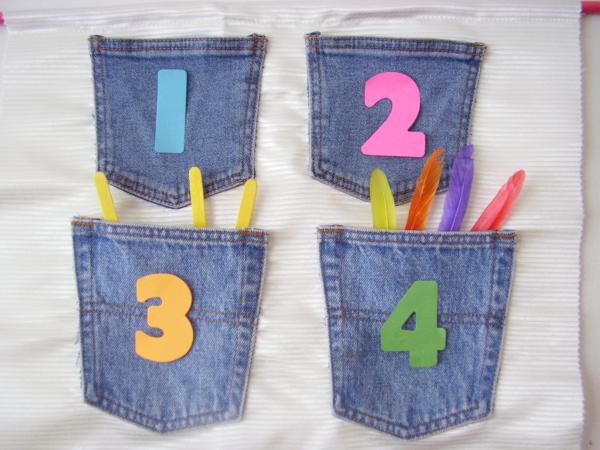 Sort numbers:

Stitch or glue numbers on each pocket. Count and sort items such as craft sticks or feathers.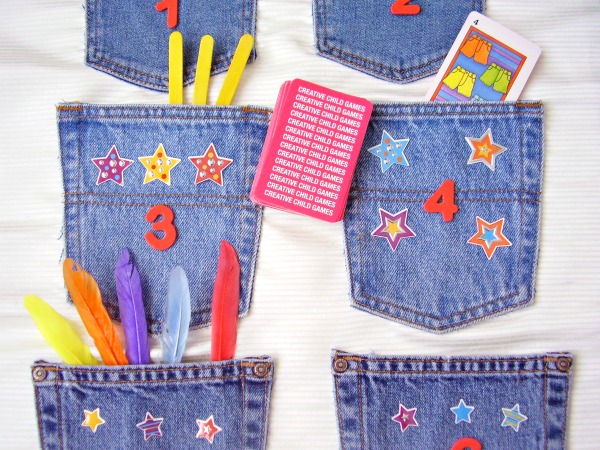 Add self-stick stars or other shapes along with the numbers to reinforce counting skills.


Hang the panel on a wall or door where it is accessible. Kids can choose from a variety of materials you provide, or simply find objects that will fit in the pockets.
This is a great activity for engaging fine motor, counting and reasoning skills as kids find objects that will fit in the pockets, then sort and count, fill and empty the pockets.