Small Group Activities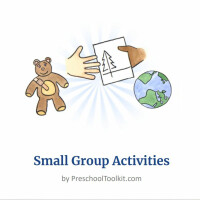 $4.99
This digital download (PDF) contains 68 small group or circle time activities to support shared experiences and early learning skills.
Small group time is a special opportunity to engage preschoolers in learning through play. This e-book will help you plan your best circle times with engaging activities and hands-on fun.
The options in this digital product are easy to provide without special props or resources. The activities promote sharing, listening, observing, and working and playing together.
Activities are open-ended; the value of each activity is in the process (i.e. play) rather than the product. Outcomes may vary according to the number of participants, age and skill levels, and available materials.
Here is a link to the blog post with more information about this product.
Activities are mostly evergreen, with some seasonal themes included.
An artist friend has contributed drawings to the activities that will provide inspiration. You can easily alter or enhance the games and activities with your own ideas.
NOTE: A "Download Sample" is available from our Art and Craft Activities, showcasing the format of the four e-books in the series.