Easy Christmas Ornament Yarn Craft Kids can Make
This Christmas ornament is beautifully crafted with yarn scraps, and easy enough for kids of all ages to make. Toddlers, preschoolers and even older kids will love making special yarn ornaments as gifts for family members, teachers, and friends.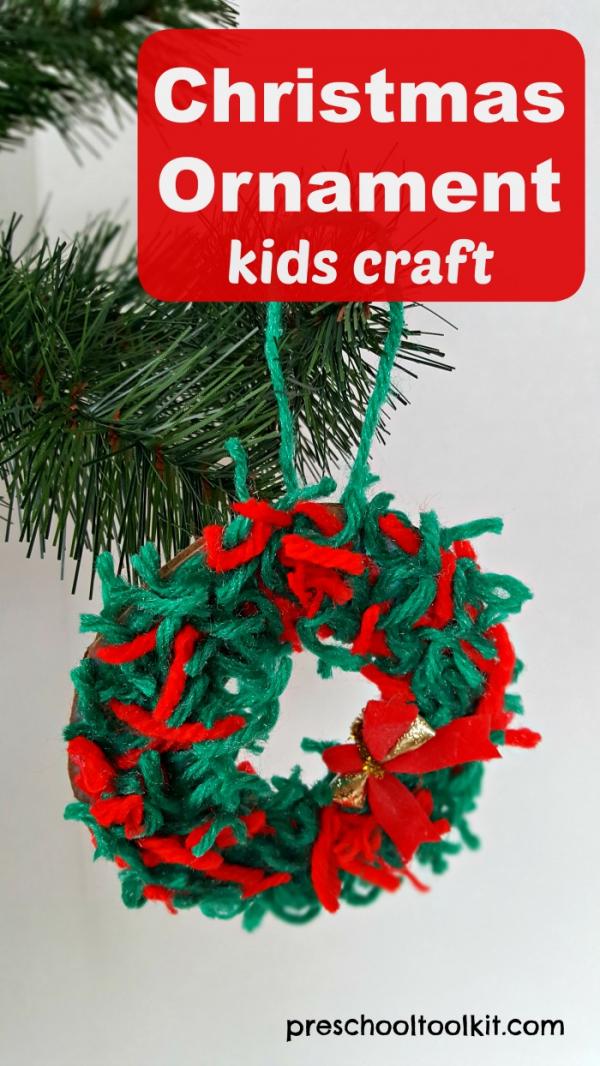 This post contains affiliate links. Privacy and Disclosure
Kids love giving gifts as much as they love receiving them. The ones they make themselves are even more special.
Kids can easily make these pretty Christmas tree ornaments with colorful yarn scraps and lots of glue!
Yarn ornament craft
This activity is shared with a Kid-Made Christmas Gift Series , at Teach Me Mommy, where you'll find lots more gift-crafting ideas to choose from like this Plaited Foot Keepsake & Holder from Creative World of Varya.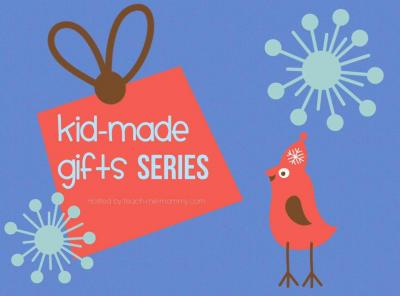 Supplies for Christmas ornament gift: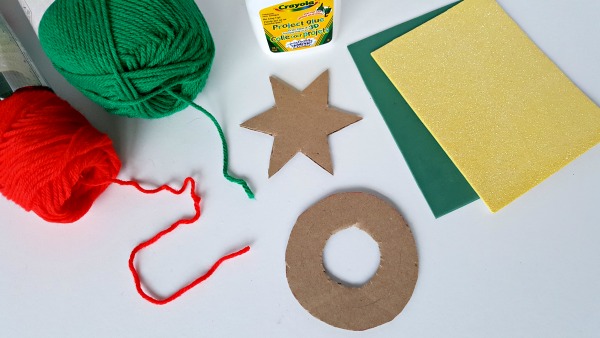 cardboard, or foam sheets
Instructions:
1. Cut shapes for the ornaments from cardboard. We used a cardboard circle for the wreath. We used a cardboard star as a pattern to cut a star from a glitter foam sheet. See the results below!
2. Cut yarn into very small pieces, approximately 1 inch (2.5 cm) or less.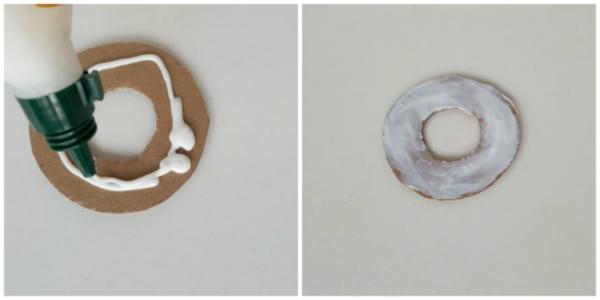 3. Put lots of glue on the cardboard shape. Use your finger or a paint brush to spread it over the whole surface.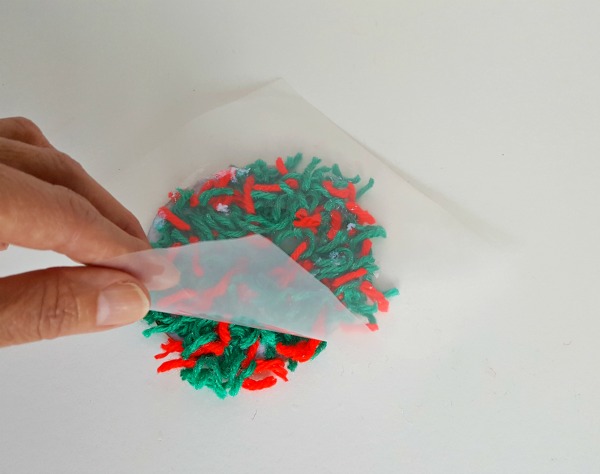 4. Drop a thick handful of yarn onto the glue to cover the shape completely.
5. Place a piece of plastic, parchment paper, or even a foam tray over the yarn and press gently to secure the yarn to the ornament. The plastic will prevent the glue and yarn from sticking to your fingers as you press down!
6. You can trim the yarn that is hanging loosely over the sides, or tuck it into the wreath where there might be open areas with a bit of glue.
7. Tape a piece of yarn to the back for a hanger, or make a hole in the top of the ornament and loop yarn through the hole for the hanger.
Make a colorful ornament with a variety of yarn scraps.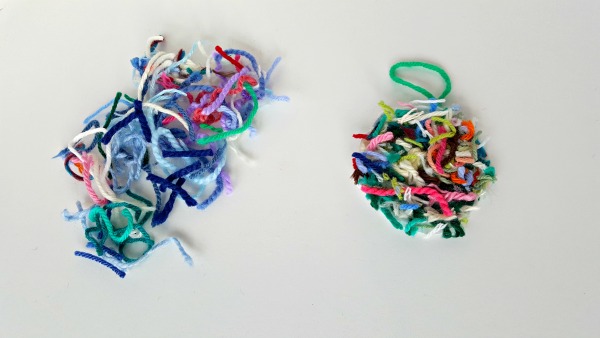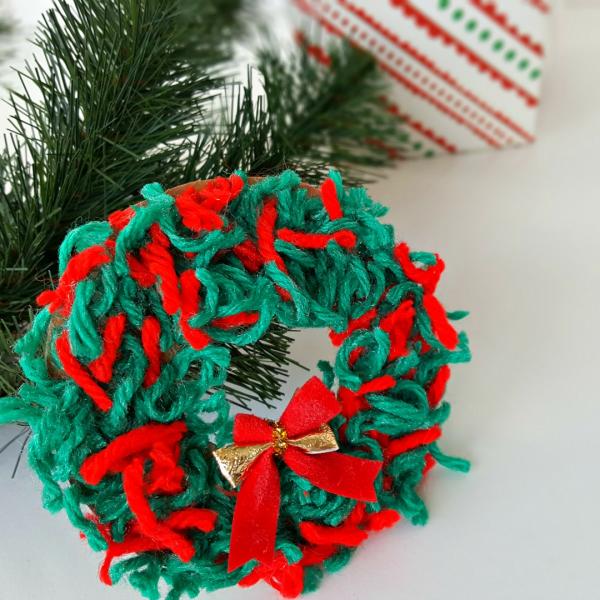 Christmas wreath ornament!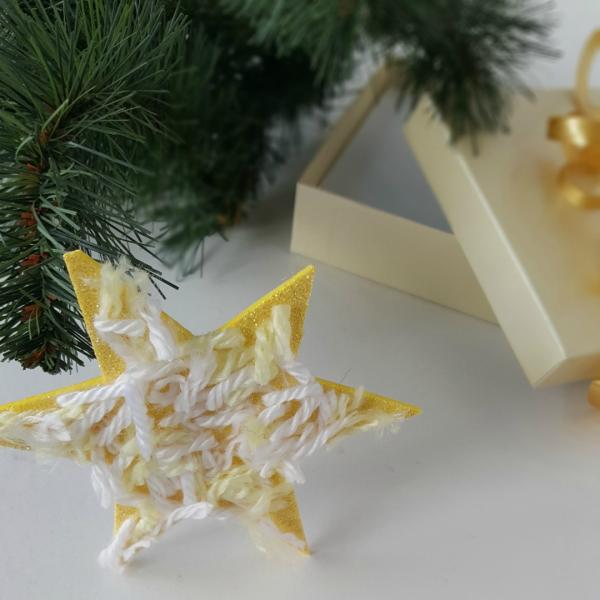 Christmas star ornament!
Your ornament is ready to be placed in a festive box or bag for gift-giving!


Options for completing your ornament:
We used a sticky-back glitter sheet for the star. If you use sticky-back foam sheets you can stick two shapes together to make the ornament thicker, with a glitter surface on the back.
If you use cardboard, you can either glue yarn to both sides, color with crayons or markers, or paint the cardboard first and let dry before continuing to glue on the yarn.
With a simple activity like this one that gives beautiful results, kids will want to make more than one for gift-giving this year!
Awesome Holiday Fun and Learning