Kids in the Kitchen Sensory Activity
Kids can explore and discover with a hands-on kitchen activity. This simple activity is a fun way for kids to share time with you in the kitchen while engaging in some awesome sensory play.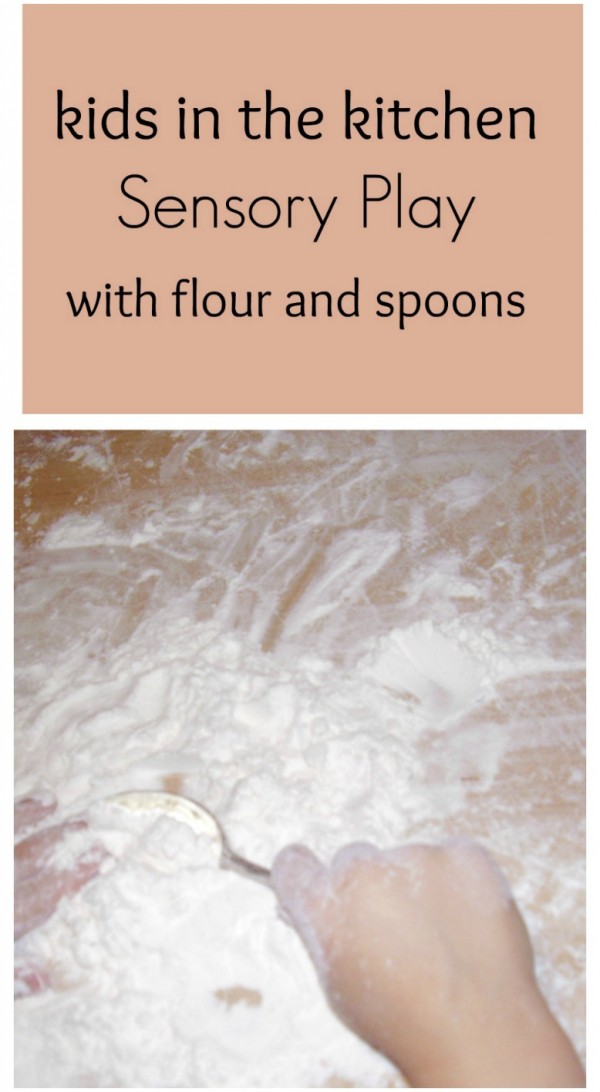 This post contains affiliate links. Privacy and Disclosure
Kids love to help in the kitchen: squishing egg yolks; pouring liquids; stirring sticky batters. Much of the work in the kitchen is play to preschoolers!
When the measuring and mixing are over, you can occupy your kitchen helper by sprinkling flour over the counter or a cutting board to extend the fun while the cookies bake.
Sensory activity with flour and spoons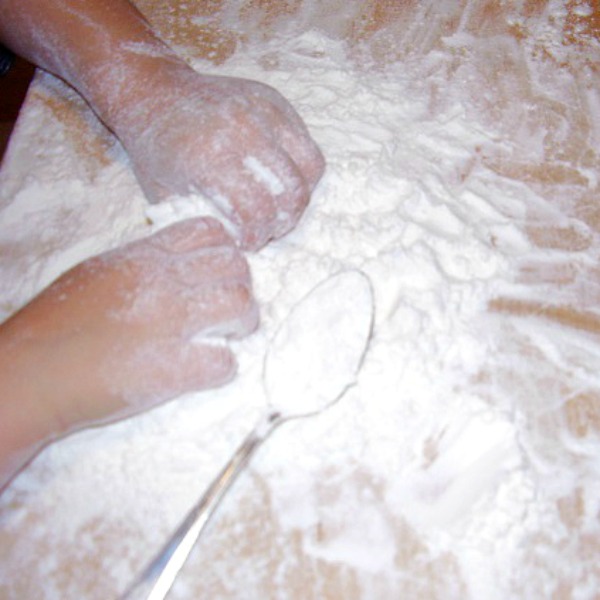 Kitchen activities can get a little messy, especially with flour, so wear an apron and cover floor area or furniture with a drop cloth if necessary.
Fortunately stray flour is easily brushed from hair and clothes.
There are no instructions or rules for this child-led activity. Simply place a mound of flour on a clean surface and let kids explore.
Kids can run their fingers through the flour, dig with spoons, and make shapes with their fingertips. The use of hands and fingers, with tools and on their own, contribute to building fine motor skills along with the sensory experience.
You can join in the fun by helping to build a flour mountain, engaging language skills with conversation, and washing up together.
Here are a few suggestions for conversation starters:
Does flour feel warm or cool?

This clump of flour looks like a cloud. Can you see an animal shape anywhere?

How many handfuls of flour do you need to bury the spoon?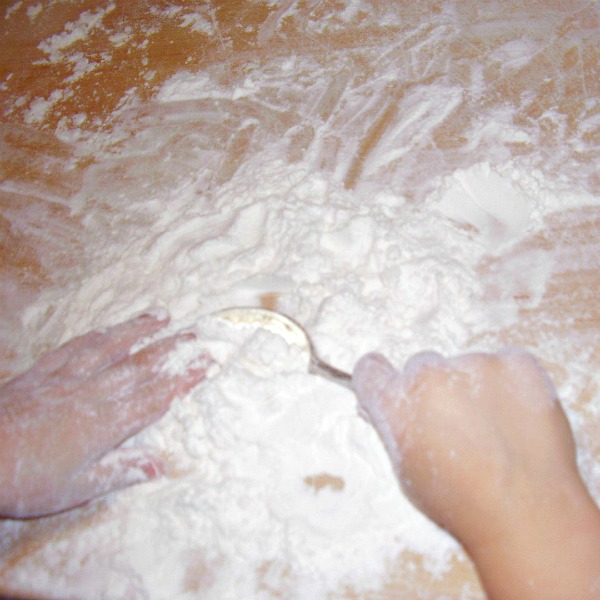 Learning through play
1. Draw letters and numbers in the flour with fingertips or the handle of the spoon.
2. Pick up some flour with one hand; with two hands.
3. Make hand prints.
4. Fill a plastic measuring cup with flour. Pour it out and fill again.
5. Provide a variety of utensils - wooden spoon, soup spoon,measuring spoons.
6. Introduce small toys such as vehicles or animals.
Keep this activity simple, with just flour and a cereal spoon. Your early learner will engage with the materials in his or her own way.
Some kids want to squish the egg yolks, others want to stir the dough. Chances are all kids want to share the cookies warm from the oven!
Messy activities aren't always the easiest to provide but they are valuable in supporting early learning and developmental skills. Planning and preparing for the activities with simple setup and cleanup makes them easier to enjoy. Offer them when you can to promote wonder and exploration in your toddler or preschooler.