Preschool Literacy Activities Using Foam Letters
This literacy activity with foam letters helps preschoolers identify the letters of their names. This is a great start for learning to recognize and name the letters of the alphabet. Letter match-ups and tracing are part of the fun in this easy literacy activity.
This post contains affiliate links. Privacy and Disclosure
It's an exciting time for kids when they learn to recognize the letters in their names. Kids will pick out the letters in road signs or book covers. They will proudly point out their names on their books or other personal items.
You can easily prepare fun activities like this one with foam letters for kids to practice letter recognition.


Foam letters activity
A set of foam letters provides fun and learning for preschoolers. Kids can use letters to spell their names or to make greeting cards or name tags.
In this post we'll offer two projects you can do with foam letters.
Supplies
cardstock
stencil
foam letters
colored pencils
Foam letters are fun to work with but you can do these activities with wooden or magnetic letters. Each material adds a different sensory experience to the activity.
Kids can help choose pictures from magazines or catalogs, glue them to the cardstock with a glue stick, and stencil letters onto the cardstock.
You can prepare the materials ahead of time for younger children, then introduce them to letter matching activities.
Instructions
Activity #1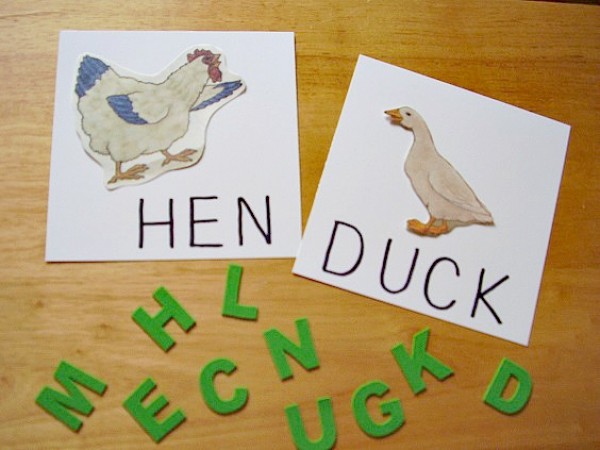 Make a set of cards with large letters and colorful pictures.
Cut 5-1/2 in. (14 cm.) squares from card stock.
Glue a colorful picture to each card.
Stencil the letters onto the cards. After stenciling, highlight the letters with a marker or crayon.
Laminate the cards with contact paper for durability.
Activity #2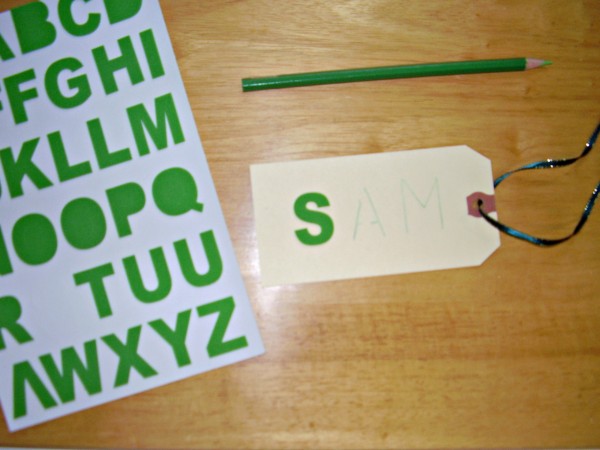 Make name tags using a stencil and self-adhesive letters.
Kids can stencil the letters of their names onto a label, then choose the letters in their names from a sheet of self-adhesive foam letters.
For younger children, you can stencil their names onto the tag and provide the corresponding letters for matching.
Use the name tags to label personal belongings, a coat cubby, or an art project.
Kids especially love seeing the letters that form their names, and they enjoy simple matching games.
Activities like these that promote letter recognition are both fun and engaging, and benefit early literacy skills.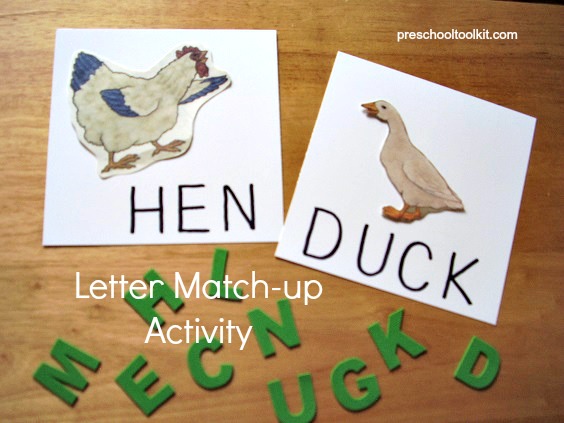 Learning through play
Place a set of match-up cards on the table, one for each child. Place alphabet letters in a feely bag. Each child draws a letter from the bag and matches it to one of the letters on his card, or passes it to someone who needs it.
Place a set of alphabet letters on the table. Make the sound of the letter T. Children try to pick out the letter T. Think of other words that begin with the letter T. You may want to use visuals such as pictures or objects to match sounds. Continue with other letters.
Song: I Want to Eat Apples and Bananas - Provide each of the children with a "vowel" printed on a large card. As you sing each verse, the children can hold up their cards with the letter corresponding to the vowel sound you are emphasizing.
Song: B-I-N-G-O - Provide cards with the letters so you can eliminate a letter as you sing, substituting a clap for a letter until you are only clapping and no letters are being displayed.