Preschool Art Activity with Tape and Markers
Kids can make designs on a cardboard canvas with tape and markers. The process of applying tape and colorful stickers will help strengthen fine motor and creative skills in early learners.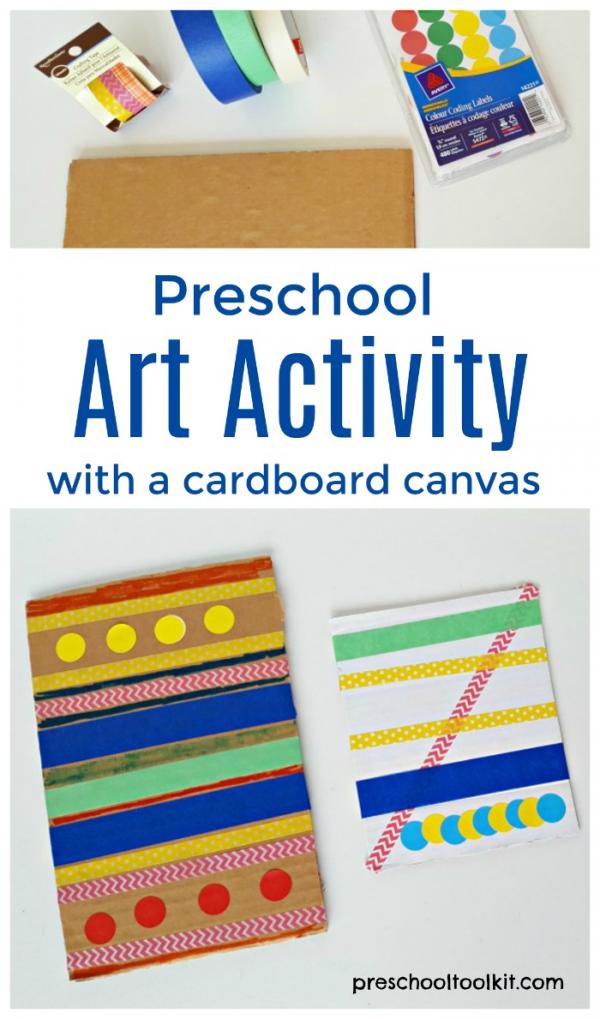 This post contains affiliate links. Privacy and Disclosure
We always seem to have a bit of cardboard on hand - an empty cereal box, a shipping carton, or packaging material. The cardboard you would normally just throw away can be used as a canvas for an art activity.
A large piece of cardboard can also be used as a table protector. Place it under paints and other craft materials when doing art projects with the kids.
Related: Spring flowers made with corrugated cardboard.
Art activity with a cardboard canvas
For this simple art activity, recycle some cardboard to use as a canvas for making designs with stickers and tape.
This is child-led activity, which means kids can do the 'work', while grownups guide and 'help' when needed or requested. Grownups can also participate by making artwork of their own alongside their budding artist.
Supplies
masking tape or painters tape
narrow washi tape
self-adhesive stickers
crayons and markers
cardboard
Cut pieces of cardboard into different sizes and shapes.
Provide a variety of tape in different colors and widths, as well as crayons and markers in different colors.
Instructions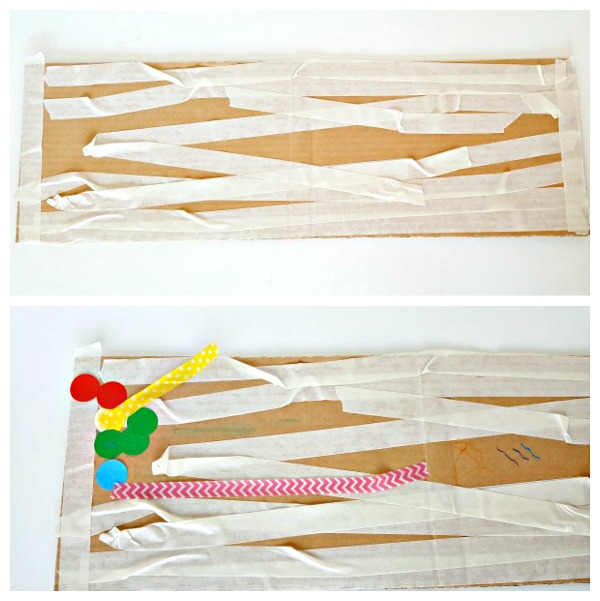 Make designs on the cardboard with tape. This one is done with a lot of plain masking tape on a long rectangular piece of cardboard.
Color the spaces between the lengths of tape with crayons or markers.
Add dots or other stickers to the design.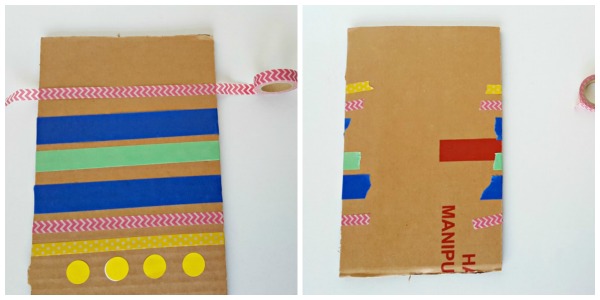 Here is an easy method of adding tape to the cardboard:
Place the tape on the cardboard so it extends on both sides.
Kids can cut the tape with scissors or tear with their fingers.
Fold the ends under the cardboard to make a smooth finish.
You can also pre-cut pieces of tape and stick them to the edge of the table for younger children to pull as needed.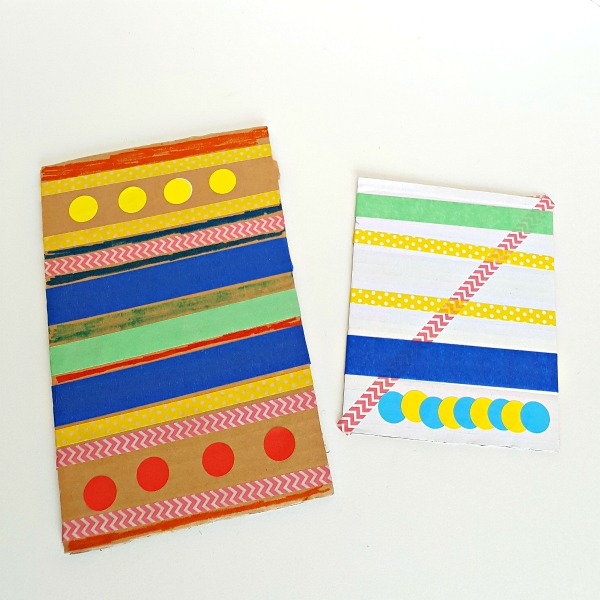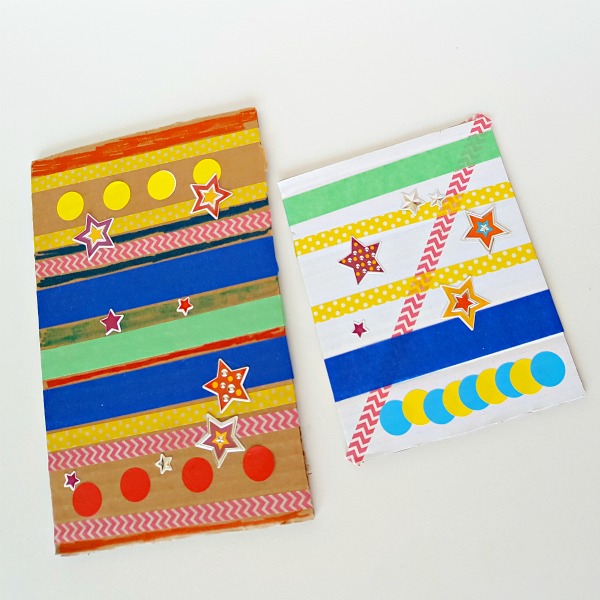 Kids create independently in a process art activity. There is no end product or result to achieve, and the activity is largely child-led.
The materials provided speak for themselves - colors, textures, and ease of use can be explored through hands-on play.
This is a simple activity using everyday materials. The easy setup and cleanup help make it a go-to activity to keep in your 'toolkit'!
More tape activities from kid-friendly bloggers!
Tape Resist Name Painting - Pre-K Pages
Tape Pull Fine Motor Activity - Mama Papa Bubba
The Magic of Tape - Teach Preschool
Tape Resist Stained Glass Art - Happy Hooligans
Sticky Tape Challenge - Laughing Kids Learn
A Tape Road - Hands On as We Grow