How to Make a Geoboard with Recycled Crayons
This activity is a fun way to recycle crayons that are broken or worn. If you have a supply of well-used crayons in your craft supplies, this simple STEAM activity will help you put many of them to good use!
This post contains affiliate links. Privacy and Disclosure
Crayons are one of our favorite drawing and coloring tools for preschoolers. We prefer them to markers and colored pencils for many projects.
Crayons are an inexpensive art tool, easy to store, and available in different forms.
Regular Twistable Glitter Large
We especially love sharp, new crayons, so unless we have a crayon sharpener
on hand, the worn ones generally get set aside.
In this activity we're excited to show you how we recycled crayons to make a geoboard.


Geoboard activity
What is a geoboard?
A geoboard is a math manipulative consisting of a board with small nails inserted. It is used to explore math concepts such as shapes and area. This tool can be adapted for kids activities, to benefit fine motor and cognitive skills.
Preschoolers can practice math skills while having fun with this homemade version of a geoboard. This activity reuses old crayons along with a piece of foam packaging. The crayons replace the nails which are part of the makeup of a geoboard.
Planning and designing the board is part of the fun.
Supplies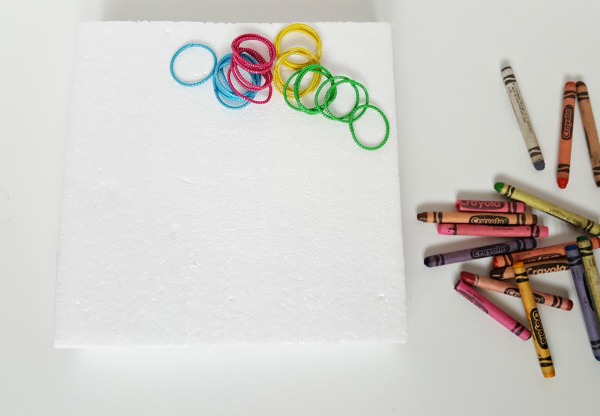 The foam for the base should be deep enough to support the crayon, without the hole going all the way through the foam piece. This foam is 1.75" (4.5 cm) deep.
We used covered hair elastics but you can use any type of elastic band you have on hand.
Instructions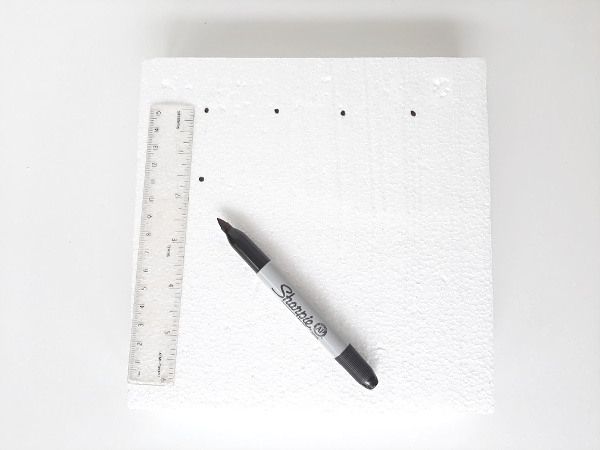 1. Make a grid on the foam base to determine where the crayons will be placed.
Use a ruler to space the holes for the crayons, but you don't have to be precise with your measurements.


Use a permanent marker to indicate placement of crayons.
Alternately, crayons can be inserted randomly into the base. Kids can mark the spots where they want to make the holes.
Crayons should be approximately 2 inches (5 cm) apart to support tension in the elastic.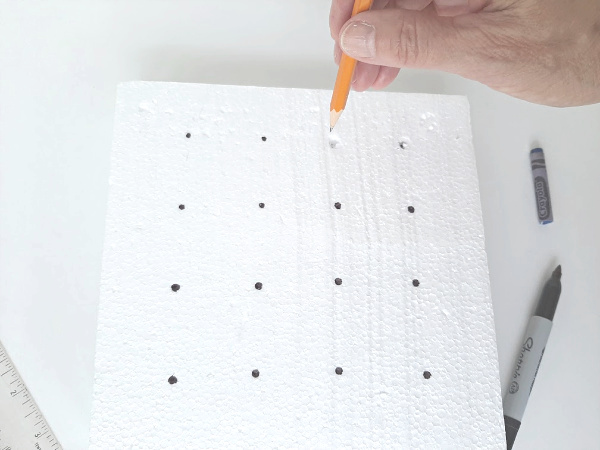 2. Insert a sharpened pencil tip into the spots indicated with the permanent marker. This will make the diameter of the hole similar to the size of a crayon.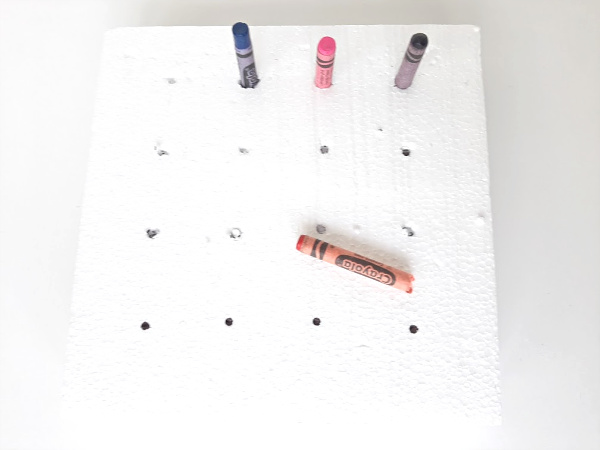 Break a piece off the end of each crayon so you have a crayon with a length slightly less than the thickness of the foam base. You don't have to remove the paper beforehand.
The crayons work best as pegs if the exposed part of the crayon is not too long.


The crayons should fit snugly in the hole in the foam.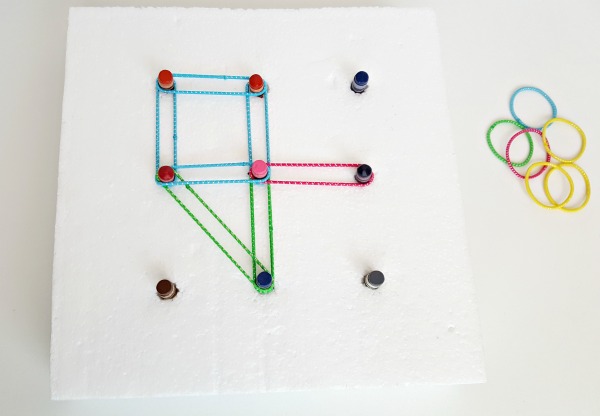 How to use the geoboard
Stretch elastics around the crayons. The colorful covered hair elastics work well for this activity, and are gentle on kids fingers.
Make basic shapes such as a triangle and a square!


Make designs and patterns.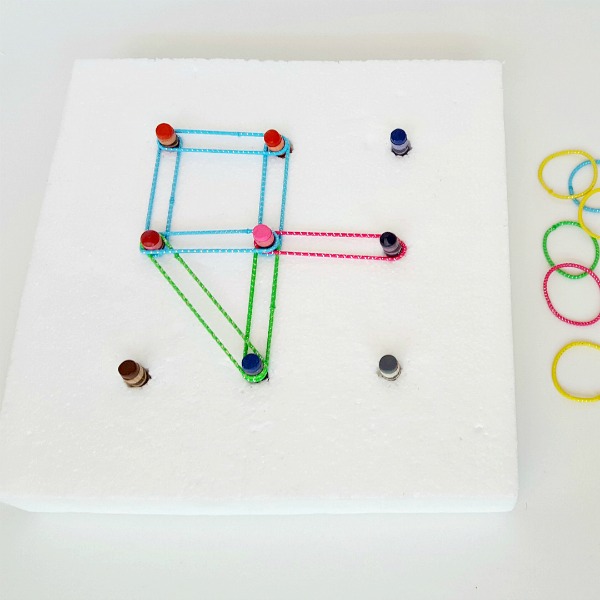 A geoboard is a fun tool to engage fine motor skills and math skills.
Kids can sort the colors of elastics, and explore shapes as they create designs on the geoboard.
S.T.E.A.M. = Science + Technology + Engineering + Art + Math
This is a great opportunity to integrate STEAM into your daily activities! STEAM strengthens creative and cognitive skills by supporting exploration and discovery across varied disciplines of early learning.
Here is how STEAM is used in a single hands-on activity like this geoboard.
Science: observing different materials
Technology: using elastics and pencil as tools
Engineering: planning the geoboard
Art: choosing elastic colors and creating designs
Math: experimenting with shapes
(affiliate)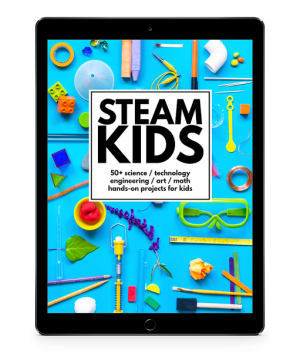 Other geoboards we love!
Pumpkin Geoboard Math Activity from Little Bins for Little Hands
Geoboard STEM Challenges from Playdough to Plato
CD Case Travel Geoboard from Left Brain Craft Brain
DIY Geoboard with a Twist from Powerful Mothering
Visit our STEM to STEAM board on Pinterest for more hands-on activities!