Small Group Activities Digital Resource
Small group activities are just a click away with the help of this digital resource. Add fun and learning to your small group play times in preschool or kindergarten with simple hands-on activities.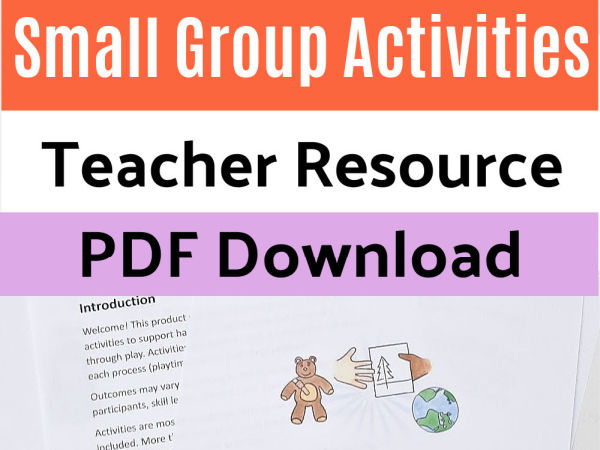 Privacy and Disclosure for information on cookies and affiliates
Imagine a carpet time with 10 participants.
Imagine five sets of eyes peeking out the window.
Imagine five sets of eyes wandering around the classroom.
Now, imagine the fun and excitement that will be generated when all those eyes are focused on you and the activity you introduce to the group.
This resource can help bring that excitement to your small group sessions in preschool or kindergarten.


Related: Tips for best circle time with preschoolers


Our digital product is easy to use, with fun images and simple instructions for all activities.
Invite kids to explore and interact with everyday materials used in unique ways.
Small group activities digital resource
This resource contains 68 small group activities for preschool and kindergarten. Activities are designed to be hands-on and child-led, with supervision and guidance from a parent or teacher.
Activities in this product can be adapted to fit the number of participants, age ranges, and skill levels: engaging one-on-one with your preschooler; sharing activities with two or three children at a time; teaching a small group of students in a kindergarten classroom.
Be ready to respond to kids interests and skill levels with options to extend or alter any activity.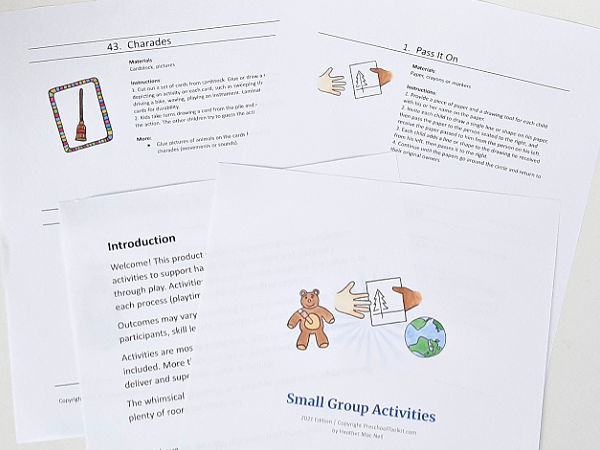 Inside the product
Here's what you get in this product.
Cover page
Introduction page
34 pages of activities with simple instructions and creative images
The product can be downloaded and stored as a digital file with the option to print individual pages as needed.
Alternately, print the complete file and insert into a binder for easy access.
How to purchase this resource!
Also available in our Teachers Pay Teachers store.

The materials used in the activities are mostly household items, basic craft materials, and homemade toys or props.
Suggestions may be included to extend or modify an activity. Materials lists and instructions generally have some flexibility, and can be altered to accommodate your participants.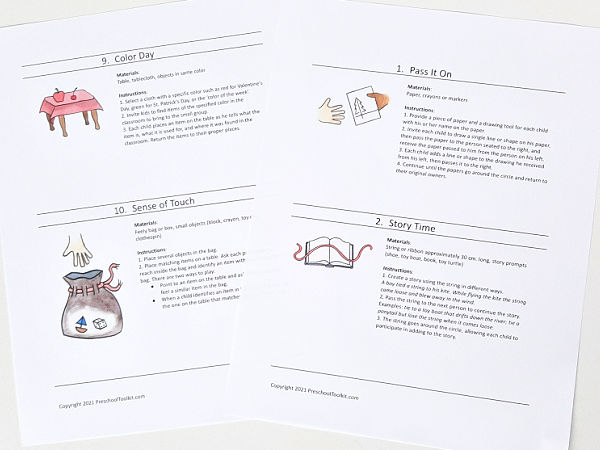 Some activities can be done seated together in a circle on a carpet, while others are more suited to engaging with materials at a table.
Some activities promote fine motor work while others involve gross motor movements.
Traditional or familiar activities such as Color Day (# 9) and Takeaway are balanced with unique options such as creative Story Time with a String (# 2) and building a Pillow Case Snowman (# 49).
Plan your small group time with these engaging activities that will teach and entertain.
Peering eyes will be focused on you
This Small Group Activities product is available
to purchase in our on-site store.
Also available in our Teachers Pay Teachers store.