Halloween Memory Game with Bottle Tops
A memory game with bottle tops is a fun way to add preschool math to your Halloween theme. This memory game is easy to make with recyclables, and it's a great activity for toddlers and preschoolers.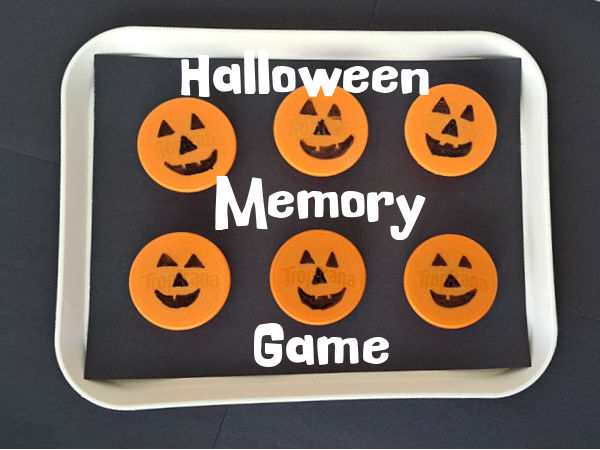 Privacy and Disclosure for information on cookies and affiliates
This Halloween game is so easy to make, it won't be a bit scary to create for your preschooler!
Start with some recyclables and basic craft supplies, and within minutes you'll have a simple math game that's fun for kids from toddler to kindergarten. In fact, kids of all ages can join in the fun!
Simple matching and counting activities can build preschoolers' early math skills, and promote learning through play. I have a few more math games for you to choose from, that you can play any time of year with your early learner.
Halloween can be a busy event for grownups and little kids. Costumes, candy, class parties - these are often unfamiliar and a bit overwhelming.
Keep a few games, like this memory game, in your toolkit as go-to activities when you need to provide a moment to regroup and focus during the day.
Related: Memory Game with Recycled Plastic Cups
Halloween memory game with bottle tops


A memory game is an easy game to make, and exercises fine motor skills and language skills along with the cognitive learning.
Supplies for a Halloween memory game
(including affiliate links)
Halloween stickers or mini erasers
Orange juice bottle tops
Black marker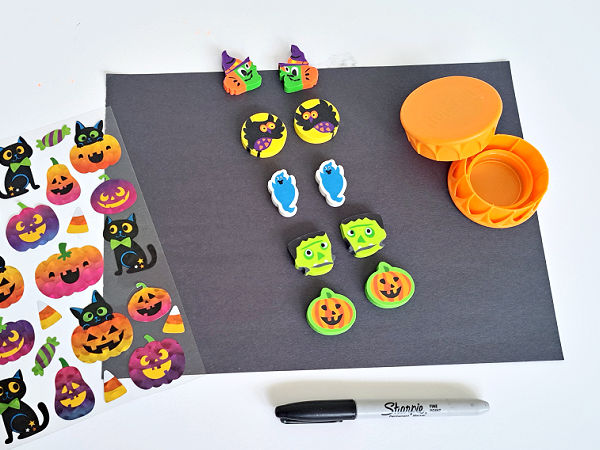 Collect a few jar lids like these from bottles of orange juice. They make perfect 'pumpkins' for a memory game.
You can use any number or size of jar lids to play the game, as long as you have an even number of lids for matching.
Instructions for Halloween matching game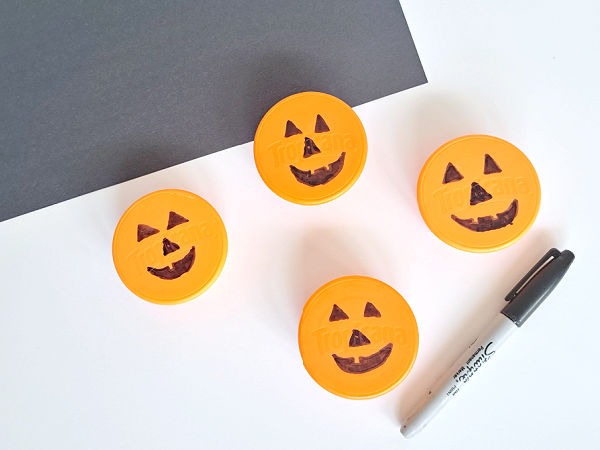 1. Add features to the bottle tops with a marker to create jack-o-lanterns.
The faces can be the same or slightly different.


You could put a jack-o-lantern sticker on each lid instead of drawing the faces.
If you don't have orange juice tops, you can easily create the game with other craft supplies you have on hand.
Cut out circles from orange construction paper. Draw jack-o-lantern faces on the paper circles with black crayon or marker. Glue the orange circles to jar lids or any round plastic lid.


You could also use other characters in place of jack-o-lanterns. For example, make a set of bottle tops decorated with witch hats or ghosts.
2. Glue a mini eraser for sticker inside each bottle top.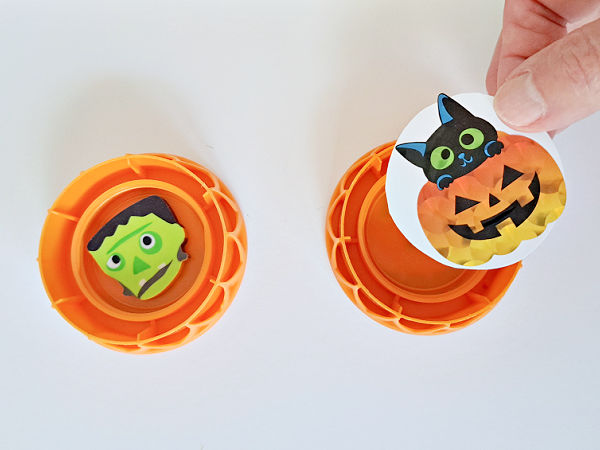 Some erasers and stickers may be too large to fit into the smaller circle inside the bottle top. You can cut a circle from cardboard to fit the larger space, glue a mini eraser or sticker to the cardboard, then fit the cardboard into the lid.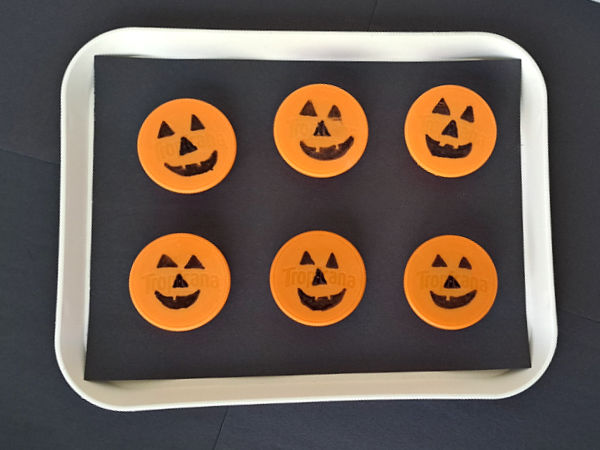 Place the juice tops on a black mat or paper-lined tray to promote the Halloween theme.
Your memory game is ready to play!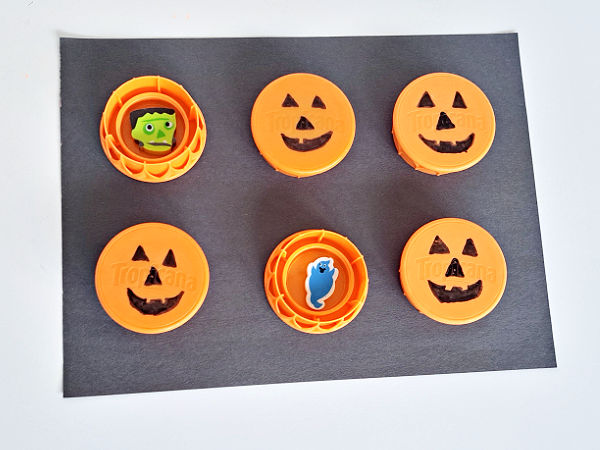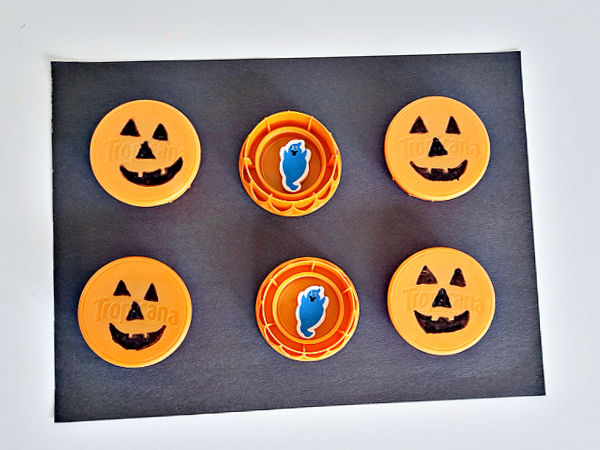 This easy setup means you can create a Halloween math game right now!
Kids can help make the game - cut out paper circles, glue on mini erasers, or add stickers.
Display a small quantity at first so your toddler or preschooler is not overwhelmed. Introduce more bottle tops to the game according to your child's skill and interest.
Add this simple game to your toolkit so you'll be ready for Halloween fun with your kids!