How to Make Santa with Fluffy Beard Christmas Ornament
A Christmas craft with Santa and his fluffy beard will be your favorite decoration on the Christmas tree! This cheerful ornament is easy to make in fun sensory, fine motor play with preschoolers.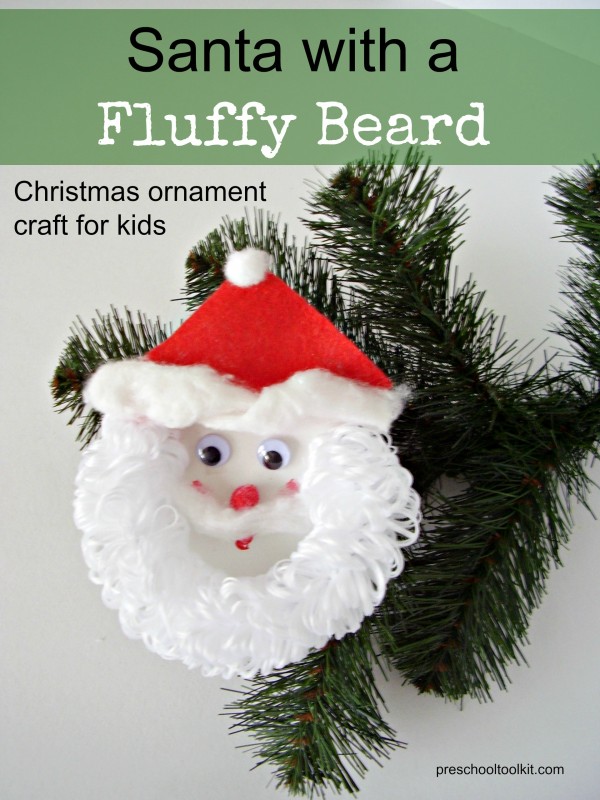 This post contains affiliate links. Privacy and Disclosure
Kids will love making this Santa with the fluffy beard. Basic craft supplies provide the texture and color that invite kids to participate in the activity.
Interaction with interesting craft materials supports hands-on fun and learning. You'll love the ways early learning skills are engaged with this activity, including sensory and fine motor.
Santa craft
"The beard on his chin was as white as the snow."
What do you love most about Santa? His rosy cheeks? His twinkling eyes?
This activity puts the spotlight on his fabulous fluffy white beard. Everyone will want a close up look at your Santa with a fluffy beard. Remind visitors not to tug on the whiskers!
Supplies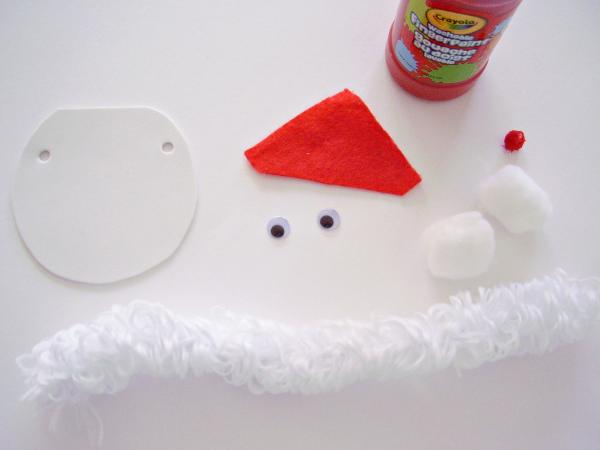 Thick chenille stem
Craft foam sheet
Cut a circle 4 in.(10 cm) in diameter with a flat edge as shown in photo; make a hole on each side with a hole punch.
Small red pompom
Dip another color of pompom in red paint if you don't have a red one.
Cotton balls
Gently pull apart into wispy lengths to make the mustache and hat trim.
Red felt
Cut out a triangle for the hat.
Craft eyes
Red craft paint
White glue or glue gun
Instructions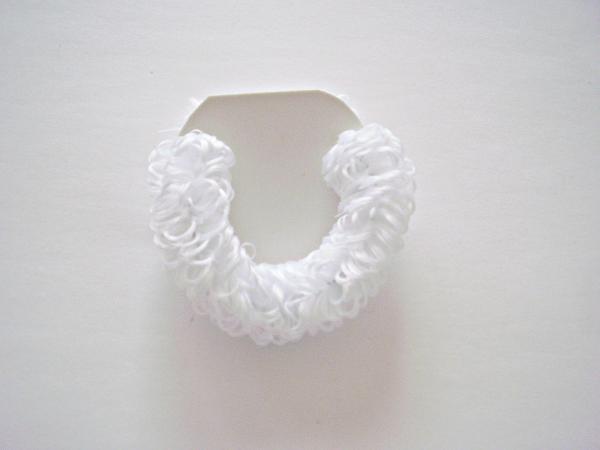 1. Cut the chenille stem to 12 in. (30 cm) in length. Push the two ends of the chenille stem through the holes in the foam circle.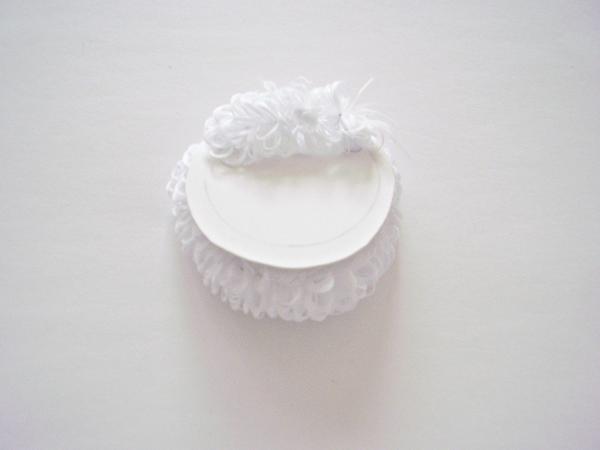 2. Hook the ends together at the back to form a hanger.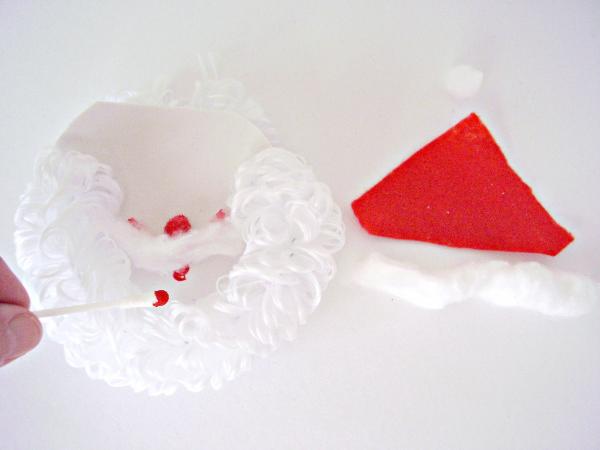 "His cheeks were like roses, his nose like a cherry."
3. Glue a strip of fluffy cotton onto the face for the mustache.
4. Dip a cotton swab in red paint and dab onto the face to make cheeks and a mouth.
5. Glue fluffy cotton trim to the base of the hat. Glue a white pompom or small piece of cotton to the top of the hat.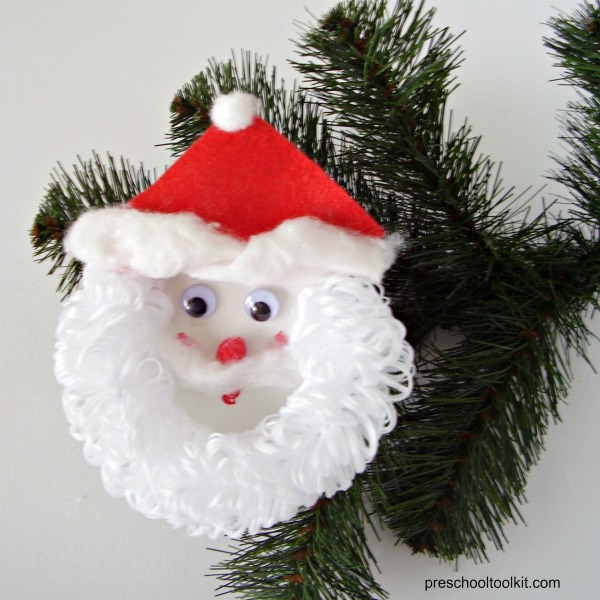 6. Glue the hat and craft eyes to the face.
This cheerful Santa with the fluffy beard will be the main attraction on your Christmas tree this year!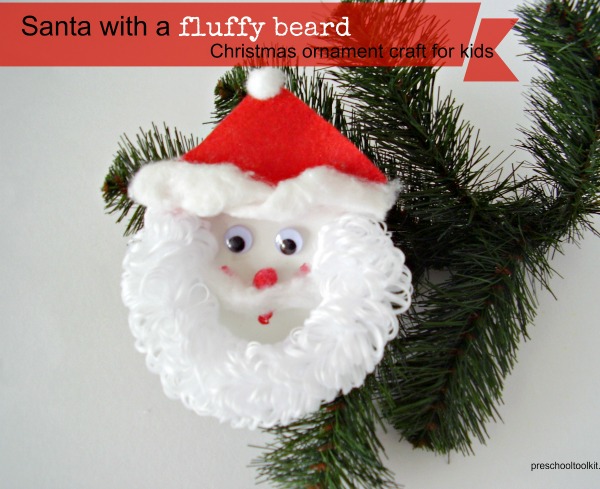 Find this post and ideas from other creative bloggers at 30 Days of Homemade Kid Ornaments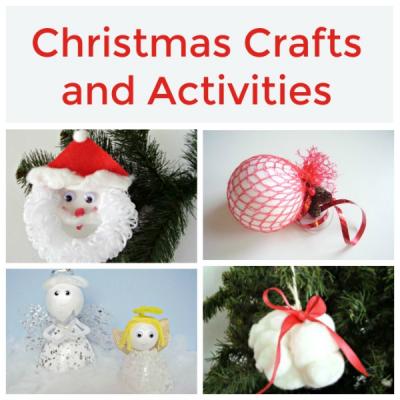 More Christmas ornament crafts from kid-friendly bloggers
Cookie Cutter Ornament from Books and Giggles
Santa Hat Christmas Ornament from Buggy and Buddy
Frosty the Snowman Ornament from the Resourceful Mama