Kid-Made Shamrock Puzzle
Boost your St. Patrick's Day theme with this fun math play for preschoolers. A kid-made puzzle with shamrock cutouts combines art and math in a simple activity to celebrate St. Patrick's Day.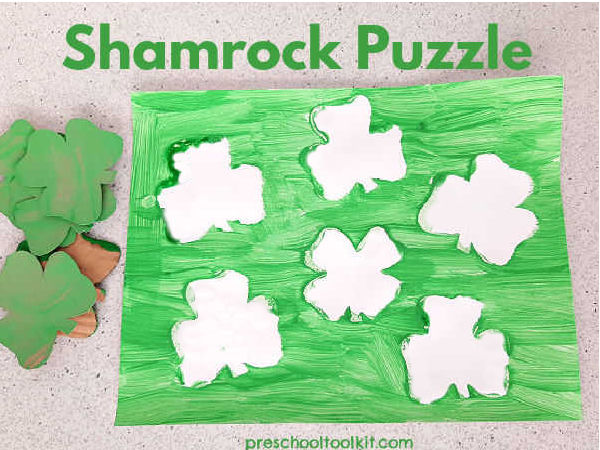 Privacy and Disclosure for information on cookies and affiliates
This activity for St. Patrick's Day starts out as an art activity, then leads into a math activity with the swipe of a paint brush.
It combines two or more principles of S.T.E.A.M learning - art and math - without the need for special materials or instructions.
This project can proceed as a child-led activity with some basic preparation. Set out paint, canvas, and cardboard cutouts, then let the fun and learning begin.
Shamrock puzzle craft
The technique used in this painting project is often referred to as relief. The raised cutouts create a unique canvas that is part flat and part raised.
Supplies for shamrock puzzle
Cardboard
Green paint
Shamrock cutouts
You can draw your own shamrocks, or download this free green shamrock printable. The printable includes a four leaf clover to add a bit more interest and challenge to your puzzle.
Can you spot the difference between a shamrock (with three leaflets) and a four leaf clover?
Instructions for shamrock painting activity
Trace shamrock templates onto cardboard. Cut out the cardboard shamrock puzzle pieces.
Use different shamrock sizes to make your puzzle, or just one size, for the puzzle pieces.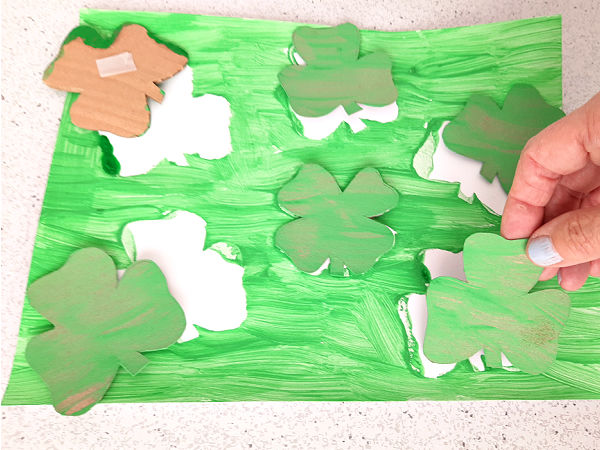 Roll a piece of tape over, then apply to the underside of each cardboard cutout.
You can also use craft putty for attaching the cutouts to the canvas.
Place cutouts in a pattern on cardstock or other sturdy canvas.
Paint over shamrock cutouts and canvas entirely.
Remove the cutouts when the paint is dry.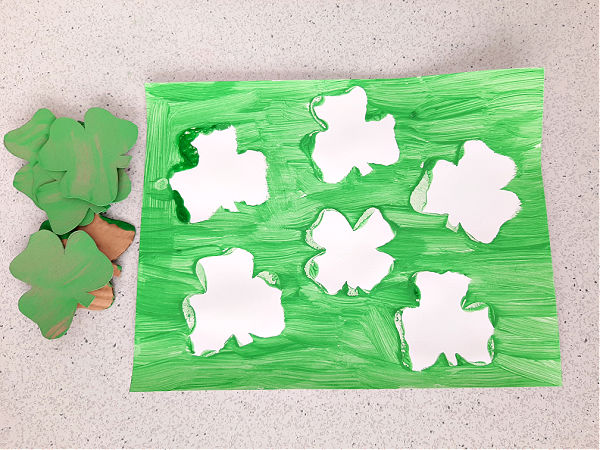 Your finished art work will be a unique design of shamrocks, with one or more four leaf clovers.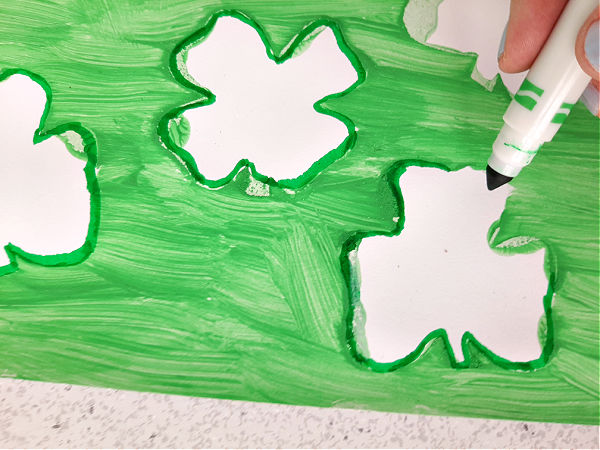 Some paint may bleed under the cutouts as you paint the canvas. The amount will vary depending on the thickness of the paint and how much is applied. It will not affect the overall function of the completed puzzle.
If preferred, outline the shape of each shamrock on the canvas with a black or green marker when the paint is dry.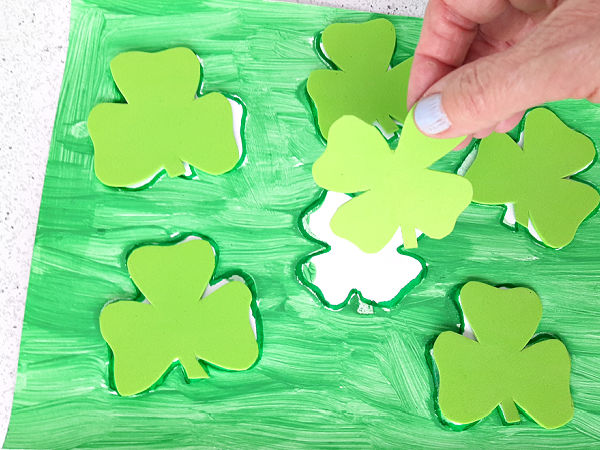 Another option is to cut shamrocks from craft foam, using the cardboard cutouts as templates.
Craft foam is brightly colored and durable, and provides a different sensory experience than the cardboard puzzle pieces.
Add relief painting to your holiday list of kids activities for fine motor fun and creativity!