Ocean Theme Sensory Bin with Curly Moss
Make waves with an ocean theme in the sensory bin. Add artificial sea moss along with sea creatures and seashells to provide awesome sensory play for toddlers and preschoolers.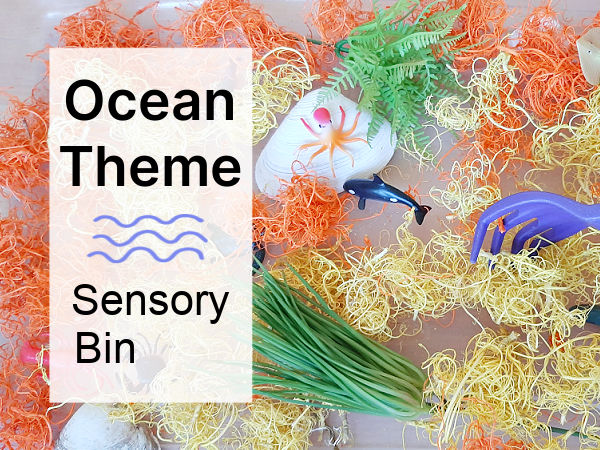 Privacy and Disclosure
for information on cookies and affiliates
Let's get creative with an ocean theme!
This unique sensory bin is created with artificial sea moss and a variety of shells and other props.
It's a great activity for small world play, and only takes minutes to set up.
With so many great options to use as fillers, sensory bins like this one can be set up any time of day for independent, hands-on play.
Sensory bins offer interesting play experiences for kids and this one with an ocean theme is no exception. There's so much to discover about the shapes and textures of the materials and how they can be manipulated in the sensory bin.
Ocean sensory bin
Sensory bins are easy to include in your daily schedule.
The fillers can be messy, or not-too-messy, depending on the day, and the learning experience you hope to provide. The goal is to offer child-led play with little instruction and lots of room to explore.
This unique sensory bin provides amazing hands-on play. The combination of the colorful curly moss and other materials invites kids to dive in and explore!
Suggestions are included for alternate materials, as well as ways to play in the sensory bin.
Ocean Books
Supplies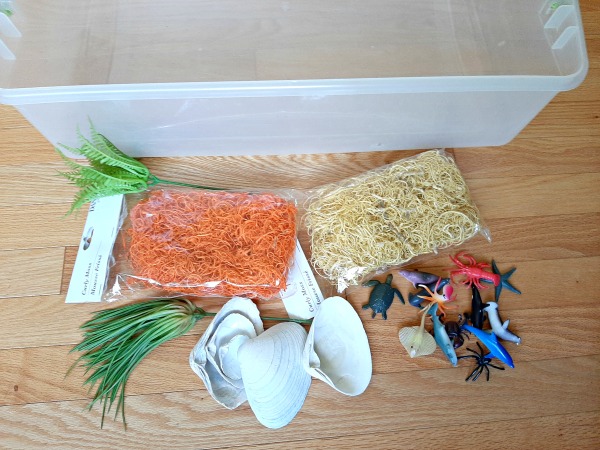 plastic bin or cardboard box
seashells
curly moss
green leafy sticks
End of season sales are often a great time to buy supplies for your kids crafts and activities. I bought this curly moss in a craft store for less than a dollar. It was a great buy and the inspiration for this craft. It is light and springy with a rough texture, making it perfect for a kids sensory bin.
I also found artificial green plant sticks that resemble seaweed.
If this type of curly moss is unavailable, you could use raffia to resemble the curly moss, or cut up a stiff paper in thin strips. Crumple several strips together in your hands to form the moss. This is a fun strengthening activity for kids fingers and hands.
Raffia Shells
Related: Sensory bin with shredded paper
Instructions for Setup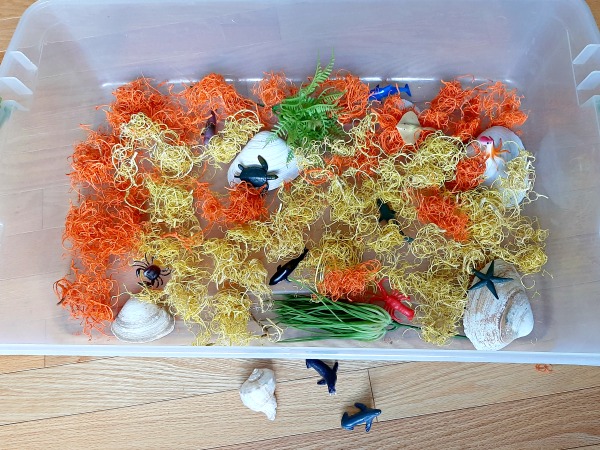 Arrange the materials in the bin.
The curly moss comes packaged in a tight clump. Kids can pull the material apart in small pieces or long strips. This is a great fine motor exercise as some effort is required to separate the strands.
If you're using long thin paper strips, squishing the paper is also great fine motor work.


Place shells and sea creatures in the bin.


Add shovels or other digging tools.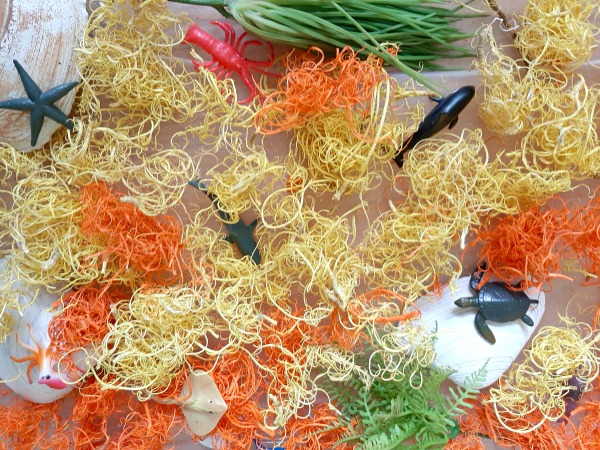 Ways to Play
This activity will spark imagination and creativity. The materials can be arranged over and over as your preschooler plays.
Here are some options to guide the play.
Bury sea animals under the seaweed or under seashells.
Make a large pile of seaweed in one corner of the bin.
Place sea creatures on the shells.
Scrunch seaweed in your hands.
Use a toy rake or shovel to scoop up the sea moss.
It's easy for the mini ocean animals to get tangled up in the curly moss. Mix all the materials together in your hands, then separate the animals from the seaweed.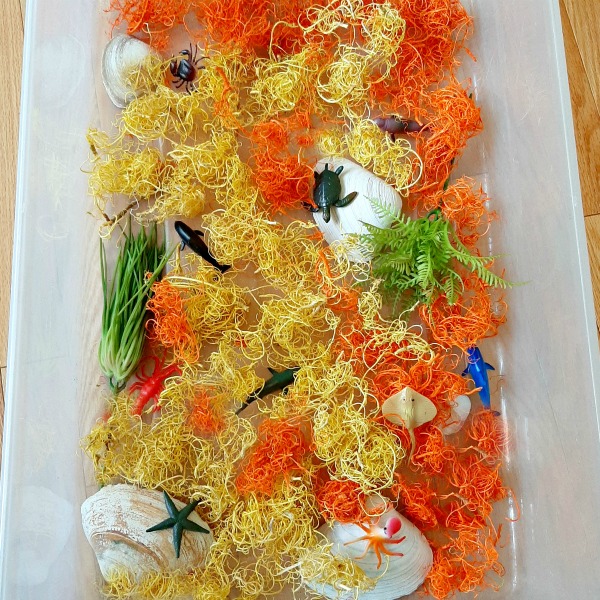 Interesting facts
Sea moss is a type of seaweed found in the Atlantic and Pacific oceans, in places as separate as the Caribbean and Ireland. While there are many different varieties of sea moss, with different properties, they all come from the same family.
During the historical Irish potato famine many people looked to Irish Sea Moss as a food source. The practice of viewing seaweed as a source of nutrition and other health benefits continues in recent times.
Here's an interesting video showing sea moss being harvested.