Marble Roll STEAM Activity in the Sensory Bin
A STEAM activity is easy to create in the sensory bin with a marble and recyclables. Kids will love exploring these simple materials added to the sensory bin for some awesome hands-on discovery.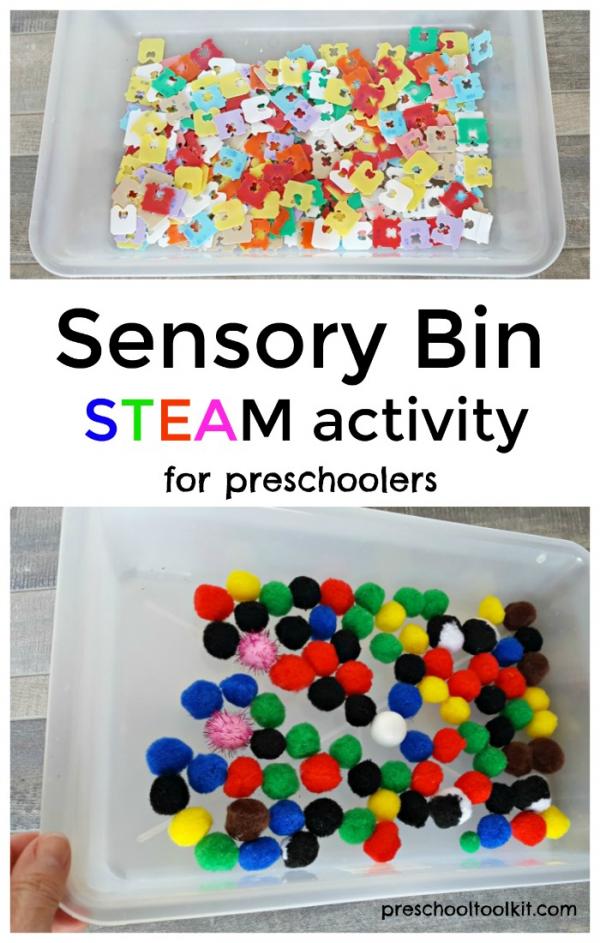 This post contains affiliate links. Privacy and Disclosure
Sensory bins are an open invitation for kids to explore and discover hands-on. Kids can mix and pour and dig and scoop with a variety of materials and tools.
In this activity we experiment with marbles and three different fillers in a sensory bin.

Marble roll sensory bin activity


A sensory bin is a great place for a variety of learning experiences. We've used a large plastic container as a sensory bin for a sandbox activity and a pumpkin harvest activity.
This sensory bin is fun for toddlers or preschoolers, and even older kids will love to give it a try. The activity combines science and sensory play for hands-on fun.
Here's how we did it!
We call this a STEAM activity because it incorporates the following principles.
STEAM = science + technology + engineering + art + math

Kids can play and learn hands-on with fun activities like this science-in-the-sensory-bin activity.
Learn more about how these principles are realized in this activity at the end of the post.
Science in the sensory bin
Supplies
1. A plastic container measuring 12 x 16 inches (30 x 40 cm) is suitable for this activity. Your child should be able to pick up and handle the bin comfortably with both hands.
2. Provide three different materials as fillers:
bread ties

aluminum foil balls

pompoms
Fillers should be small and lightweight so they slide around easily inside the bin, without adding too much extra weight for your child to hold.
Bread ties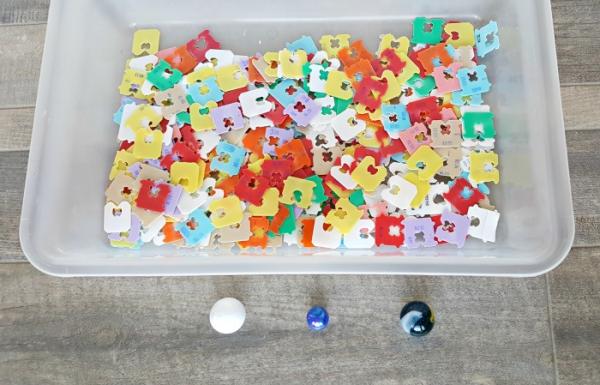 Pompoms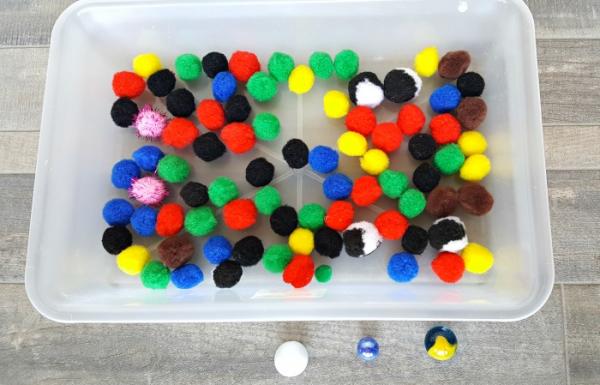 Aluminum foil balls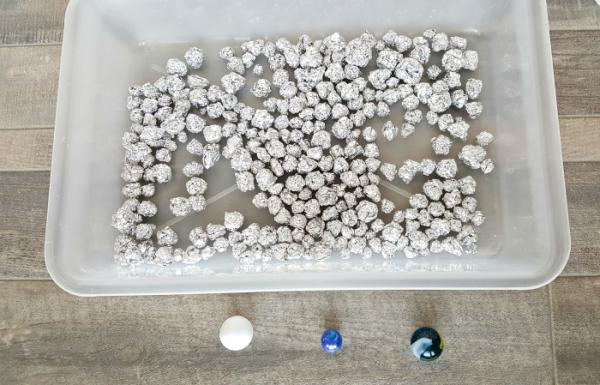 The aluminum foil takes some time to roll but kids will love helping out with this part of the activity. The effort will help strengthen fine motor skills as kids pinch and roll the aluminum between their fingers.
Kids will use hand and finger muscles to hold the bin and and tip it from side to side for more fine motor work.
3. Provide three different sized balls:
a small white plastic ball
a large marble
a small marble
Conduct the experiment
Add fillers one at a time to the bin. Add a ball or marble.
Tip the container to roll the marble through the filler.
Explore the ability of each marble or ball to roll through each filler. Observe other characteristics of, and differences between, the fillers and balls.
Which filler is the most colorful?
Which filler makes the most noise?
Which ball is the heaviest?
Results
Compare results with the different sizes and weights of the balls in each filler.
This activity is only limited by your imagination. Variations in set up and results will depend on:
the type and quantity of material you use to fill the bin
the ball you use
the amount of twisting and turning you do as you rotate the bin
This activity engages the senses for interesting sensory experiences for preschoolers.
Senses are engaged by:
observing the colors
adding the materials
listening to the marble roll around in the bin
If you collect bread bag ties, you'll probably enjoy eating your favorite sandwiches in order to save the bread closures. This will engage both the sense of smell and the sense of taste!
Related: Marble run with an inclined plane
How STEAM is used in this activity
Science = friction as it applies to the movement of the marble
Engineering = setting up the experiment
Art - colors of materials
Math = quantity of material in the sensory bin
(aff.)