Easy Snowman Ornament Kids Craft with Cotton Rounds
This little snowman ornament is a fun and easy craft for kids. Combine fluffy white cotton rounds with a felt top-hat and colorful winter scarf in this simple activity. This friendly snowman adds a touch of winter 'snow' to the Christmas tree!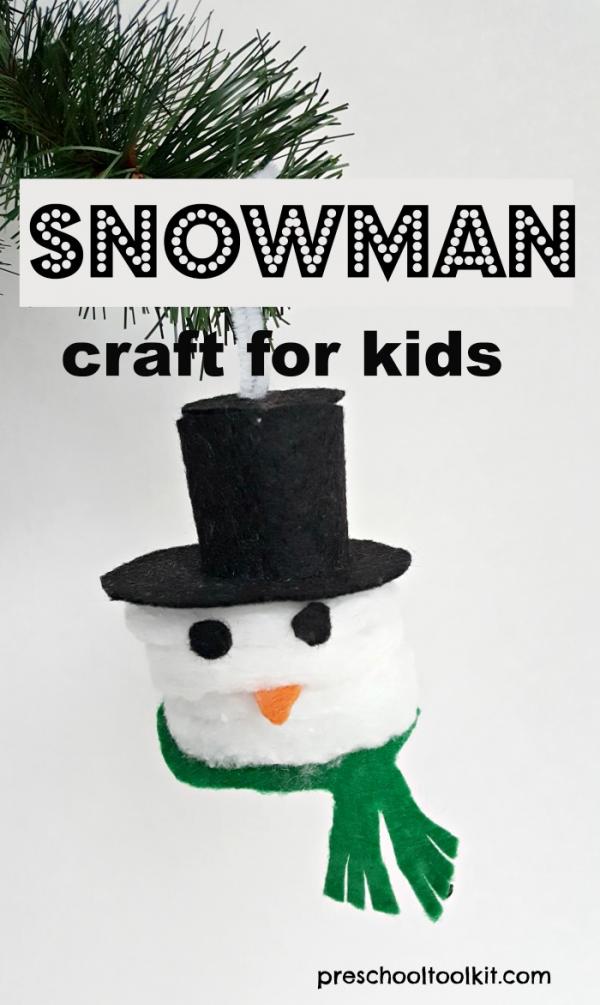 This post contains affiliate links. Privacy and Disclosure
A snowman character brings special cuteness to your holiday decorations. With a smiling face and jaunty cap, a snowman is a fun ornament for kids to make.
In this activity, fluffy cotton rounds, a few felt pieces, and long pipe cleaners provide sensory and math play as kids explore the different textures and shapes.


Supplies


Instructions for you


1. Prepare the activity by cutting out the felt pieces that will make the snowman.
2. Hole punch the center of each cotton round as well as each felt piece (except the cylinder or 'stovepipe' part. This part is a rectangle shape rolled into a cylinder and glued to secure. Then the cylinder is threaded onto the chenille stem along with the other felt pieces).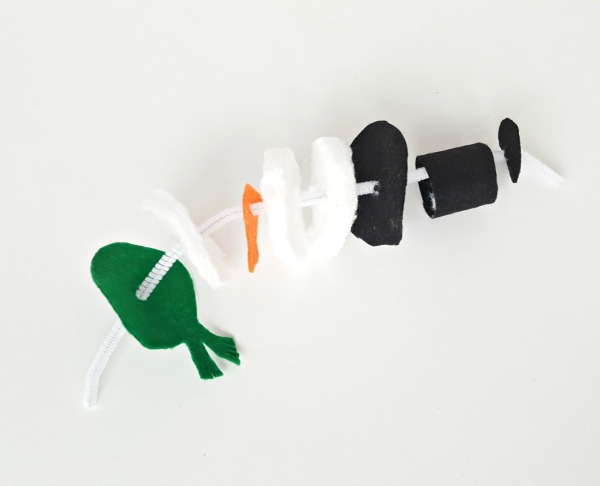 Instructions for kids


1. Bend one end of the chenille stem over about 1/2 inch (2.5 cm) to prevent the felt pieces from sliding off as you thread them onto the chenille stem.
2. Thread the pieces onto the chenille stem, starting with the scarf.
Build the snowman according to a sample already assembled, or simply start adding and removing pieces until the desired snowman is achieved!
3. Make the snowman bigger or smaller by adding or removing cotton rounds.
4. When your snowman is completed, trim the excess chenille stem. Leave just enough length to bend the top of the chenille stem over like an upside down letter J, to form a hanger to attach your ornament to the tree.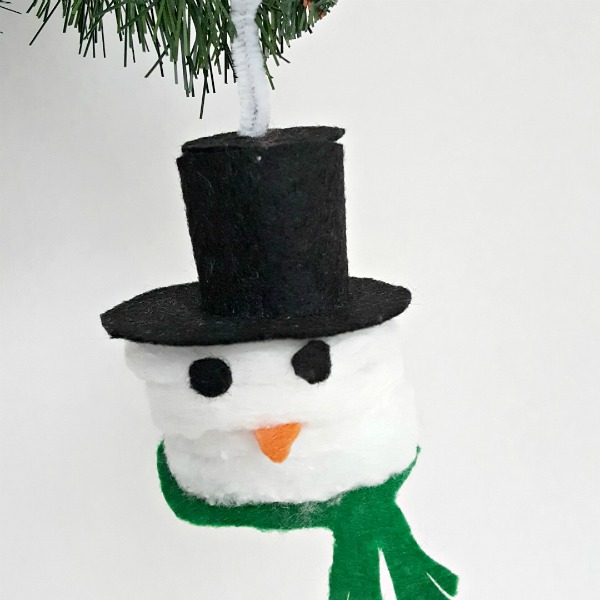 This activity provides some fine motor practice while exercising critical thinking.
Whether kids build a snowman by engaging with your sample, or by experimenting through trial and error, they will explore and discover hands-on with this activity.
Awesome snowman ornaments from kid-friendly bloggers!
Sock Snowman / Easy Peasy and Fun
3D Snowman / Kids Craft Room
CD Snowman / Happy Hooligans
Foam Ball Snowman / Crafty Morning
Visit us on Pinterest