Foam Ball Snowman STEM for Preschoolers
This snowman craft is fun to do indoors on a wintry day. Complete the foam ball snowman with fun accessories that make each snowman unique.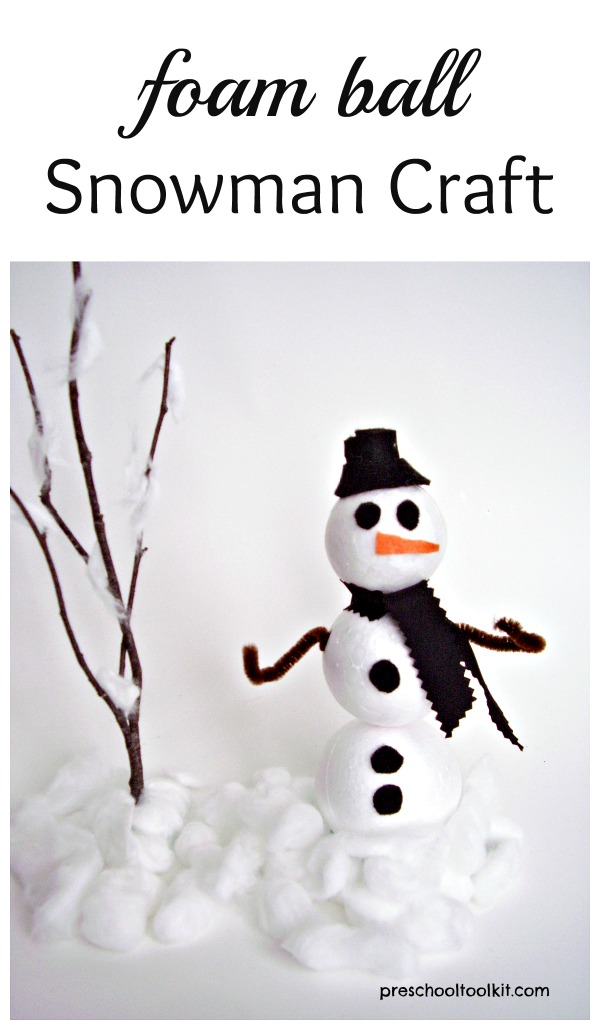 Privacy and Disclosure
for information on cookies and affiliates
Who doesn't love a snow day?
Everybody gets to wear pyj's, eat snacks, watch the snow flurries.
But parents and caregivers are often left scrambling for indoor activities to entertain the kids.
We've got you covered for indoor winter fun!
Related: Winter activities with kids.
Snowman activities are especially fun to do indoors when the weather isn't suitable outdoors.
This STEM activity invites kids to choose basic craft materials to make a snowman. Kids will use math and engineering skills to design and build their snowmen, and create like artists as they add color and trims to their fun characters.
Snowman STEM
This simple activity promotes fun and learning. Kids will sharpen their listening skills with simple directions to follow, engage hand-eye coordination, and complete the project with unique details.
This simple snowman craft is easy to do with basic craft materials and lots of imagination.
Supplies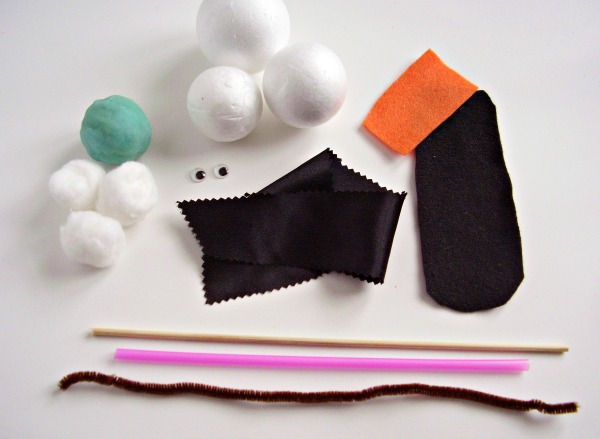 Foam balls, 3 different sizes
Chenille stem or pipe cleaner
Modeling clay or play dough
Instructions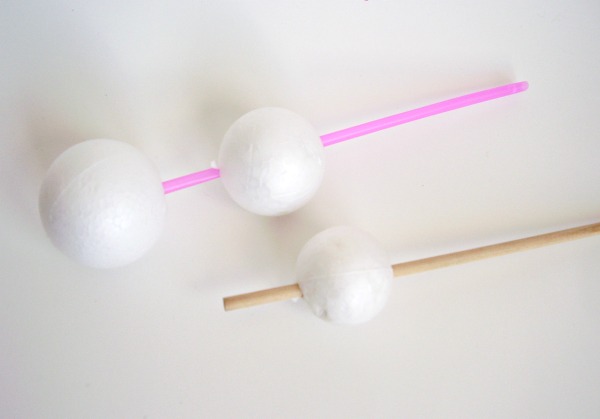 1. Stack foam balls on a straw or dowel.
If you are stacking foam balls onto a straw, use a pencil to make a hole in each foam ball. This will allow the straw to be inserted easily through each foam ball.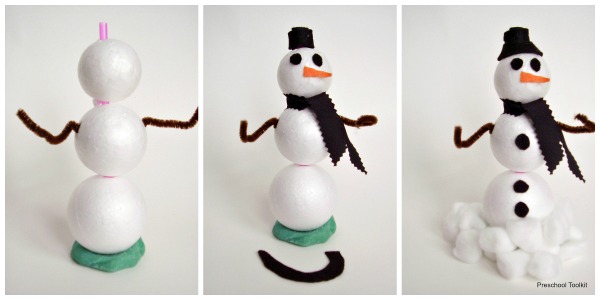 2. Trim the excess straw.
Leave a small piece exposed at the top. This is where the hat will be attached.


3. Support the snowman in a play dough base.
This will hold the snowman steady as you add the accessories.

4. Add accessories.
pipe cleaner arms
felt or fabric scarf
felt or craft eyes
felt nose and buttons
pipe cleaner arms
You can use small twigs for arms instead of chenille stems or pipe cleaners.
5. Make a hat.
Wrap a narrow piece of felt around the straw poking out at the top of the snowman.
Cut out a u-shape piece of felt. Glue to the snowman's head for a hat brim.


6. Decorate with cotton ball snowballs.
Glue cotton balls around the base of the snowman for snow.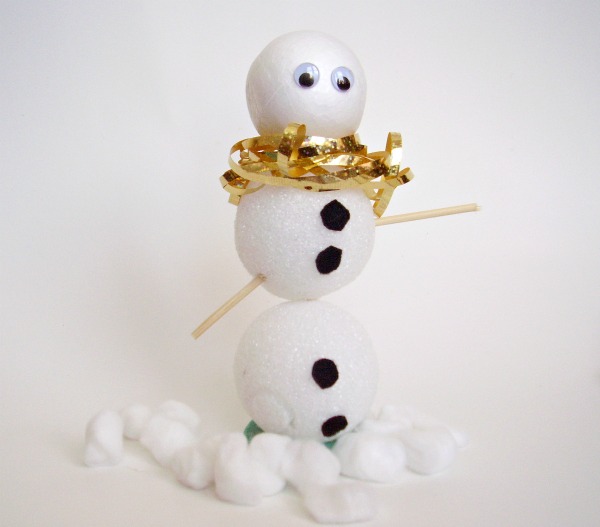 Look at this original snowman. One of the kids decided to use gold ribbon for the scarf, craft eyes, and small dowels for arms. It looks amazing!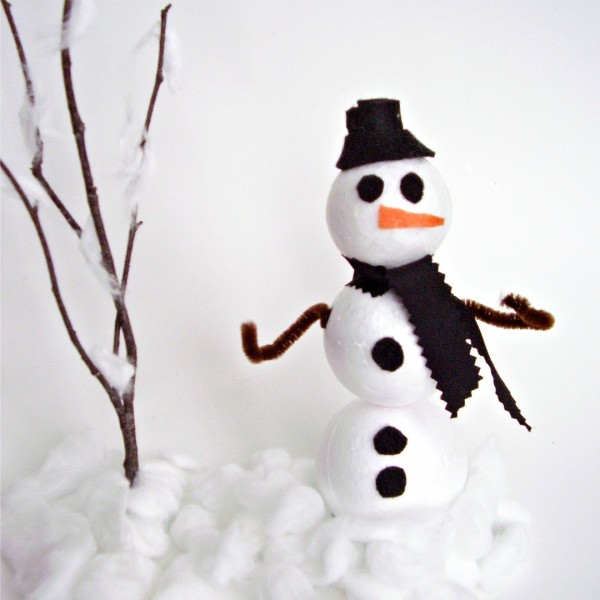 This snowman craft provides fine motor creative fun when blustery winter weather keeps you indoors.
Learning through play
The process of adding parts one after the other requires some listening, some experimentation, and some creative thinking.
Adding details to the snowman engages fine motor and creative skills.
Kids are also thinking like young scientists to build a snowman, using early development skills.
math skills to sort and count the foam balls

technology to make holes in the foam balls

engineering to design and stack the foam balls
Kids think like artists as they choose colors and fabrics to add accessories to the snowman.
Don't let a blustery snow day ruin your fun. Provide this hands-on activity to create a snowman that will never melt.
(affiliate link)
50+ Science, Technology, Engineering, Art, Math Activities

Snowman crafts from other kid-friendly bloggers:
Snow Globe Snowman Craft from No Time for Flash Cards.
Recycled CD Snowman Kid Craft from The Resourceful Mama.
Puffy Paint Snowman from Raising Little Superheroes.