How to Make Cards for a Preschool Memory Game
Practice early math skills with this homemade memory game for preschoolers. Make the set of cards for a matching game with everyday craft supplies and dollar store finds.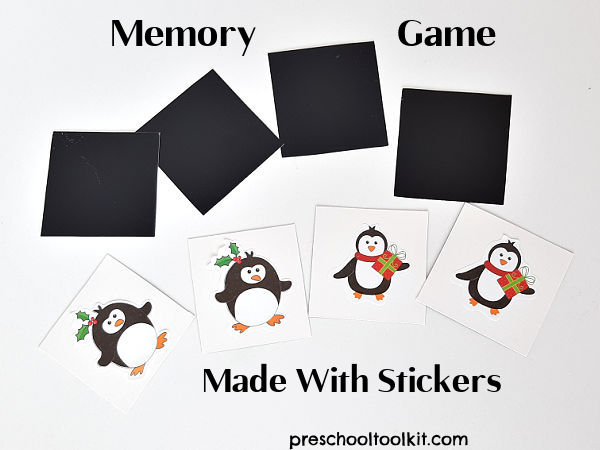 Privacy and Disclosure for information on cookies and affiliates
When it comes to creating activities for preschoolers, recycled materials and dollar store finds can be your best friends.
Using just these items you can easily provide fun crafts and games without a lot of fuss or expense.
Activities can be as simple as sorting jar lids, or playing a memory game with small disposable cups.
With cardboard and dollar store stickers, you can create a memory card game to practice math skills with your preschooler.
Memory card game
Memory games have lots of benefits for early learners.
They require focus and concentration.
They help strengthen kids short term memory.
They also support early math skills - sorting and matching, as well as fine motor skills - shuffling and placing cards.
A penguin memory card game starts with fun stickers from the dollar store.
Our penguins have a holiday flair with Santa hats and sprigs of holly!
You don't have to use penguin pics for your memory game. You can use random (evergreen) images, or ones that coincide with a season or a specific theme, like animals or flowers. Any images will do, as long as you have pairs of matching images.
Supplies for a memory card game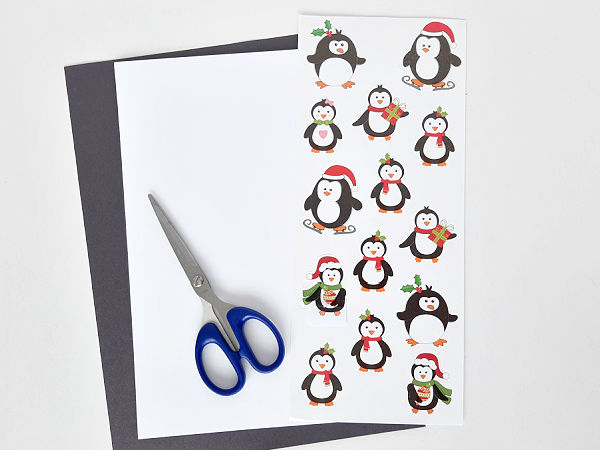 Affiliate links are provided for related products.
cardstock or cardboard
stickers
scissors
glue
A sturdy grade of paper like cardstock is best for making a set of cards, but you can certainly set up the activity with whatever you have on hand, including construction paper or wallpaper.
Instructions for a memory game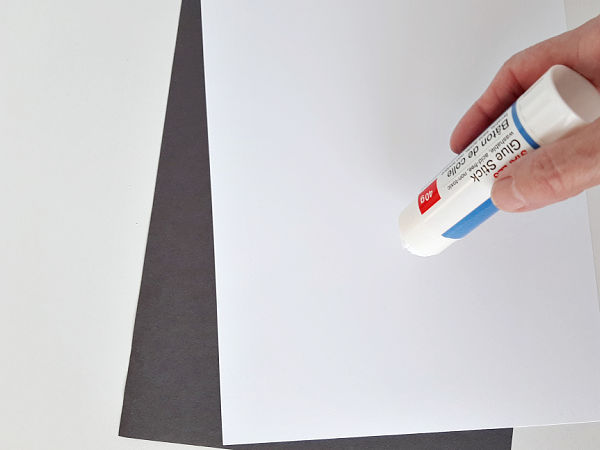 1. Glue two sheets of cardstock together.
Here are some other options.
You can make the cards with one sheet of cardstock or cardboard if you prefer. I used a different color for each side to provide more contrast between the cards when they are turned over.


You can also use a piece of poster board printed with a different color on each side.
2. With a ruler, divide the sheet of paper into square cards of equal size. Cut out the cards.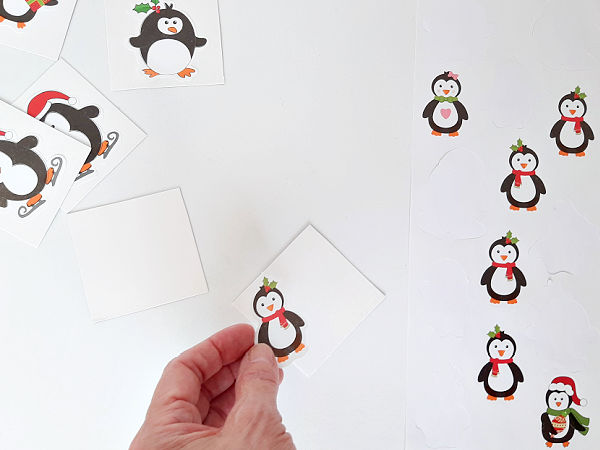 3. Place a penguin sticker on each card.
Make several pairs of matching cards.
For durability, cover the cards with clear contact paper (affiliate link).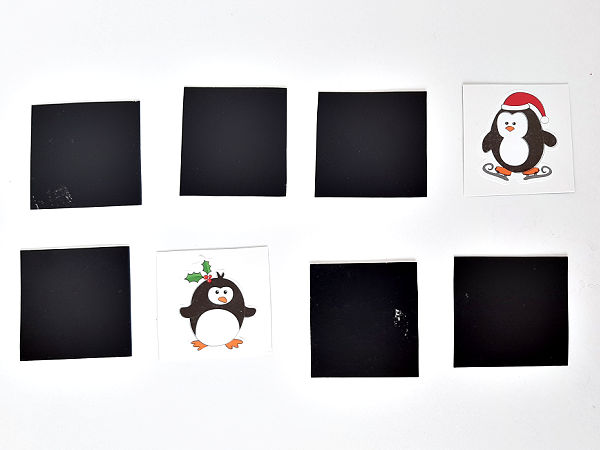 Play the game.
Shuffle the cards and place face down on the table.
Turn over one card.
Turn over a second card.
Did you get a match?
If you have a match, remove the two cards from the play area.
If you don't have a match, turn both cards over and try again.
Play continues until all pairs are found.
Homemade toys and games can easily be included in your daily activities.
Kids can help design the matching pairs and put on the stickers.
Making the game is a big part of the fun and learning!