Halloween Paper Shapes Witch
This friendly Halloween witch is easy to make with paper shapes. Engage kids math and fine motor skills in this fun Halloween witch art activity.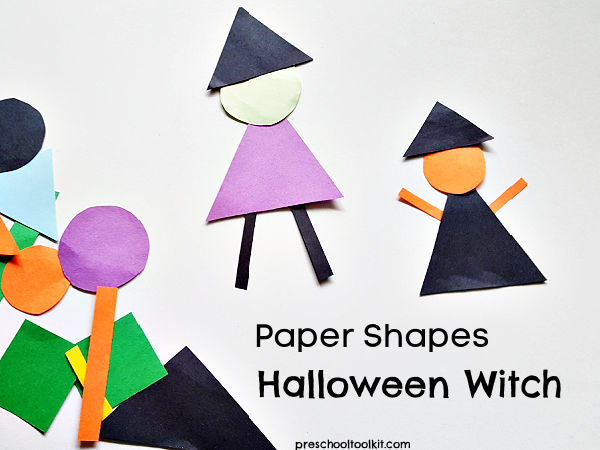 This post contains affiliate links. Privacy and Disclosure
Ghosts and bats and witches in tall black hats!
Whether silly or spooky, Halloween crafts conjure up all sorts of fun ways to engage early learning skills.
This Halloween witch is easy for kids to make with paper and scissors and glue.
It's a simple activity that you can do with toddlers, preschoolers, or older kids.
Kids of different ages will engage with the materials in unique ways. See a few of our results near the end of the post.


Paper shapes witch activity


Witches are fun characters to include in your Halloween activities. They are easy to imitate, especially riding on a broom, and there are lots of different ways to create them with art activities.
Here are a few ideas for inserting 'witch' activities into an A.B.C lesson plan with a Halloween theme.


Activity
Gross motor
Role play sounds and movements of a witch: laugh with a cackle; fly on a broom; stir a cauldron of witches' brew.
Small group
Make a witch on the felt board with felt cutout shapes.
Spread felt pieces on the floor or table. Include body (triangle), arms and legs (rectangle), head (circle), hat (triangle), broom (rectangle).
Ask a student to choose a cutout to place on the felt board to begin building a witch.
Continue until all students choose a piece to add to the witch.
Talk about each cutout as it is placed on the felt board.
What shape is it? What part of the witch will it be?
Book
Read Witches Four by Marc Brown or Room on the Broom by Julia Donaldson.
As you read together, discuss witches and other Halloween characters.
Look for shapes in the pictures.
What colors do you see?
Do the characters look silly or scary?
Craft
Make the witch in this post with paper cutouts in a variety of colors and shapes.
Supplies for a paper shape witch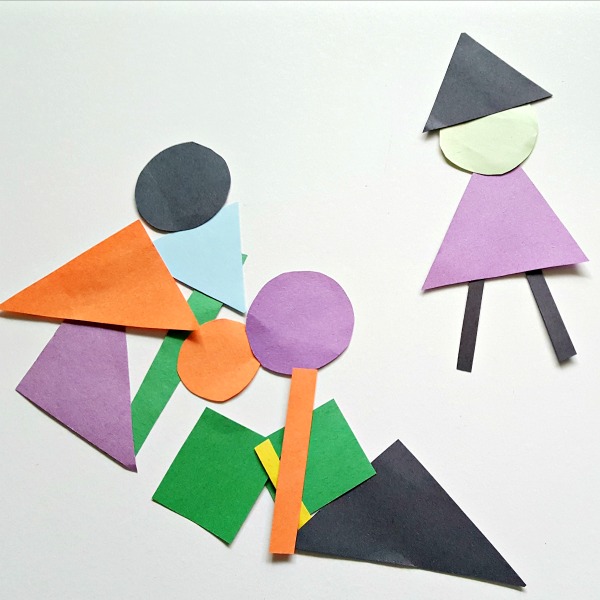 Instructions for a witch art activity
1. Provide paper cutouts in basic shapes - square, circle, triangle, rectangle.
Older kids can cut out shapes on their own.

Provide shape cutouts for younger children if preferred.
2. Arrange and rearrange the shapes before gluing.
Once kids decide on just the right combination of colors and shapes, they can glue them to a piece of construction paper to make a picture.
This an open-ended art activity which means it doesn't need step-by-step instructions. Kids can be creative with the paper shapes.
Your witch doesn't have to look as traditional as mine!
Kids of different ages will come up with different ideas.
Here are a few versions of the Halloween Paper Shapes Witch.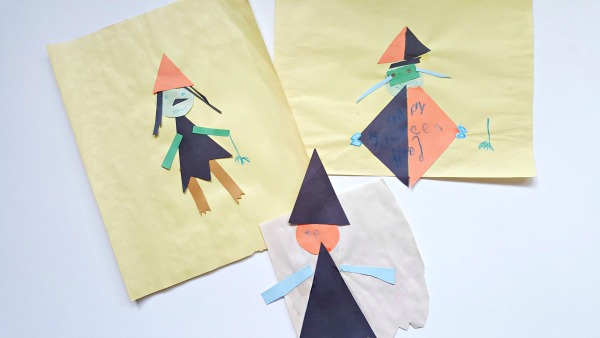 The best part of this activity will be seeing the pictures kids create from what they observe in books, discuss in a small group, and imagine in their own ways.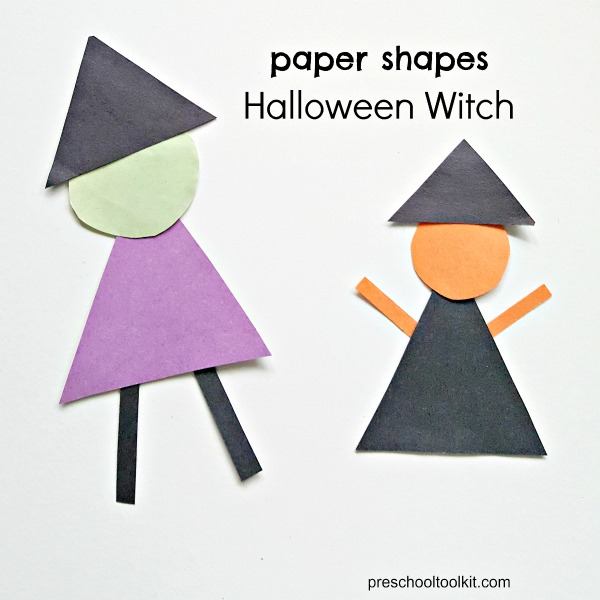 More ways to play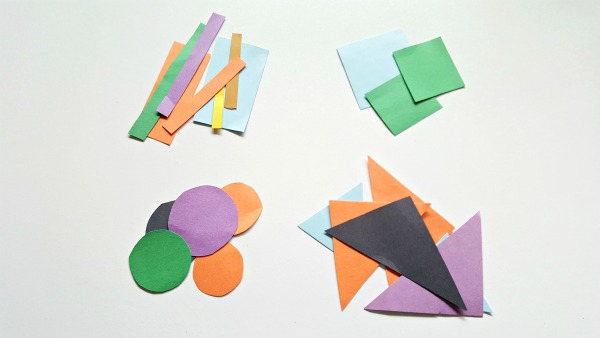 You can extend this Halloween activity by having kids sort the shapes before starting to make a witch. Cutouts can be sorted by shape or color or even size.
Related: Sorting activities
Use shape cutouts to create other Halloween characters.


Challenge kids to invent an original monster or ghost character.
Stir the creative cauldron with this fun Halloween art activity!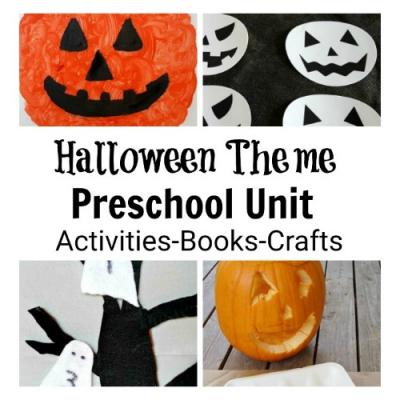 More Halloween witches from bloggers we love:
Paper Bag Halloween Witch Craft from I Heart Crafty Things
Paper Plate Witch from Crafty Morning
Halloween Witch Kids Craft from Glued to My Crafts
Visit our Halloween Pinterest board
for more spooky fun with Halloween crafts and activities!