Easy Way to Plan Preschool Programs
Plan your preschool or toddler program in minutes with this simple method. Our ABC Method can help you sort and compile activities that will be available for scheduling when you need them.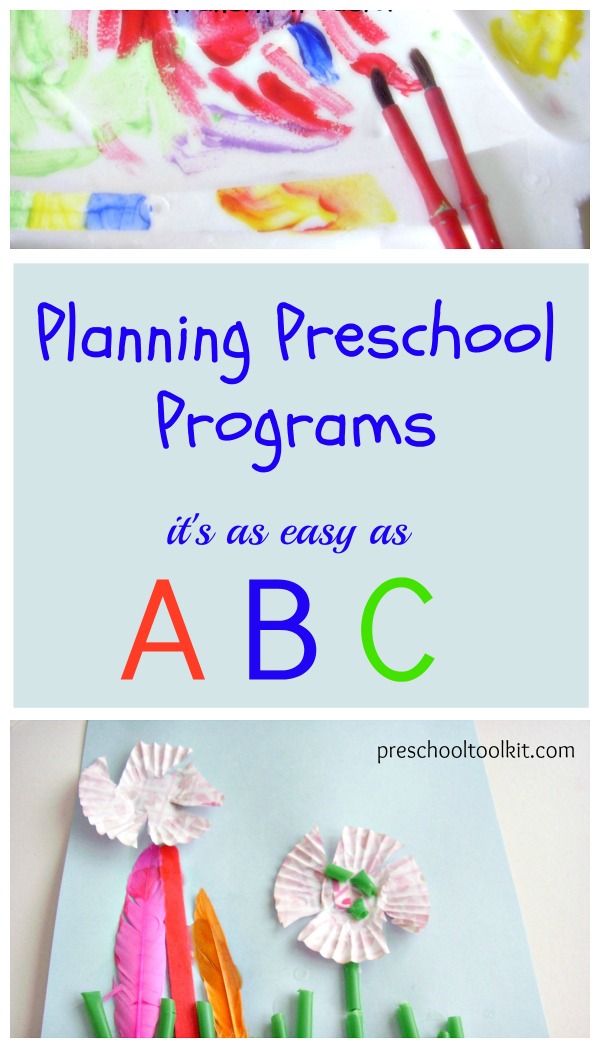 This post contains affiliate links. Privacy and Disclosure
As early learning teachers and parents your day is occupied with teaching, supervising, and playing! All this - and more! - is only possible with careful, intentional planning.
Planning can be an exciting part of your weekly or monthly routine, but it can also be time consuming. Choosing and scheduling activities for your early learning program require a generous potion of your time. Any steps you can take to make your job easier are a bonus.
It is my hope that the ABC Method will make scheduling of daily activities easy and stress-free.
A.B.C method for planning preschool programs
There are so many wonderful options available for kids activities. From stacking blocks and planting seeds, to sorting shapes and painting with spools, parents and teachers can provide amazing opportunities for learning through play.
No two early learning programs will be the same, even with similar activities. How programs are scheduled and delivered will vary according to teaching styles, early learning environments, time restraints, and ages, interests, and skill levels of the children.


The letters A.B.C. used to name our planning method reflect key components of an early learning program.
A = Activity B = Book C = Craft
These general categories support early childhood development with everyday activities. Each experience provides early learners with new or familiar experiences in small group settings.
Here are the categories explained in more detail.

Activity: fine motor or gross motor activities
Activities include gross motor, such as indoor bowling, or fine motor, such as sorting shapes on the felt board. They can be teacher-led (reading a book) during circle time, or child-led (planting seeds) during hands-on interaction and exploration. Activities may be introduced one on one or in a small group setting.
Book:

traditional and creative story telling
Reading a traditional book at story time can be a familiar and calming part of your daily routine. It is an opportunity to introduce or augment a theme, and may be extended with a related activity, such as role-playing The Three Bears after reading the book together. Telling stories can also be done through activities such as puppet shows or charades.
Craft:

creativity with arts and crafts
Arts and crafts sessions provide opportunities to imagine and create with art supplies such as paper and crayons, glitter and glue, paint and markers, and other materials such as play dough or stickers.
Balance craft tutorials with process art experiences to engage kids in a variety of creative experiences.
While the planned activities in this A.B.C. model are initially teacher-led, it its the response and engagement of the children in your care that turn any activity into a positive, hands-on learning experience.
How to use the A.B.C. Method to plan programs
The ABC method makes program planning easy with just two steps!


Step 1. Compile content.
Create original content.
Visit libraries.
Purchase written material.

Create a storage system that is easy to use. Retain information in a digital spreadsheet or Google doc, or as a hard copy in a 3-ring binder. Keep a small notebook with you to jot down ideas anytime of day, or store on your mobile device. Add later to your resource file.
Sort content by theme. Themes or topics provide platforms for organizing and sorting content. You can start with broad categories such as 'seasons' and 'animals', then become more specific with sub-categories such as 'leaves' and 'dinosaurs'.
This sample chart shows how you can create thematic units and store content.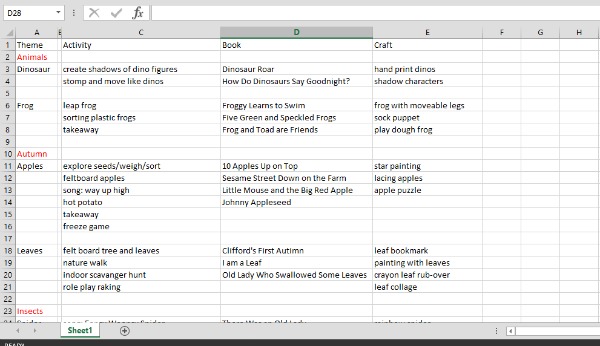 You can separate activities into 'gross motor' and 'small group' activities, or include a category for special events, field trips or snack options.
The categories you make will depend on your preferences and range of activities offered.
You can also add links or sources, and even a column for comments to edit or improve the activity in the future.
Continue adding relevant content to your selected categories as you find or create activities.
Here is an example of how to build content:
Apples

A = activity
Science: cut open an apple to find the star and seeds; weigh apples; sort by color

Song: Way Up High in a Tree (gross motor movements)

Game: hot potato with an apple; takeaway (small group)
Freeze game (gross motor)
B = book
10 Apples Up on Top
Apple Farmer Annie
Fancy Nancy
C = craft
apple 'star' painting
apple stencils
Step 2. Plan a program in minutes!
Choose a theme or topic.

Select activities from the category in your storage file.

Add activities to a weekly planner.
Following is an example of how apple activities listed above are inserted into a planner using the ABC Method.
Apple Theme

Monday
Activity
Song with actions: (tune: I love You, You Love Me)
Way up high, in a tree, Five red apples smiled at me. So I shook that tree as hard as I could, Down came the apples – mmm, mmm good!
Sort apples by color and size.



Book
Sesame Street Down on the Farm



Craft
1. Slice an apple in half to reveal the "star".2. Dip "star" in paint and press onto paper.

Tuesday
Activity
Freeze game: place numbered cardboard apple shapes on the floor. Play music while kids walk in the spaces between the apples. When the music stops, each participant jumps on an apple and calls out the number. Place the apples on the floor and continue play.
Play the 'Takeaway Game' with a number of apples in different colors.
Book
Little Mouse and the Big Red Apple by A.H. Benjamin
Craft
1. Draw and color a large red apple on cardstock.2. Cut the apple into 3 or 4 pieces to make a simple puzzle.
This is just a sample of what you can do with the ABC Method of program planning.
This ABC Method is an easy way to jump start the planning process.
Let the ABC Method help you build content and plan programs so you can look forward to spending more time stacking blocks, planting seeds, and painting with preschoolers. Make every day an amazing hands-on learning adventure for you and the kids!
Books with amazing content! (affiliates)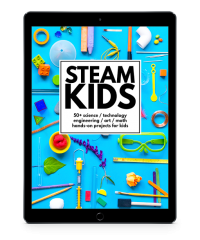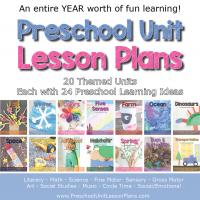 Curriculum Pinterest board for teaching resources