How to Make a Snowball Ornament Kids Craft
This easy snowball craft is fun for toddlers as well as older kids. Decorate the Christmas tree with these foam snowballs, or place them on a banner or poster in the classroom.
This post contains affiliate links. Privacy and Disclosure
Winter for some people (like us!) often brings lots and lots of snow. While it's hard to shovel, and requires us to dress in layers of warm clothing, snow also means sledding, snowmen, and snowballs!
If you want an activity with real snow, try our snowman gauge that measures snowfall on a snow day, or bring some snow indoors to make snowball faces as featured on Fantastic Fun and Learning.
Maybe you have a winter season with little or no snow. There are lots of ways to have fun with snow and snowballs when they're just pretend!
Try snowball painting with cotton balls from All Done Monkey.
Make snowball sculptures with foam balls at Stir the Wonder.
Snowball ornament craft
With or without real snow, winter is a fun time for crafting. Images of fluffy snow on the ground and snowflakes in the air inspire crafts with texture, glitter and hands-on fun. We made a snowball with cotton balls in this fine motor lacing activity, and snowflake bookmarks that make a great gift for Grandma this Christmas!
This simple snowball craft is perfect for kids of all ages. There is room for imagination and creativity so every snowball can look a little bit different.
Get ready to imagine some 'snow' with this fun snowball craft.
Supplies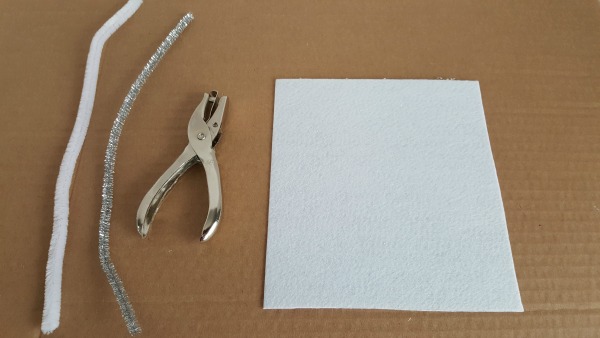 glittery felt craft sheet
thick chenille stem, white or silver
hole punch


confetti or gems


cotton balls
Instructions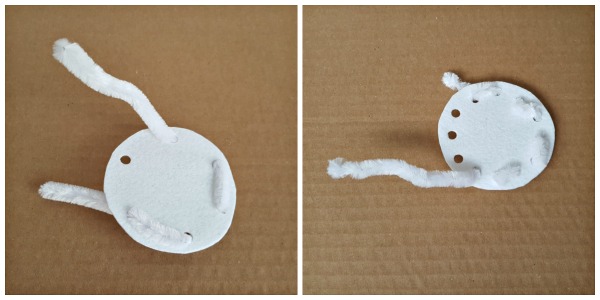 1. Cut a 3 in.(8 cm) circle from the glitter sheet.
2. Make an even number of holes around the circle with the hole punch.
3. Lace a chenille stem through the holes.
Remind kids to count the holes as they go around the circle to make sure they end up with an even number! This allows the ends to meet at one side of the circle to form a hanger.
You can help younger children with the hole punching. Make fewer holes for younger children if preferred.
The lacing with the chenille stem doesn't have to be neat - the more bunched up the chenille stem is, the thicker and fluffier the snowball will become!
4. Link the ends of the chenille stem together for a hanger, or add a colorful ribbon for a hanger.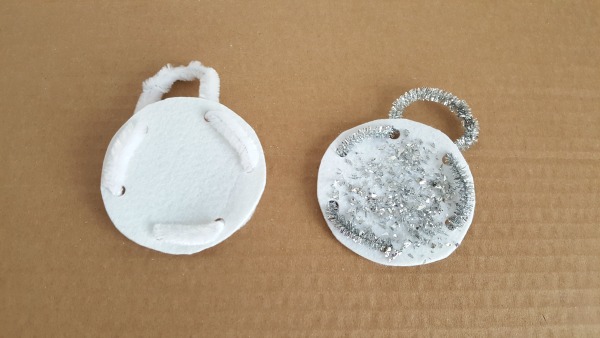 Icy snowball
Make an icy snowball by lacing with a silvery chenille stem.
Spread glue onto the snowball and sprinkle glitter or confetti over the glue.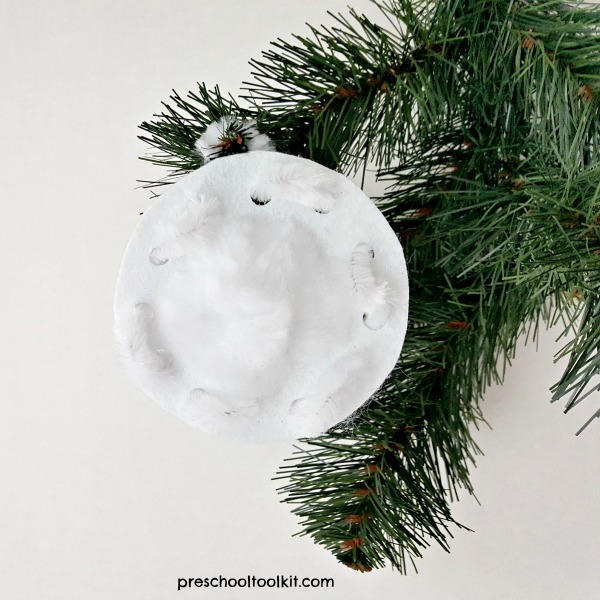 Fluffy snowball
Pull cotton balls apart into fluffy pieces. Glue onto the craft foam.
Alternately, if you cut a pompom in two, it makes a nice flat edge that you can glue onto the glitter sheet.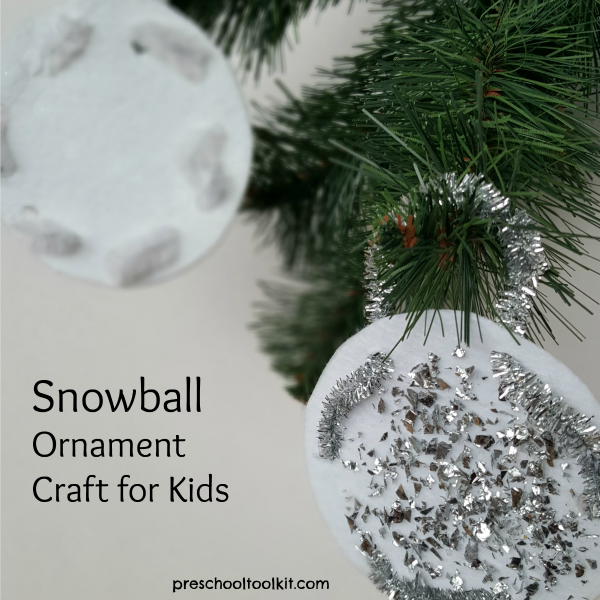 Your snowball is ready to hang on the Christmas tree at home or at school.
And the best part is - this snowball will never melt!
More snowball activities from kid-friendly bloggers
Kid-made Snowball Ornament from Handmade Kids Art
Winter Math Counting Snowballs from Fun-a-Day
Snowball Catapult Alphabet Activity from Mom Inspired Life
Christmas Ornament I Spy Snowman Craft from Craft Create Calm
Visit our Snow and Snowmen board on Pinterest for more fun crafts and activities.