Large Motor Activities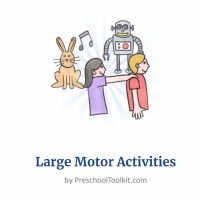 $4.99
This digital download (PDF) contains 43 large motor (also called gross motor) activities to support movement in everyday play.
Move to the music, jump and hop, wiggle and bend! The ideas in this product will get you and the kids moving to help stretch those large motor muscles.
Each activity page in this e-book holds two activities to prompt gross motor play with early learners.
Activities are open-ended, the value of each activity is in the process (i.e. play) rather than the result. Outcomes may vary according to the skills and interests of the kids in your care.
Here is a link to the blog post with more information about this product.
Activities are mostly evergreen, with some seasonal themes included. More than one set of adult hands may be needed to deliver and supervise some activities. The whimsical drawings will provide inspiration while leaving plenty of room for creativity.
NOTE: A "Download Sample" is available from our Art and Craft Activities, showcasing the format of the four e-books in the series.