Large Motor Activities Digital PDF Resource
This digital file contains 43 easy activities to inspire gross motor play. The activities are designed to support the use of large motor muscles in kids everyday play.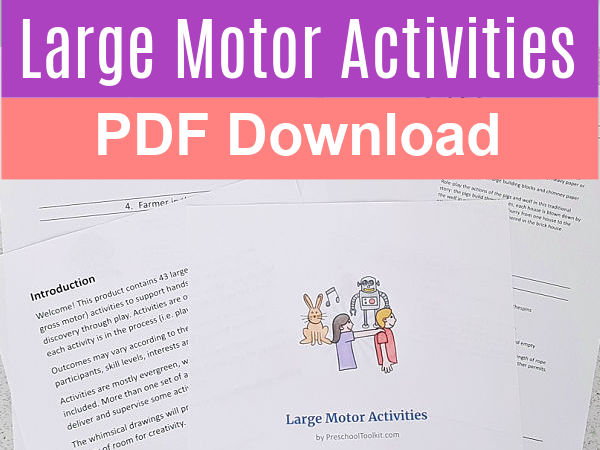 Privacy and Disclosure for information on cookies and affiliates
This digital product contains fun and easy activities to promote the use of large motor, also called gross motor, muscles. Games, musical activities, and role play will engage kids in a variety of experiences that promote body movement, spatial awareness, and cooperation with others.
The activities are easy to set up with simple props, household materials and basic craft supplies. Activities are hands-on, with some more challenging then others.
There are games to play as partners or in small groups, as well as activities where each participant moves in his or her own space.
Choose an activity that best fits the amount of time available, and the interests and skill levels of the kids in your care.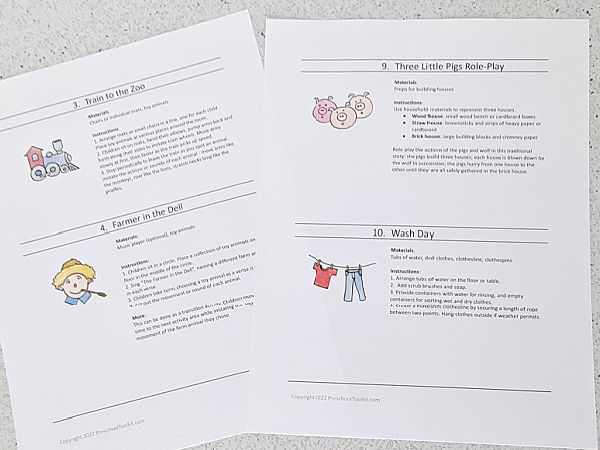 Purchase this Large Motor Activities product

in our Teachers Pay Teachers store.
There's always a lot of trial and error going on when kids interact with space and materials. They experiment with how to build a blanket fort, how high they can jump, or the different ways they can march in a parade.
This large motor activities resource provides lots of fun ideas that leave room for innovation and creative thinking.
The suggestions will enable parents and teachers to include large motor experiences in everyday play. There's a wide variety of activities, including music and movement, imagination and role play, and cooperation among participants.
There are lots of options for engaging kids with movement activities at home or in the classroom.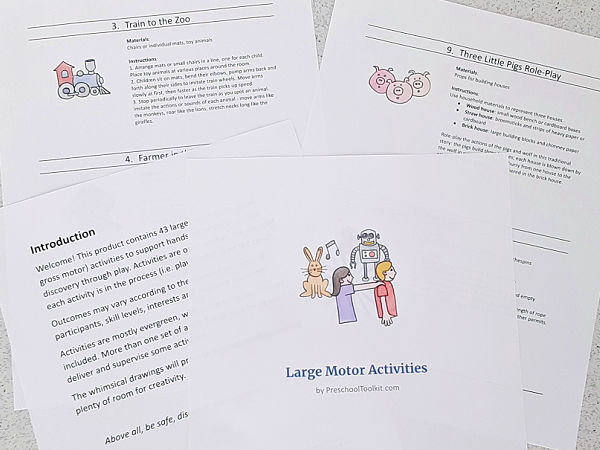 This image provides a view of the layout of the content. A cover page and introduction page are followed by activities with step by step instructions or guidelines.
The pages can be viewed in PDF, and also printed individually or as a complete e-book as needed.
The activities in this fun resource will get those large motor muscles moving, to help build coordination, balance, and flexibility.
Kids love to move to music, role play a spaceship, or row a cardboard box boat. This product will provide you with lots of fun ways to incorporate large motor play in your daily schedule.