Creative Large Motor Activities You Can't Resist
Get inspired to get up and move! You and the kids will love playing these fun games over and over. The digital file contains easy activities for creative gross motor play.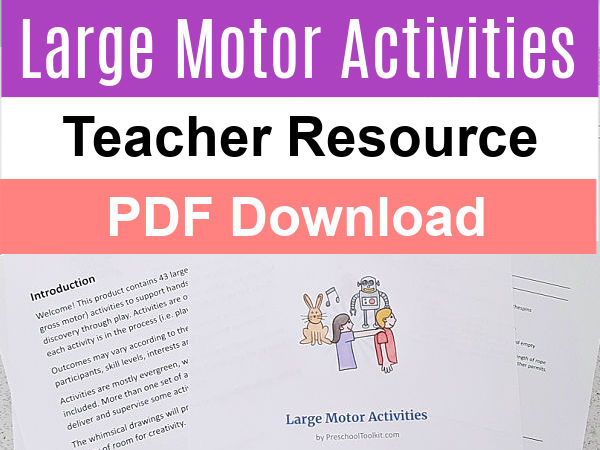 Privacy and Disclosure for information on cookies and affiliates
What is your biggest obstacle to planning activities with gross motor movement?
not enough space
not enough time
not enough incentive
The last one can be the hardest to overcome.
We know the importance of keeping kids active to support early childhood development.
But without a plan to incorporate physical activity into your daily routine, you are less likely to make it a routine event.
Before you plan, you need an idea of what to play.
What to play
Have you ever watched kids engage in pretend play?
They launch a spaceship, dance on a stage, or row a boat across a raging river, all in the comfort of your classroom or living room.
Kids don't need fancy props, large spaces, or hours of work to prepare the activity (although sometimes the labor of preparation is part of the gross motor movement!).
There's a lot of trial and error going on when kids interact with space and materials.
They experiment with how to spread a blanket to build a fort, how high they can jump, or the different ways they can march in a parade.
This involves lifting, pushing, raising and lowering limbs, and moving through spaces.
Games, music, and role play promote body movement and spatial awareness using those large motor, or gross motor, muscles.
Here's the incentive
This digital product contains fun and easy activities you and the kids can jump right into.
The activities are easy to set up with simple props and everyday materials. Activities are hands-on, some more challenging then others, but easily adapted to your students abilities and interests.
Each page contains two options for movement, often with music, and incorporating toys or other household objects you have on hand.
Props are as simple as scarves for twirling as you dance to music, or blocks to stack to build a house for one of the three little pigs.
There are games to play as partners or in small groups, as well as activities where each participant moves in his or her own space.
This large motor resource provides lots of fun ideas with room for innovation and creative thinking.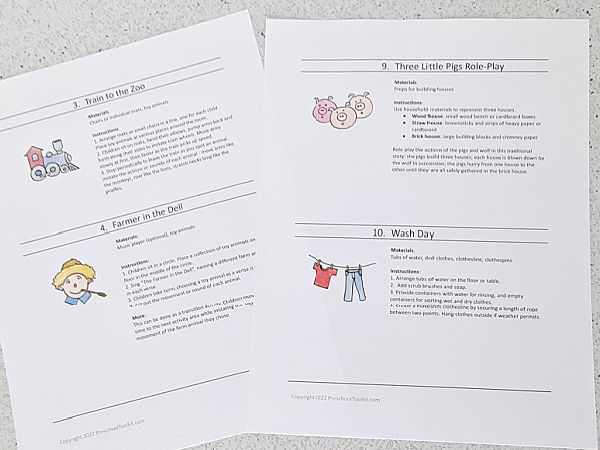 How to purchase this resource!
Also available in our Teachers Pay Teachers store.
Choose an activity that best fits the amount of time available, and the interests and skill levels of the kids in your care.
There's a wide variety of activities, including music and movement, imagination and role play, and cooperation among participants. The suggestions will enable parents and teachers to include large motor experiences in everyday play.
This digital product provides lots of fun options to easily fill your schedule with gross motor movement.
They are so much fun, you won't be able to resist trying one of the activities everyday!
Have you found your incentive? Don't wait to move on it!
There are lots of fun options in this digital resource for engaging kids with movement activities at home or in the classroom.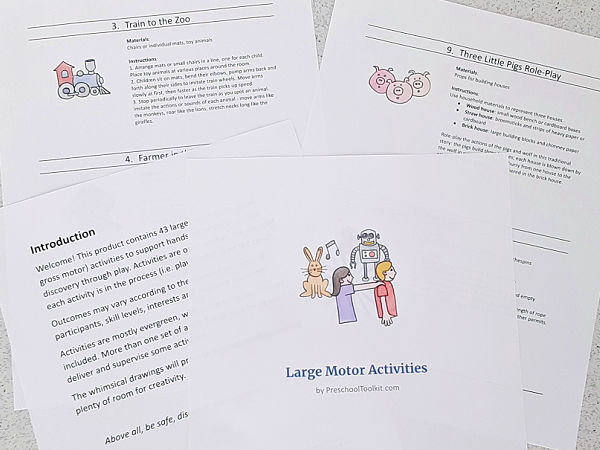 Inside the gross motor product
Here's what you get in this product.
Cover page
Introduction page
22 pages of activities with step by step instructions or guidelines and unique images.
The pages can be viewed in PDF.
They can be printed individually, or as a complete e-book as needed.
A daily incentive to build coordination, balance, and flexibility will get you up and running in no time.
The fun activities in this easy-to-use resource is are the incentive you need to get those large motor muscles moving.
Also available in our Teachers Pay Teachers store.