Science Activities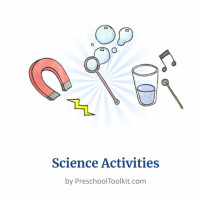 $4.99
This digital download (PDF) contains 51 simple science projects to support hands-on exploration and discovery.
Science activities can easily be a part of your everyday fun and learning!
The ideas in this product promote hands-on experimentation with everyday materials. Activities range from planting seeds to exploring animal habitats.
Each page contains two science activities, some more challenging than others, but all intended to spark curiosity and observation.
Here is the link to a blog post for more information about this product.
Processes are meant to be hands-on, encouraging observation and discussion. Outcomes may vary according to environment and available materials, as well as the ages and interests of participants.
The activities are mostly evergreen, with some seasonal themes included. More than one set of adult hands may be needed to deliver and supervise some activities. The whimsical drawings will provide inspiration while leaving plenty of room for creativity.
NOTE: A "Download Sample" is available from our Art and Craft Activities, showcasing the format of the four e-books in the series.