Easy Ways to Reuse Old Jeans
Old or worn jeans can be recycled in a variety of sewing or gluing projects. This roundup includes crafts to make for activities with the kids, as well as ideas for home decor.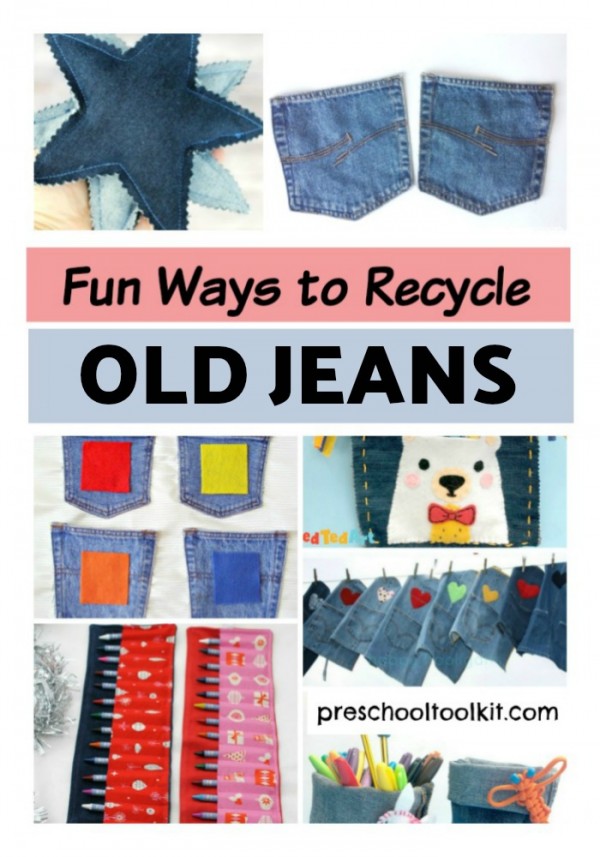 Privacy and Disclosure
for information on cookies and affiliates
Jeans are a popular clothing item that can stand up to a lot of use. When it's time to discard a favorite pair of jeans, consider repurposing the fabric in new ways.
I've gathered together a few ideas from family bloggers for repurposing old jeans. From kids activities to home decor, denim offers a wide range of possibilities.
Recycling old jeans is easy with these awesome projects.
Reuse old jeans
Denim is perfect for crafts and activities. It's sturdy and versatile, and easy to work with. Denim can be sewed or glued in various projects to make 'new' usable items.
There is a lot of life left in a pair of jeans, even after they are no longer considered wearable. Pockets and zippers and buttons and pant legs can all be salvaged for other projects.
Pockets are featured in several projects in this roundup, while leg sections are also reused in creative ways.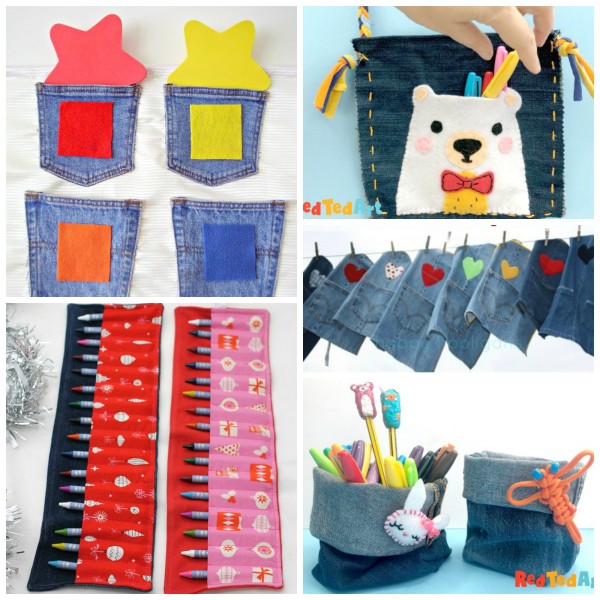 Denim pockets from old jeans can be used in a kids sorting activity. / Preschool Toolkit
A teddy bear purse also makes use of a denim pocket. / Red Ted Art
Make denim paint aprons for kids painting activities. / Happy Hooligans
A denim pot for holding pens and crayons is functional and adorable. / Red Ted Art
This roll-up crayon holder is easy to make from old jeans with this simple tutorial. / Swoodson Says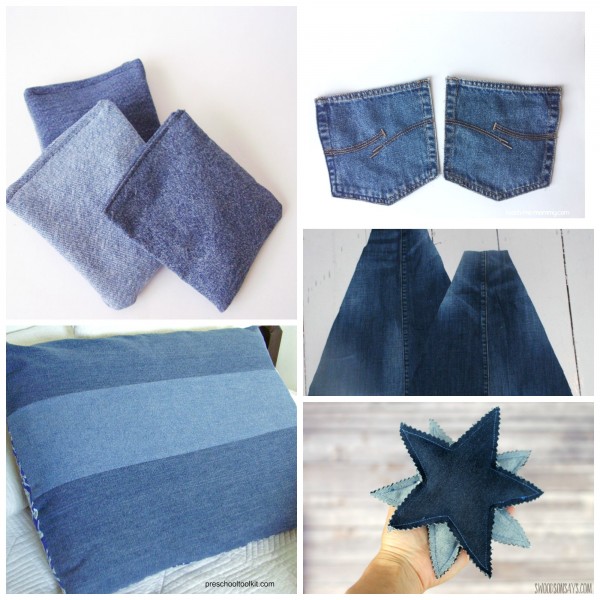 Denim bean bags can be filled with buttons or rice. / Preschool Toolkit
Recycle denim pockets as pot holders. / Teach Me Mommy
Transform leg sections of an old pair of jeans into a skirt. / Red Ted Art
These star-shaped denim bean bags are fun to play with and so pretty to look at. / Swoodson Says
A denim pillow cover is easy to make from the legs of jeans you no longer wear. / Preschool Toolkit