Homemade Bean Bags for Kids Activities
Denim can easily be recycled into bean bags to be used in kids' games. The bean bags only take minutes to make and kids will love using them for games of toss.
This post contains affiliate links. Privacy and Disclosure
Denim is ideal for DIY projects. It is sturdy, easy to work with, and readily available!
You can make bean bags with the pant legs of worn or discarded denim jeans.


Related: Denim pockets shape sorting activity.


Homemade denim bean bags
Bean bags are easy to make and store, and fun for all sorts of activities including games of toss, stacking, and hide-and-seek.
I used a sewing machine to make the bean bags in this tutorial. You can also sew them by hand, using small stitches to prevent fill escaping from the bag.
Kids can help fill the bean bags, and set up the games when the bean bags are ready.


Supplies for bean bags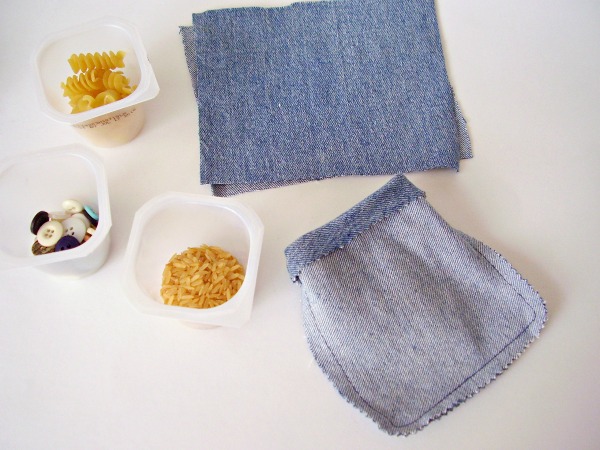 denim
filler - buttons, rice, beans, pasta
sewing machine, or needle and thread
Instructions for bean bags
1. Cut out two pieces of fabric, approximately 4 x 4.5 inches (10 x 11.5 cm), allowing for a 5/8 inch (2 cm) seam on all sides.
2. With right sides together, stitch around three sides. Trim with pinking shears. Fold down the top edge 1 inch (2.5 cm) as shown.
If sewing by hand, stitch seams with a running stitch or blanket stitch (or both if preferred).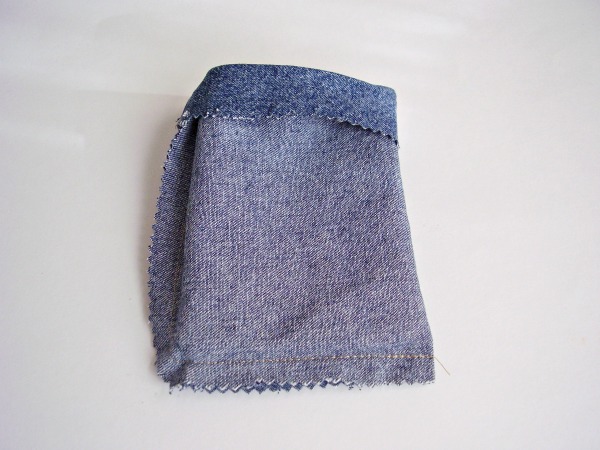 Alternately, cut one large rectangle of fabric and fold it over in the middle.
Stitch along the bottom and side.
Fold down the top edge.
3. Turn the bag right side out. Add beans or other filler.
4. Stitch closed.

Traditionally the bags are filled with beans but you can also use buttons, rice or pasta.
If you use a pasta like fusilli, kids can squish the bag to feel and hear the pasta breaking, for some added sensory fun!