Preschool Pretend Play Ideas with Cardboard Boxes
Preschool play spaces are easy to make with recycled cardboard boxes. These large cardboard props immediately become hands-on prompts for pretend play. Support kids creative, fine motor and language skills with kid-size props you can easily make.
Privacy and Disclosure
for information on cookies and affiliates
Cardboard boxes provide awesome opportunities for imaginative play. When the boxes are kid-size, you can create houses, shops, theaters and boats. Set up fun play spaces with just a few basic craft supplies and lots of imagination.
Play spaces you build with cardboard boxes support early development skills:
cognitive and engineering skills as kids help design and create the space
fine motor skills as kids paint, cut and tape to decorate the space
gross motor skills as kids climb in and around and out of the props.
Take pretend play to a whole new level with these exciting options you can make for your early learners.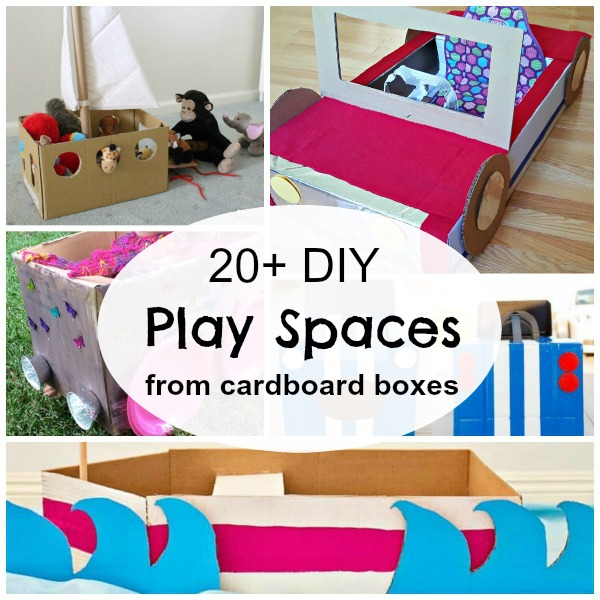 Cars and Boats and Space Ships
Noah's Ark / The Craft Train
Roadster / Preschool Toolkit
Race Car Costume / Spaceships and Laser Beams
Rowboat / Hello Wonderful
Fairy Car / The Craft Train
Box Derby Monster / Teach Me Mommy
Pirate Ship / Red Ted Art
NASA Space Ship / Sandbox Academy
Jet Packs / Fireflies and Mudpies
Around the House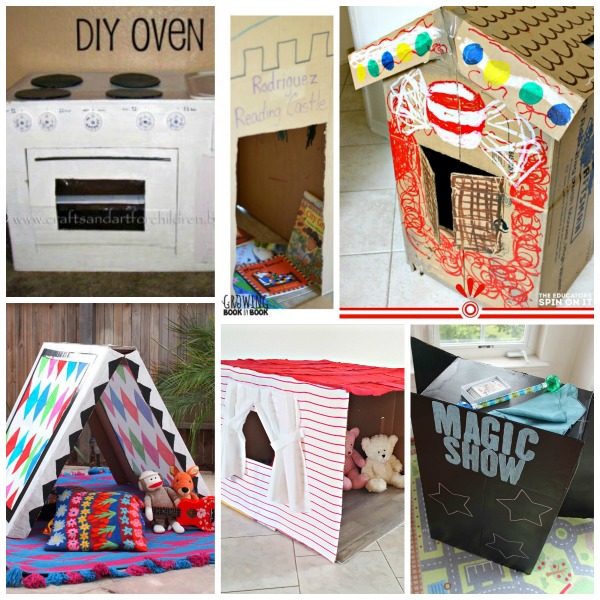 Cardboard Kitchen / Artsy Momma
Castle Reading Nook / Growing Book by Book
Gingerbread House / The Educators Spin On It
Magic Show / Sunny Day Family
Playhouse / Preschool Toolkit
DIY Cardboard House / Artsy Craftsy Mom
Tent / Pink Stripey Socks
House with Pretend Fire / Teach Me Mommy
Bird Nest / Mother Natured
Laundry Day / The Resourceful Mama
Knight's Shield / Red Ted Art
Theater with Printable / Adventure in a Box
Cardboard Box Theater / Preschool Toolkit
Theater for Marionettes / Preschool Toolkit
Backdrops and Puppets / Kiddy Charts