Recycled Cardboard Box Playhouse for Pretend Play
A DIY playhouse for kids is easy to make with a large cardboard box. This recycling project is fun for the whole family and promotes awesome pretend play.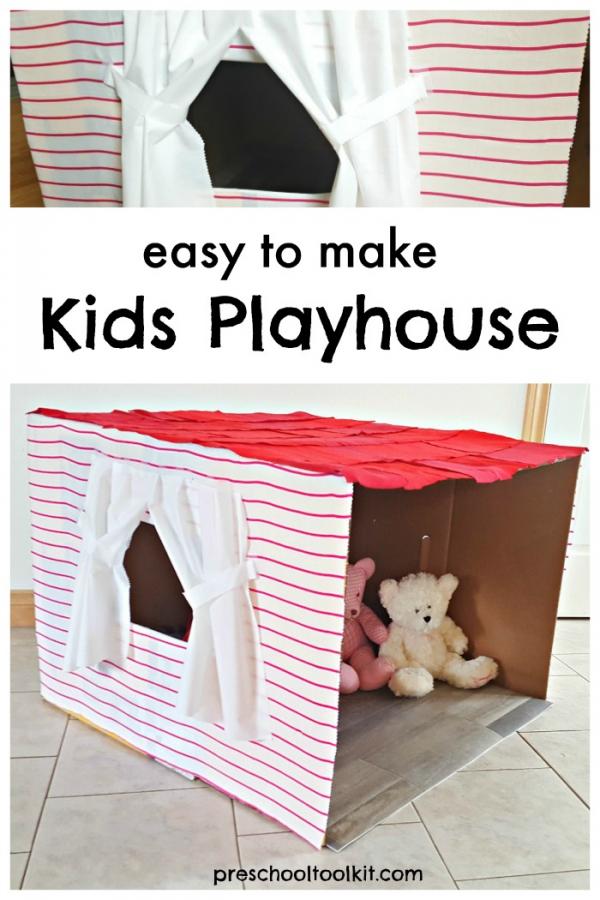 Privacy and Disclosure
for information on cookies and affiliates
A playhouse is a great prop for initiating imaginative play. The structure can become a tiny house, a library, or even a bear cave.
Pretend play is an important part of a child's development. It engages creativity and language skills through story telling, cognitive skills through planning and problem solving, fine motor and gross motor skills through building, staging, and simply playing.
Instructions for a playhouse
This might be the easiest design ever for a kids playhouse - no special tools, and not a lot of time, needed to create a cozy play area for toddlers and preschoolers.
Supplies include leftover fabric, clear tape, scissors, and a glue stick!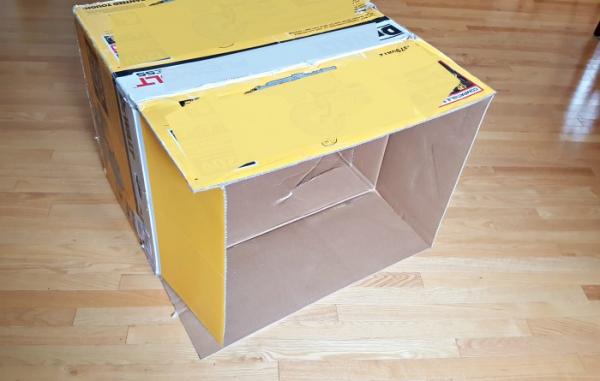 Build the playhouse with a large cardboard box


1. Set a large cardboard box on its side.
2. Extend the flaps - top, bottom and sides - to make a roomy nook for your toddler or preschooler.
3. Tape the box flaps together at the corners to support the roof and keep the sides in place.

Related: STEAM projects for kids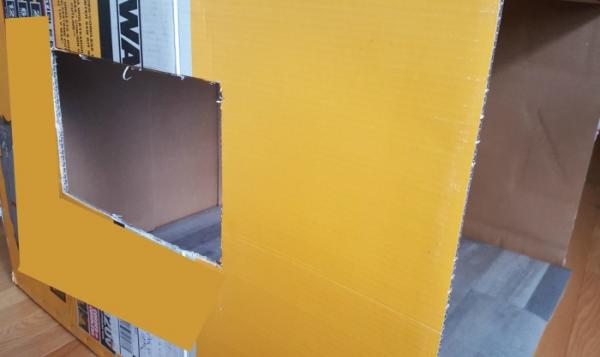 4. Cut a window in the wall with scissors or a craft knife.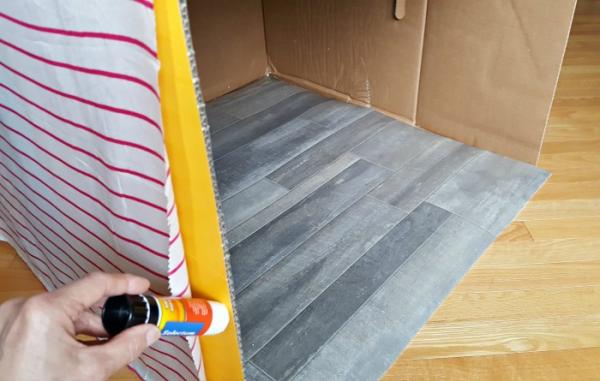 5. Cover the sides with pieces of fabric.
I used a stretchy fabric to cover the tiny house. The fabric attached nicely to the box with just a glue stick, but use a glue gun or tape if preferred. Some glue guns are kid-friendly which is beneficial if kids will be helping.
I cut all fabric edges with pinking shears (optional) to help reduce fraying but it also adds a nice finish.
If you don't have a piece of fabric large enough to cover the side you can make a pattern with smaller pieces. This will be another awesome STEAM project for kids as they design and create the wall pattern.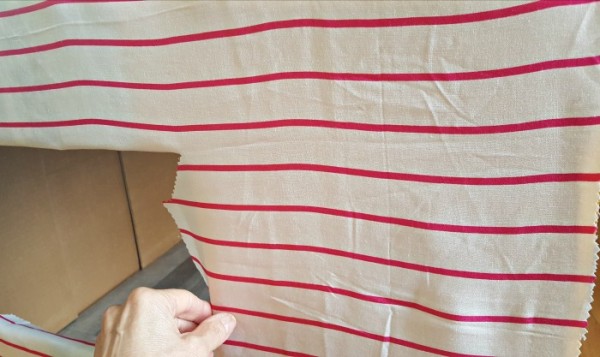 6. Locate the center of the window opening and make a cut in the fabric with scissors.
Cut away the fabric to reveal the window opening, leaving a 2 inch (5 cm) border that can be folded back on all four edges of the window (see photo below).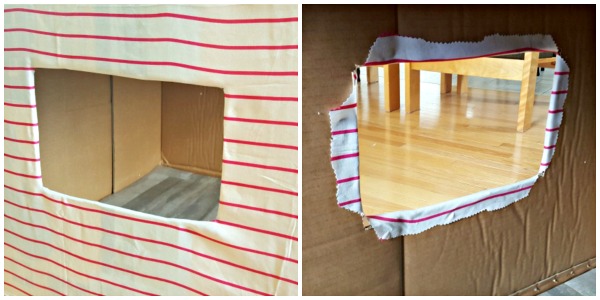 Outside view Inside view
Tape the fabric on the inside to secure. This will create a nice finished look around the window.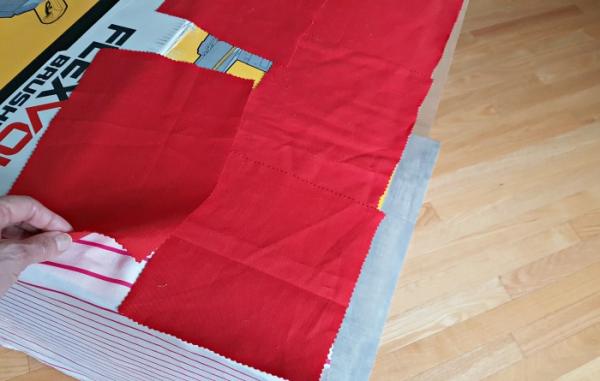 7. Cover the roof with fabric shingles (roofing tiles).
We cut roofing tiles from some discarded t-shirts. We used a few different shades of red. The tiles measure 7 x 11 inches (18 x 28 cm)and 7 x 6 inches (18 x 15 cm).
Overlapping the roofing tiles is a fun STEAM project for kids.
Make a window curtain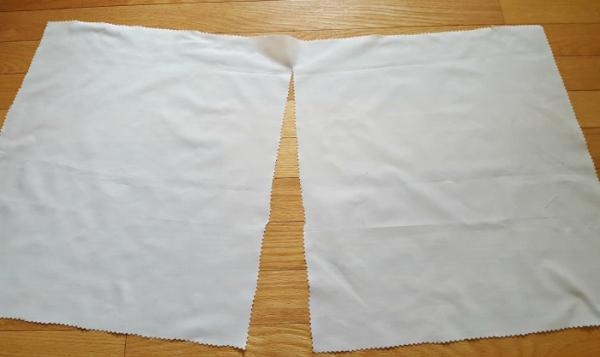 8. Cut out a curtain from cotton or lace fabric.
I made the curtain in one piece by cutting down the center of the fabric with pinking shears, but two pieces would work as well.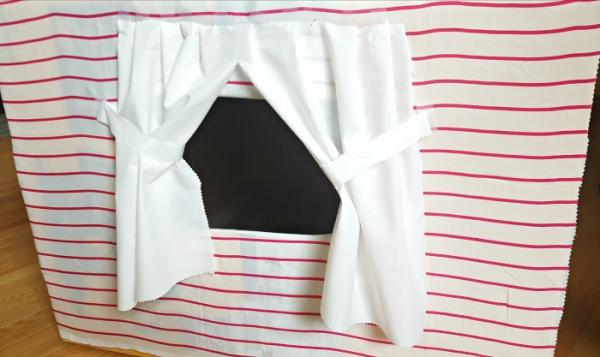 9. Tape or glue the curtains to the window.
I make pleats in the fabric as I taped the fabric to the wall of the house. This makes a nice full curtain. You can sew pleats by hand or sewing machine before attaching to the wall if preferred.
Draw the curtain open on either side with tie backs taped to the house wall.
Add toys, pillows, blankets and books and you have a cozy playhouse ready for some fun pretend play!