Wooden Ornament Craft for Kids
These unique ornaments are easy to make with scraps of wood. This simple craft is fun for kids of all ages, providing lots of opportunity for fine motor, creative work. Design wooden ornaments for the Christmas tree with this fun family activity.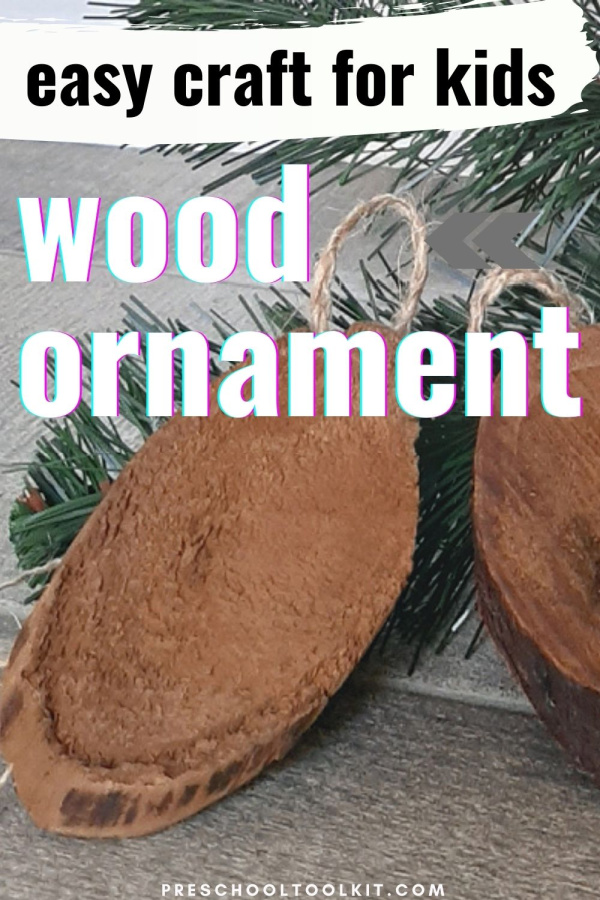 Privacy and Disclosure
for information on cookies and affiliates
Decorations made with wood and other natural elements add a touch of nature to your holiday décor. We've already used pine cones in several activities so it was fun to come up with a craft using wood pieces.
This activity was inspired by a recent renovation to the exterior siding of our home. We removed the outer layer of cedar shingles on the house, revealing the underlay of unfinished wood shingles.
The knots in the shingles used as underlay easily popped out. The different shapes and sizes prompted the idea of creating memorable gifts for family members. You can use any small thin wood pieces left over from a home renovation project.
If you don't have natural materials available, you can have just as much fun doing this activity with store-bought items. Wood slices
can be purchased online, or at a craft store or department store.
Related: Homemade set of wood blocks
Wooden ornaments craft
Kids can help make these simple ornaments with wood scraps. Working with natural materials draws kids attention to the environment, how things are made, and how things can be recycled or reused.
This is a great family activity that supports kids creativity and fine motor skills. The ornaments are easy to make and should last a long time!
Instructions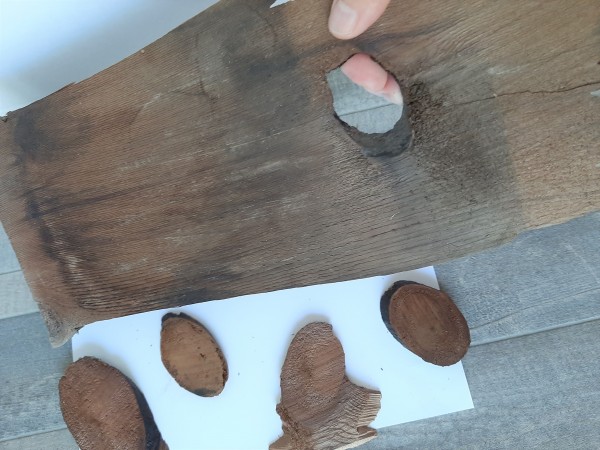 The knot removed from the shingle becomes the ornament. Shapes and sizes will vary, providing interesting choices to decorate.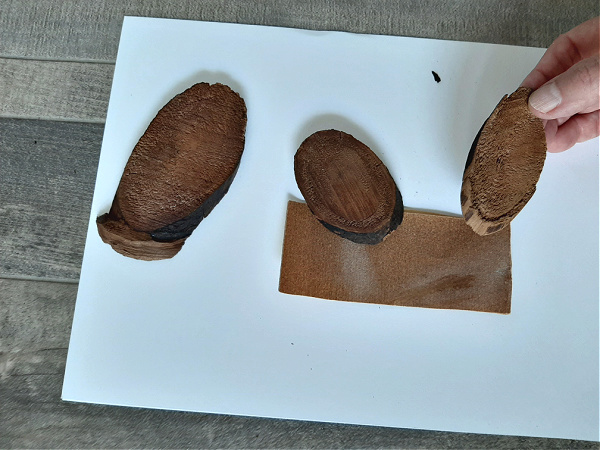 The edges blacken with time (sap in the wood), but a light sanding removes that if preferred. You could paint the wood pieces with a clear finish if preferred (this sometimes darken the wood).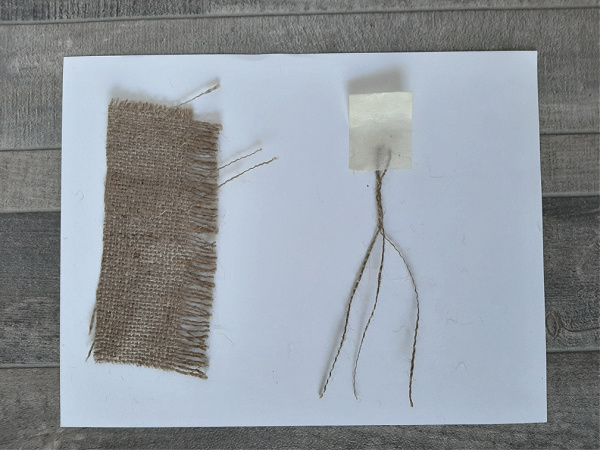 Make a hanger for the back of the ornament with burlap threads.
Pull threads from a piece of burlap cut to length.
Hold three strands in place with tape at one end.
Braid the strands together to form a strong chain-like hanger.
Other activities using threads pulled from burlap include fins for our fish craft and a tail for a horse craft.
You can also fine burlap used as bristles in our broomstick craft.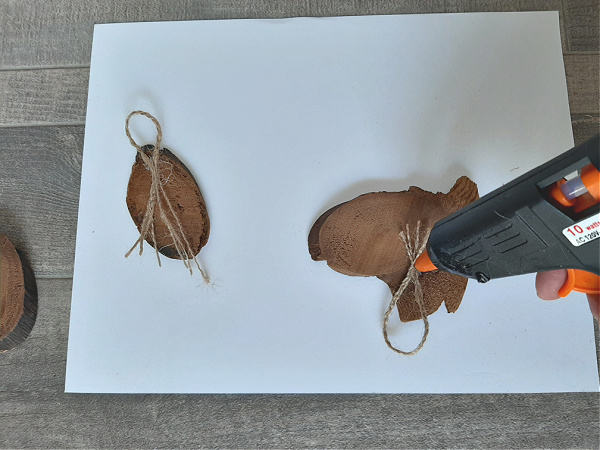 Secure the hanger to the back of the wood ornament with a glue gun or tape.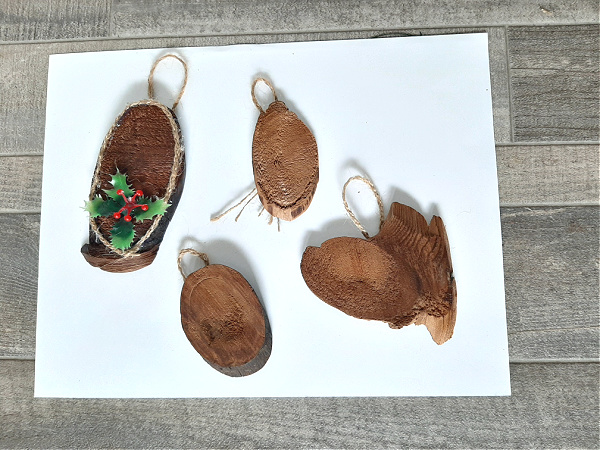 The ornaments look fine if left plain, but kids can paint the wood pieces or decorate them with stickers, crayons or markers.
You can also decorate the ornaments with festive details, or add accessories to resemble an animal or character.
On the left:
Braid a length of burlap threads together. Glue the braid around the edge of an oval-shaped ornament.
On the right:
The ornament on the right resembles a fish! Kids can add craft eyes, color 'fins' with crayons or markers, or make fins with feathers.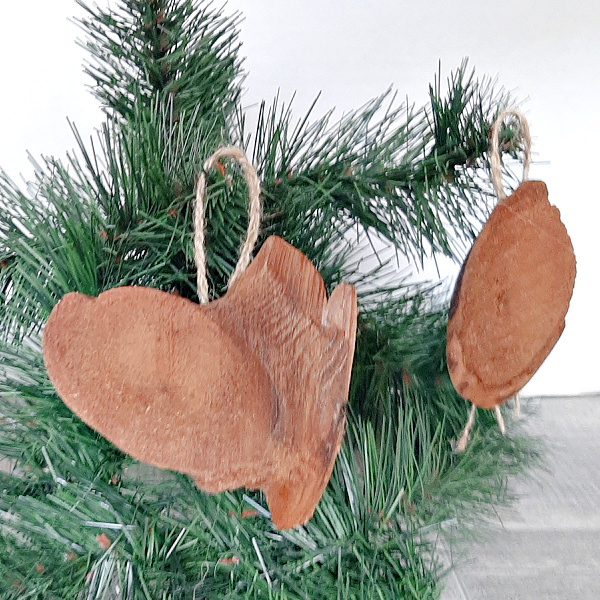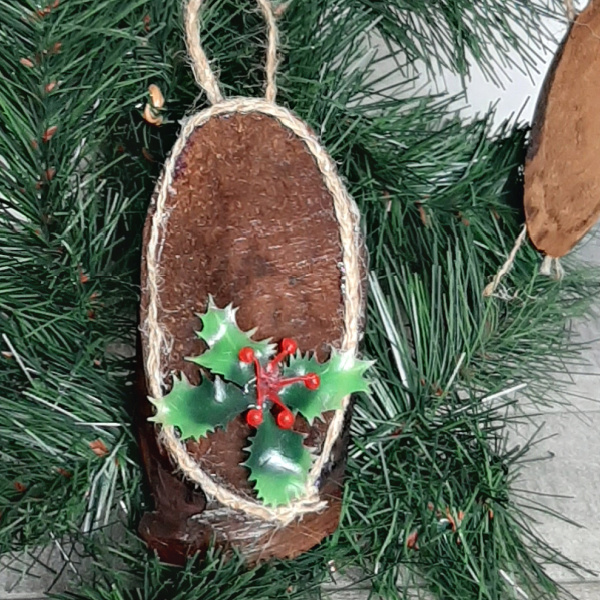 These ornaments are simple to make but lovely to hang on the Christmas tree. And they will last a long long time.