DIY Wooden Building Blocks for Imaginative Play
A set of wooden blocks is easy to make and a perfect addition to your toy box. Once your blocks are ready, all you need is a bit of floor space and lots of imagination.
This post contains affiliate links. Privacy and Disclosure
There's a wonderful phrase from a 1980's baseball movie that invites you to 'build' it and 'they' will come.
If only it was this simple to engage our early learners.
Maybe it is!
We can easily offer interesting activities with recycled, reused, repurposed, and reimagined materials.
We can also include homemade toys that have their own unique properties.
In this case, the 'build' is wooden blocks, and 'they' are your eager preschoolers.
DIY wooden blocks
Wooden blocks have great play value.
They don't require batteries or cords.


They are mess-free and easy to store.


They don't come with an instruction manual.


They can be piled up, lined up, sorted and stacked - any way you can imagine!
They're also so easy to include in your tool kit.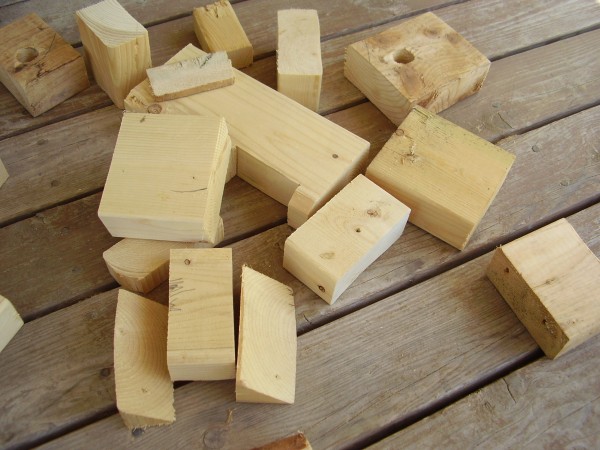 We do our own home renovations and often have scrap wood on hand.
The blocks in the photo are rough cuts in various shapes and sizes.
You can make your own blocks by cutting 2X4 untreated lumber such as spruce into small pieces of different shapes - squares, rectangles and triangles.
You can get a nice supply of blocks from one piece of 8 foot lumber.
How to make a set of building blocks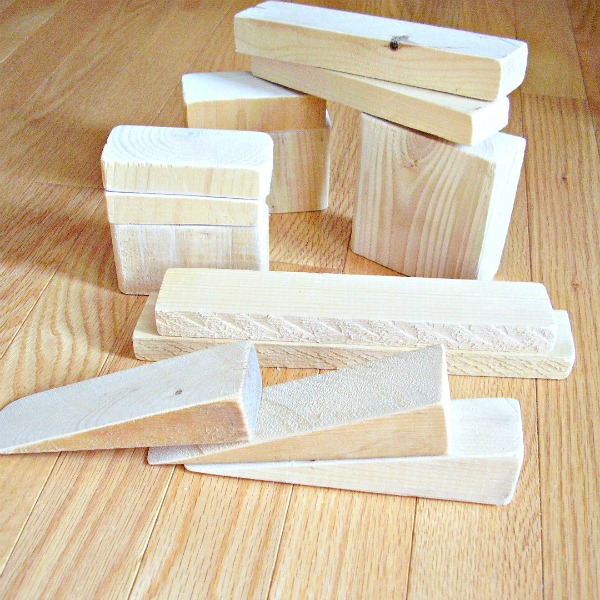 1. Cut pieces to manageable sizes that are lightweight and easy for your child to pick up with one hand.
2. Carefully sand wood pieces to a smooth finish to prevent splinters from getting in the way of playtime.
3. Blocks can be left as is, or painted for additional activities. Varnish or other coatings are not required.


Related: Matching game with wood blocks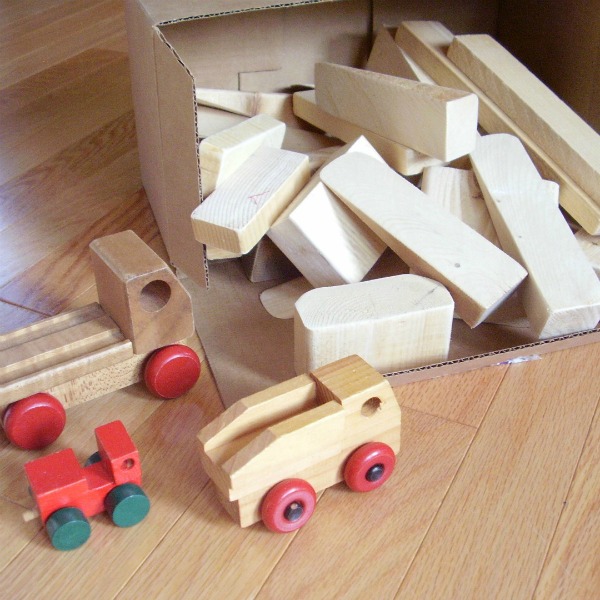 For added play value, include wooden cars and any other wooden toys
you have on hand.
Limit the number of blocks at first so the play is not overwhelming.

Outline the play area with a small mat, or use a cardboard box as a structure around which to build.
What will your young engineer imagine today?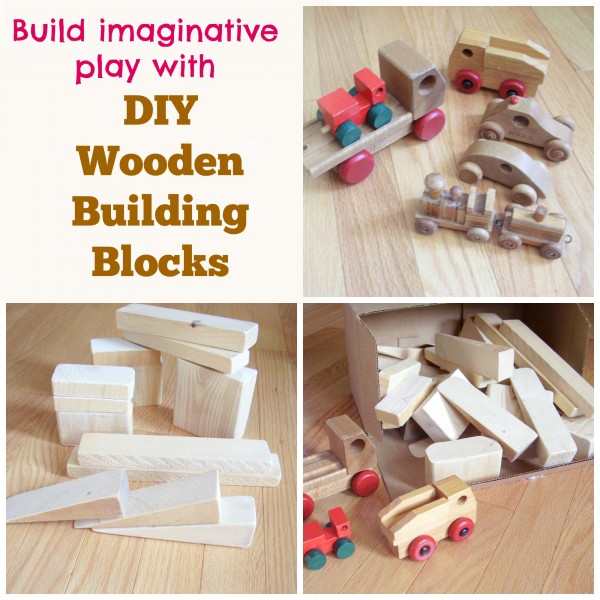 Visit our Pretend Play Pinterest board for more creative play ideas.