Pine Cone Ornament Craft for Kids
A pine cone ornament is a fun nature craft to do with the kids at Christmas time. Decorate a pine cone with ribbon and sparkle to highlight the festive season.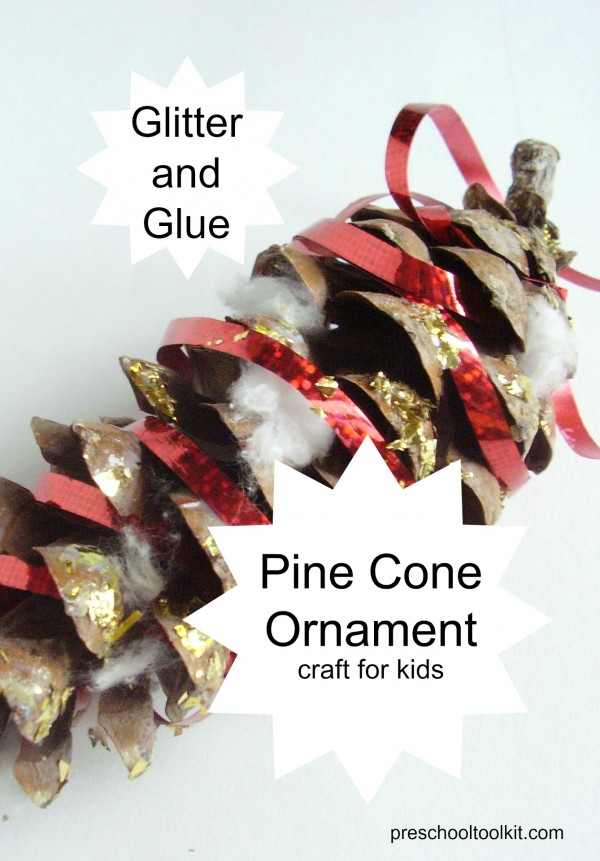 This post contains affiliate links. Privacy and Disclosure
Pine cones are a wonderful natural material to use for arts and crafts activities. They're easy to paint, they're pretty much unbreakable, and their rough texture adds a unique sensory experience to any activity.
Gather some pine cones on a nature walk. This provides some outdoor exercise while exploring natural surroundings. If you do not have pine cones available in nature, look for them in craft stores or purchase pine cones
online.
Pine cone ornament
This ornament is made with glitter and glue. Biodegradable glitter is now recommended as a more eco-friendly option.
Paper confetti is another alternative to glitter. Paper confetti is easy to make with a hole punch. Using a hole punch is a great fine motor activity for kids.
Working with glitter and glue can be a little messy. Be sure to wear smocks or paint shirts and use drop cloths.
Supplies
pine cone
narrow ribbon
cotton balls
biodegradable glitter or paper confetti
white school glue

Instructions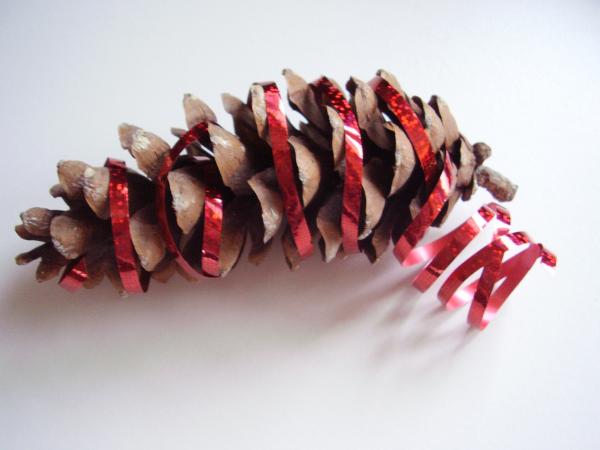 Wrap ribbon around the pine cone. The ribbon has a natural curl as it comes off the spool which is helpful when children are winding it around the pine cone.
Leave enough ribbon at the end to make a hanger.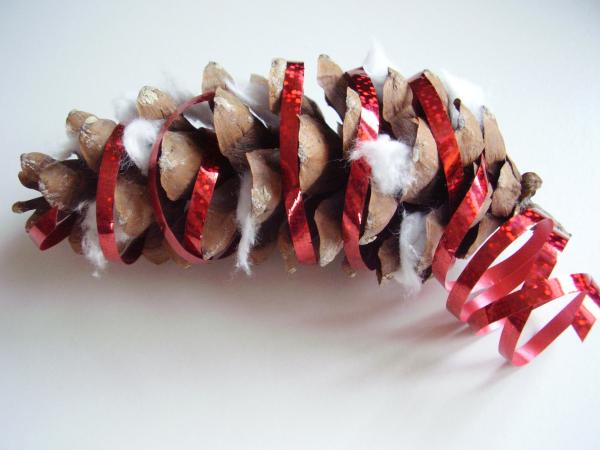 Pull some bits of fluff from a cotton ball and push them into the crevices of the pine cone. This is a great fine motor activity.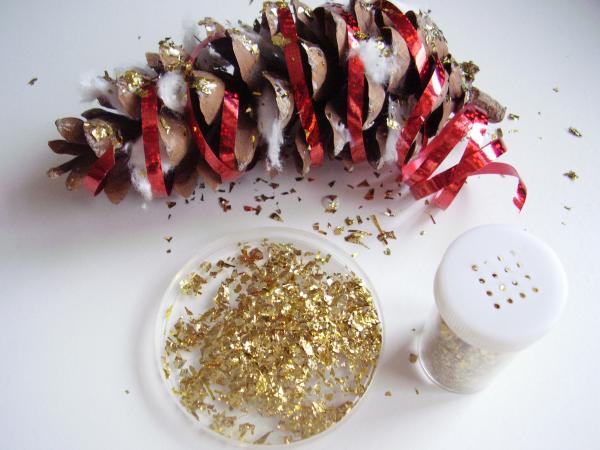 Squeeze dabs of glue onto the pine cone then sprinkle glitter onto the glue.
Place some flakes in a small dish or jar lid. Pinch glitter between the fingertips then drop onto the glue on the pine cone. This is another fine motor exercise.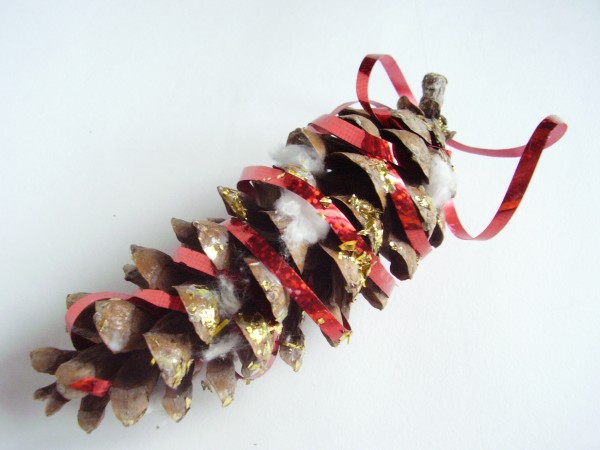 Hang decorated pine cones on a Christmas tree or wreath.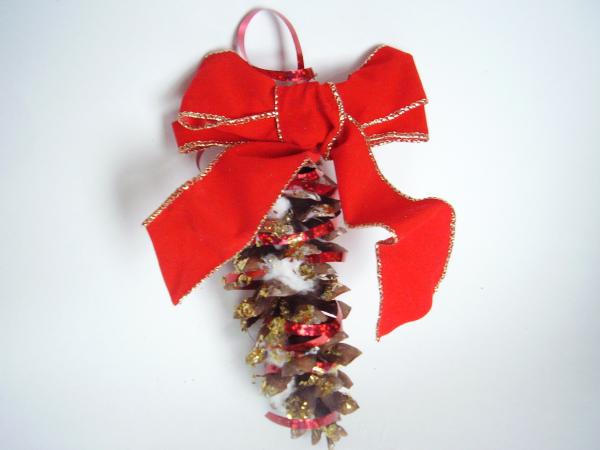 Add a bow to a pine cone decoration.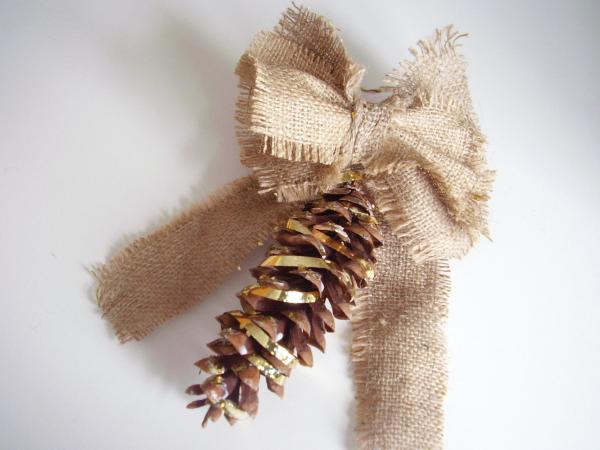 A pine cone wrapped with gold ribbon looks awesome trimmed with a homemade burlap bow.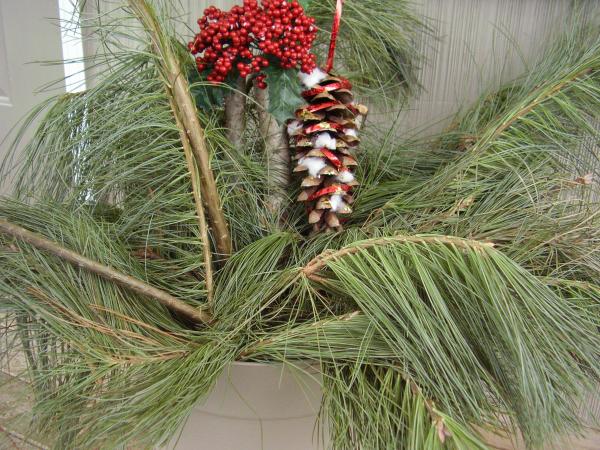 Place a decorated pine cone on a wreath or planter arrangement.
More pine cone art activities:
Paint pine cones with a paintbrush. Shake glitter over the wet paint. Allow to dry.
Roll pine cones in a tray of paint and then roll them across a large sheet of paper.