Teaching Children Playground Safety
When you head out to the playground, take charge of playground safety by being proactive. Here are some tips that will help create a safe and enjoyable environment.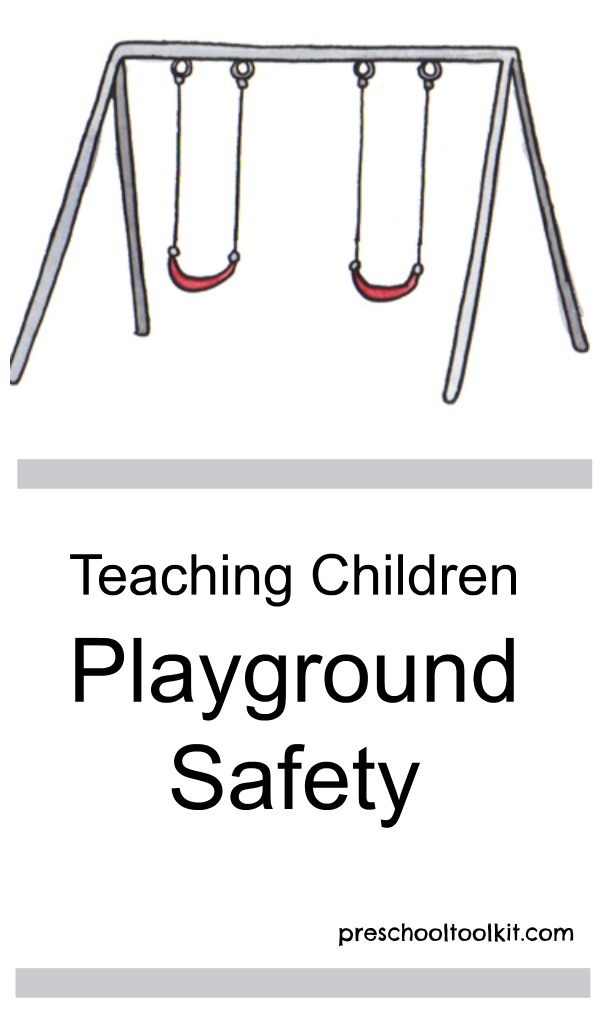 This post contains affiliate links. Privacy and Disclosure
Kids can share and play in positive ways by adopting good habits around play equipment. Everyone wants to have fun and be safe at the playground, so in order to avoid frustrations and possible accidents, it is beneficial for kids to be equipped with the proper tools for playing safely.
Parents and teachers can teach a few specific rules that apply to use of equipment as well as concern for others in the play space. Repetition and modeling will help instill rules of safety and kindness in as part of kids everyday play.
Playground safety
Outdoor play has many benefits for kids as well as grownups! It provides exercise and fresh air, interaction with nature, and opportunities to explore new experiences.
It goes without saying that adults must supervise little ones while allowing them freedom to run, explore, play and socialize. Whether you play in your back yard, or in a public park, kids need rules to stay safe while having fun and exploring their surroundings. We can provide kids with the tools to play safely, then give them opportunities to explore child-led play.
One way to empower kids is to demonstrate safe practices for the use of playground equipment.
Here are a few steps to take to show kids how to play safely.
Playground safety best practices
1. Walk at a safe distance around the swings when they are in use.
Lead the children through a practice route, from one piece of equipment to another.
2. Sit properly on the swing and slide.
Have the children imitate your example. Sit, don't stand, on swing seat. Sit, don't stand, at top of slide.
3. Grasp climbing apparatus with both hands.
Use two hands to comfortably climb ladders and other equipment. Using two hands rule can also apply to swing ropes or chains and seesaw handles.
4. Play on equipment you can reach.
Public playgrounds may have options available for a wide range of kids sizes and ages. Set limits.
5. Play games at a safe distance from playground equipment.
Separate playground area into spaces according to activities. Designate areas for playing tag, throwing balls, or flying kites that are a safe distance from swings and slides.
6. Take turns.
The playground presents opportunities for sharing (Is someone waiting for a swing?) as well as for learning to "wait your turn".
Reinforce rules occasionally with a few simple instructions.
Hold onto handrails with both hands.
Make sure the bottom of the slide is clear before you slide down.
Slide down feet first.
Sit, don't stand, on the swing seat and seesaw.
Walk a safe distance behind swings in use.
Stay clear of the child above you on climbing equipment.
As parents and care givers, it is our job to make sure a play area is safe, whether in public spaces or in our own backyards: equipment is maintained; area is free of debris or garbage; play structures are appropriate for the age of the children in our care. Public spaces will have additional regulatory conditions such as meeting ground surface safety guidelines.
We must also make sure kids are not wearing loose clothing, belts, scarves, or other accessories that might tangle in playground equipment.
And last, but not least, wash hands before enjoying snacks.

Play safely, and have fun at the playground today!