How to Make Wood Puzzles Preschool Activity
Wood puzzles are easy to make with this creative painting activity. Kids can paint, sort, and match blocks of wood. This easy activity will engage fine motor, sensory and math skills.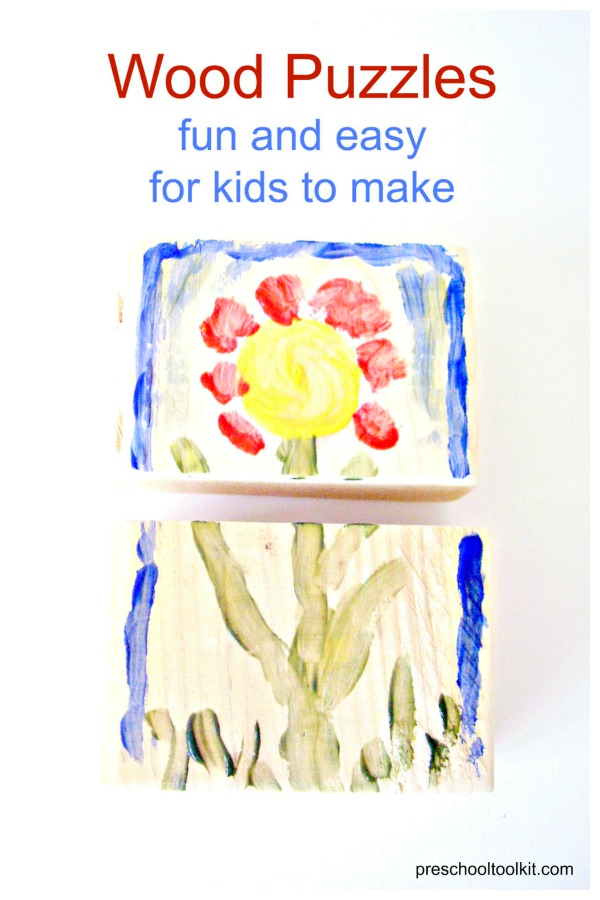 This post contains affiliate links. Privacy and Disclosure
Natural materials like small wooden blocks are fun to use for kids crafts and activities.
Wood blocks are a clean slate just waiting for kids to explore. The possibilities for imaginative play are endless.
In this activity, kids paint colorful designs on small blocks of wood. By choosing two blocks and continuing the design from one block to the next, the blocks can then be used as puzzle pieces.
Wood puzzles activity
We have homemade wood blocks in the toy box for everyday play. We were able to use some of them in this activity.
If you have some small pieces of 2 x 4 left over from a home renovation project, simply sand the wood smooth to remove possible splinters before beginning to paint.
You can also buy wooden blocks online for this project.
Supplies for wood puzzles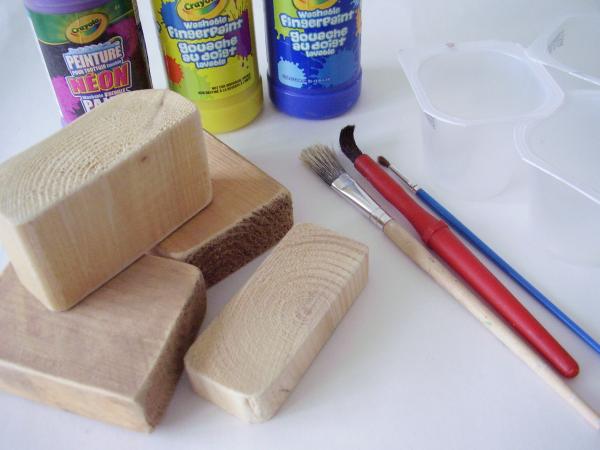 wood blocks in a variety of sizes and shapes
Instructions for wood puzzles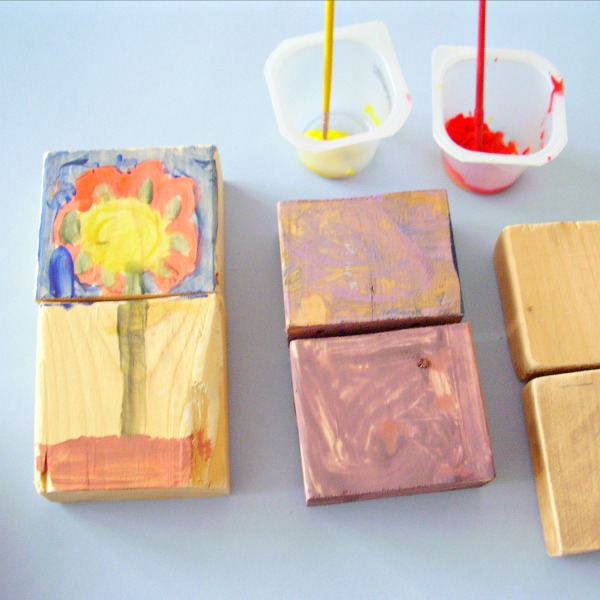 1. Choose two or more pieces of wood of similar size and shape. Make sure the wood pieces stay close to each other as you paint in order for the pattern to continue from one to the other.
2. Kids may choose to paint the wood block a solid color and allow that paint to dry before painting a design.
3. When the paint is dry, place all the blocks in a box or basket to mix them up.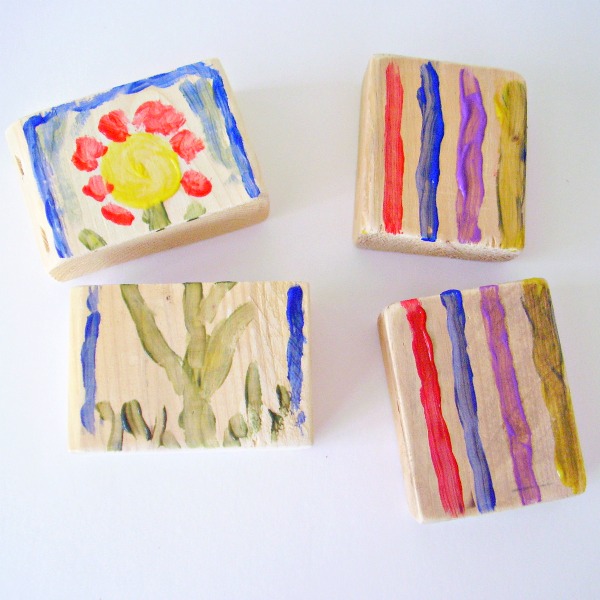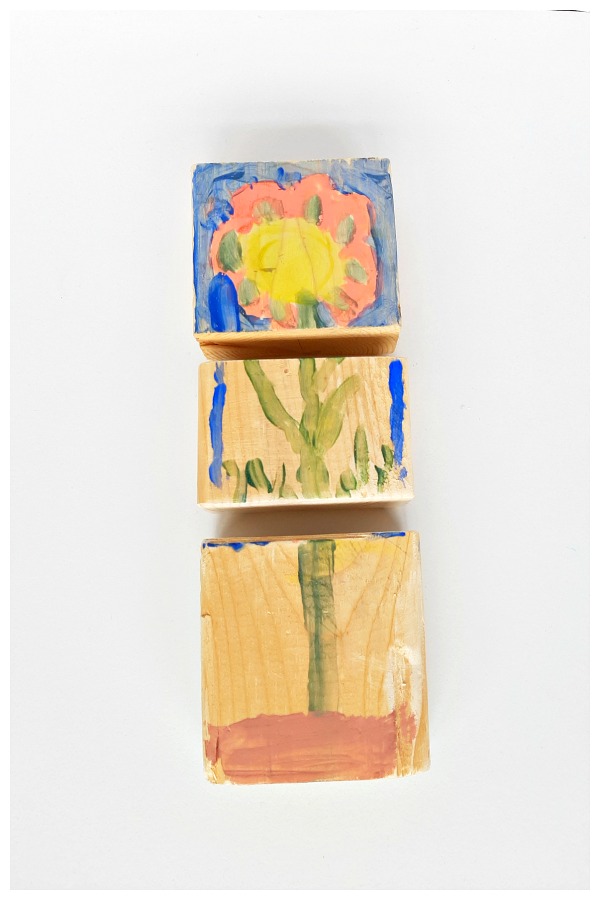 How to play
Here are a few suggestions for small group time with preschoolers.
Each child chooses a block from the box. All participants then move through the group until each one has found a block needed to complete a picture.
Turn the blocks upside down on a table to hide the design. Flip one block over to reveal a piece of a puzzle. Each child flips a block in turn, looking to see if a piece has been revealed that will complete a puzzle. Blocks remain with the design turned up until all the blocks are matched.
Create abstract designs and silly pictures by putting two or more blocks together that do not make a puzzle!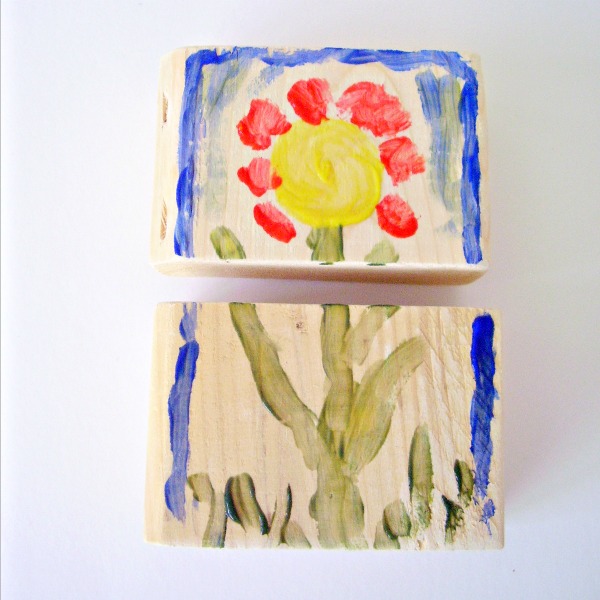 Wood blocks are a great option for your child's toy box: they are easy to handle and store; they come without instructions or batteries; they last a long, long time.
Kids benefit in many ways from child-led activities like playing with wood blocks. Painting a few blocks for a puzzle activity like this one supports creativity and math skills, along with decision making and discovery.
Let's see what kids create from the clean slate offered by wood blocks.
Hands-on science and math activities for early learners!