5 Ways to Celebrate New Year's Eve with Kids
There are lots of fun ways to celebrate New Year's Eve with kids of all ages. Whether you stay up late or celebrate during the day, these tips for an exciting kid-friendly event are sure to be a hit with the whole family.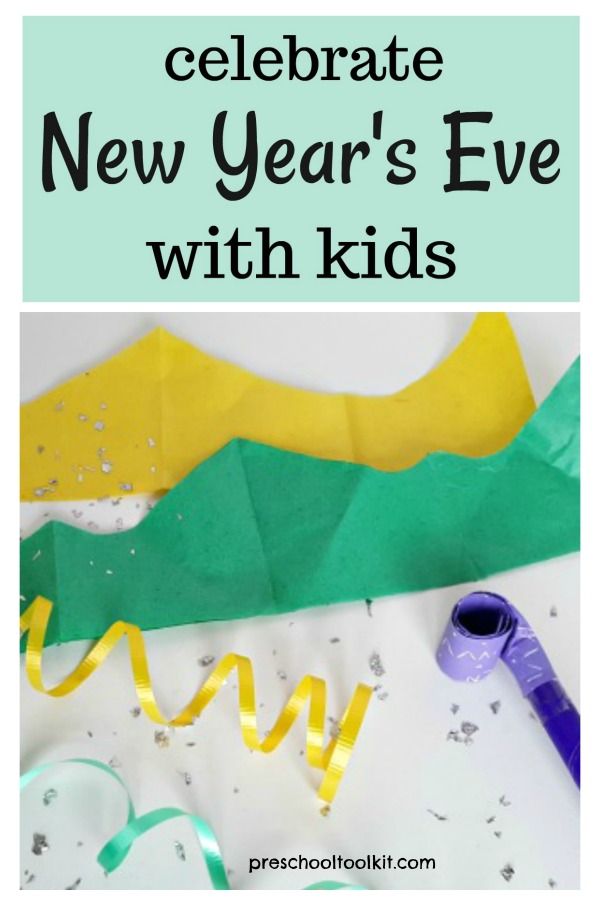 This post contains affiliate links. Privacy and Disclosure
Kids are often thrilled with the possibility of staying up late to ring in the New Year. While keeping kids awake until the midnight hour may not be an option, there are other awesome ways to celebrate as a family.
Celebrate New Year's Eve with kids
1. Serve Special Refreshments
Include kids in a toast to the New Year. This means they will need a special drink so they can join in the fun. Fill plastic champagne glasses with sparkling cider or fruit juice. Serve snacks and finger foods on festive plates, or with novelty napkins. Include a few original foods to tempt them to try something new!
2. Break Out the Party Hats and Noise Makers
If your kids won't be staying up late, let them wear the party hats
throughout the day. You often find paper crowns inside party crackers so you can make these a part of the fun. Or decorate cone-shaped party hats with stickers and glitter! Kids can use noise makers as they watch news footage or videos of other countries ringing in the New Year. This allows your kids to experience the holiday fun that takes place at midnight.
3. Find Family-Friendly Events to Attend
Many areas offer family-friendly events for New Year's Eve. This might include indoor or outdoor games or tournaments, or local entertainment at the park. And if possible, be sure to take in a fireworks display to kick off the New Year.
4. Practice the Countdown
Have fun practicing the countdown. You could have a mock countdown with younger children before they go to bed. Set the clock ahead, let the kids countdown, and then celebrate when the clock hits 'midnight'. Have some confetti (shredded paper!) for tossing, glasses for toasting, and noise makers for sounding the event!
5. Explore How People Ring in the New Year Around the World
Many news stations will show celebrations around the world as they happen. Because of the different time zones, you can tune in each hour or so to watch how different countries celebrate. This is a great way for your kids to experience New Year's Eve without having to stay up well past their bedtimes. It's also a great way to expose your children to other cultures.
Encourage Input and Participation from Family Members
Last, but not least, include everyone in the preparations. From toddler to teen, kids look forward to annual festivities, especially the ones they help plan.
Choose between two events rather than attend both.
Be willing to make some compromises. Older kids can tag along to events that are suitable for preschoolers, in return for attending a sledding party with their friends. A younger child who is staying behind with Grandma can request special treats and plenty of craft supplies for making noisemakers!
Have a list of options from everyone that leave room for flexibility, when unexpected changes in plans arise due to weather, illness, or unexpected guests.


Include options for quiet times to offset the busy times, to keep energy and excitement from running too high.
These are fun ways you can celebrate New Year's Eve together, whether or not you stay up until the clock strikes midnight!
This is a time for the whole family to enjoy. New Year's Eve can be an exciting day for kids, even if they are not fully aware of its meaning.
Whether you serve a special snack or have a mock countdown, your kids will love getting to ring in the New Year with you.
More family-friendly New Year's Eve fun!
Kid Friendly New Year's Eve Celebration Ideas / A Mother Far From Home
5 Tips for New Year's Eve With Kids / Lemon Lime Adventures
New Year's Eve Party Ideas / Crystal & Co.
Wishing Wall New Year's Eve Activity with Kids / Buggy and Buddy