41 Kids Activities with Real Pumpkins
This roundup of pumpkin activities includes science experiments, games, delicious foods, and much more. Enjoy these awesome activities with real pumpkins that are fun for the whole family.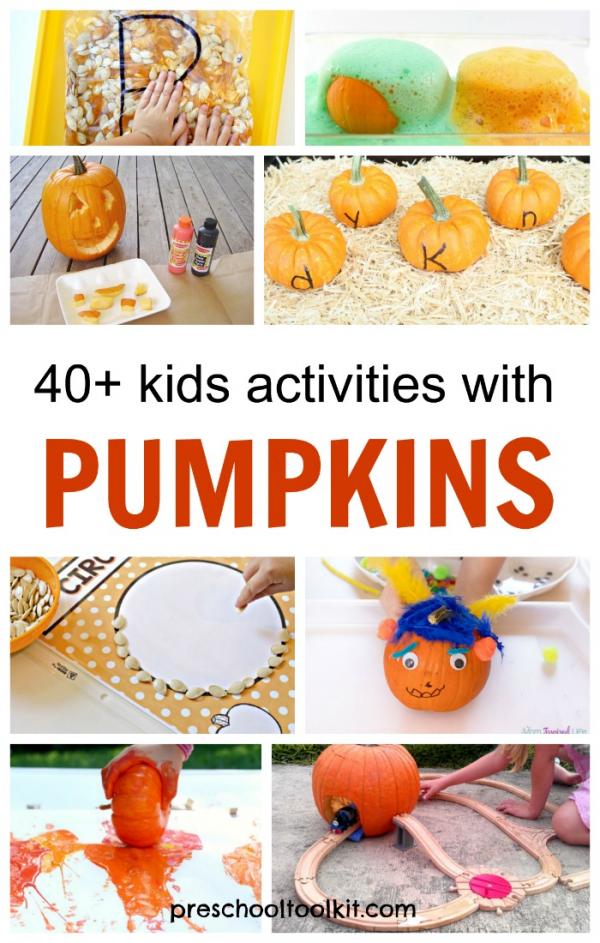 Pumpkins pop up everywhere during the fall season: in backyard gardens, in farmer's markets and in the produce section of the grocery store.
Kids can hardly wait to carve them into jack-o-lanterns with silly or spooky faces.
Pumpkins harvested in the fall can be made into fun things like jack-o-lanterns, creative things like sparkly pumpkins, scientific things like volcanoes, and delicious things like muffins and cookies!


Related: Harvest Theme
Pumpkin activities
The activities in this roundup show how versatile the much-loved pumpkin can be.
For your convenience, the activities are sorted into five categories:
science
games and activities
sensory
art
cooking with kids
Hands-on experiences are fluid in nature so many of the activities overlap categories.
Browse the content to see what fun you can have with real pumpkins today!
Science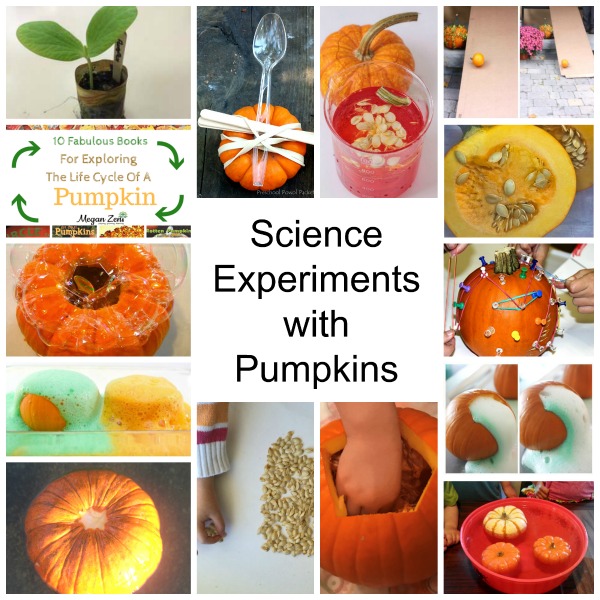 Kids learn hands-on by Growing pumpkins . / Megan Zeni
A fun STEM project from uses a pumpkin to make a Catapult . / Preschool Powol Packets
Experiment with a pumpkin in the Density lab. / Schooling a Monkey
Set up an inclined plane for Rolling pumpkins. / Little Bins for Little Hands
What can you see Inside the pumpkin? / A Dab of Glue Will Do
Explore shapes with a pumpkin Geoboard / Fun-A-Day
Fizzy science is fun with a Mini volcano / Little Bins for Little Hands
Explore the science of Sink or float / Preschool Powol Packets
Hands-on math is fun when Counting pumpkin seeds / Babies to Bookworms
Are you good at Estimating number of seeds? / Math Geek Mama
Set up a simple experiment with this Sink or float seeds / There's Just One Mommy
Colorful science is hands-on with this erupting Volcano / Natural Beach Living
Pumpkins can be used to explore with Bubble science / Preschool Powol Packets
Learn how pumpkins grow with Life cycle books / Megan Zeni
Games and Activities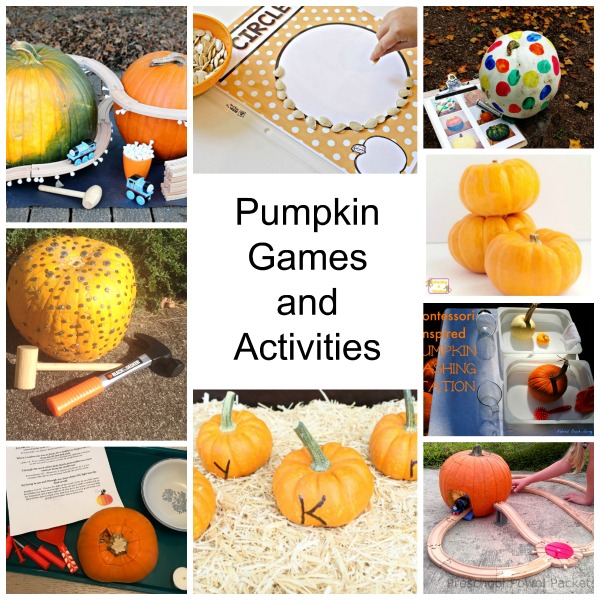 Combine pumpkins and tracks to make a Train tunnel / Preschool Powol Packets
What shapes can you make with Seed shape mats? / Fantastic Fun and Learning
Go on a pumpkin Scavenger hunt / Teaching Ideas
Explore hands-on with Pumpkin activities / Schooling a Monkey
Set up a station for Washing pumpkins / Natural Beach Living
Go in and out the pumpkin with a Railroad activity / Play Trains
Extend literacy play with a pumpkin Name game / Fantastic Fun and Learning
Learn how to use pumpkins in Pumpkin gospel / Everyday Graces
Pumpkin fine motor play is fun with Hammering nails / There's Just One Mommy
Sensory Play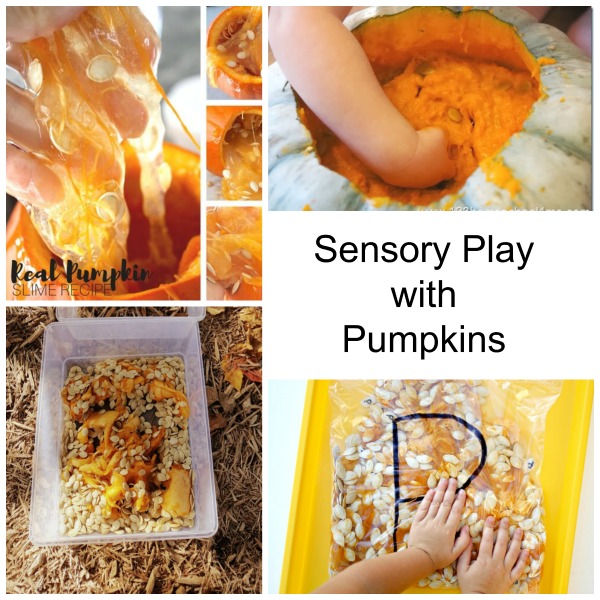 Have fun with pumpkin Slime / Little Bins for Little Hands
Support sensory play with pumpkin Goop / 123 Homeschool 4 Me
Make the sensory play mess-free with a Squishy bag / Fantastic Fun and Learning
Add feet to the sensory play with a Sensory walk / Teaching Ideas
Arts and Crafts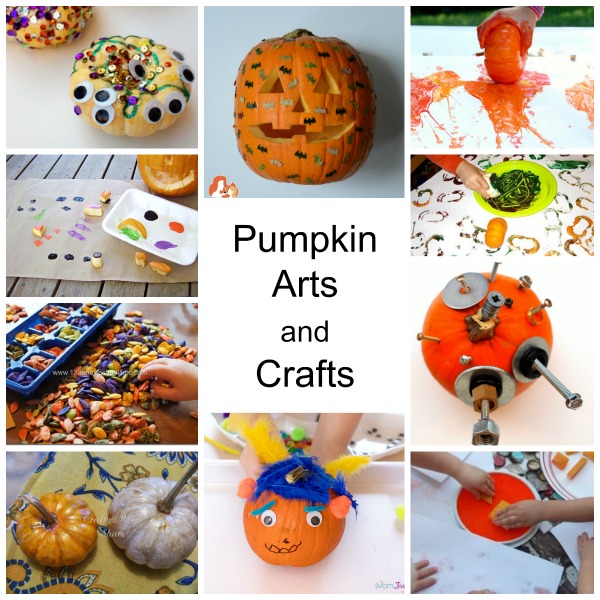 Add gems and googly eyes to make Sparkly no-carve pumpkins / Pink Stripey Socks
These Batty design pumpkins are fun for Halloween / Mother Natured
Set pumpkins on edge to make Rolling art / Fantastic Fun and Learning
Make paint stamps from a pumpkin for a Stamps painting activity / Little Sprouts Learning
Hardware design pumpkins are creative and unique / Pink Stripey Socks
Try this fun painting activity making Mini pumpkin prints / What Do We Do All Day
Get creative with a Collage art activity / Fun Learning for Kids
Reduce the mess by making Glitter no-carve pumpkins / Crafty Moms Share
Use the pumpkin seeds for Pumpkin seed art / 123 Homeschool 4 Me
Cut up a pumpkin for some Painting with pumpkin pieces / Preschool Toolkit
Recipes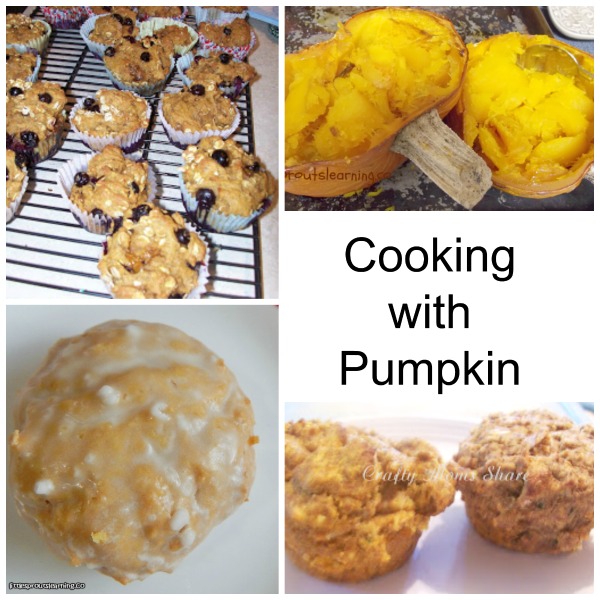 Pumpkin and blueberry muffins look yummy! / Crafty Moms Share
Pumpkin pie is a favorite fall treat. / Little Sprouts Learning
Pumpkin and banana muffins are easy to make. / Crafty Moms Share
Cookies with pumpkin puree smell delicious. / Little Sprouts Learning
(affiliate)