Muffin Tin Math
A bake pan from the kitchen becomes a simple prop for a fun math activity for your toddler or preschooler. Reuse a muffin tin to promote early counting and color naming skills.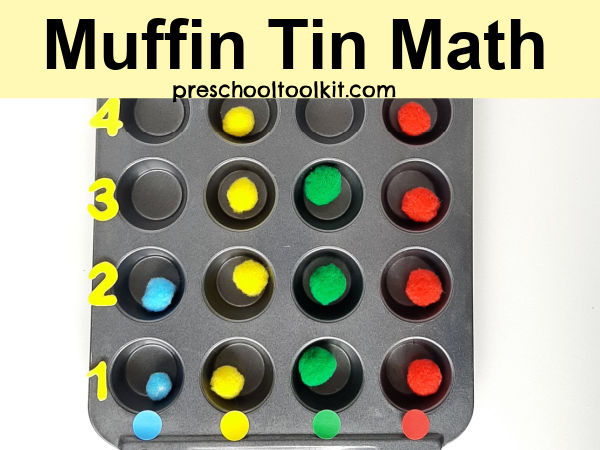 Privacy and Disclosure for information on cookies and affiliates
Math activities for preschoolers help build early counting and sorting skills, as well number recognition. These skills can easily be supported with everyday materials, during everyday play times.
Activities should be hands-on and interactive, but most of all, fun!
Kids especially like to engage in independent play, where they can make choices as they explore the materials. Grownups are always nearby to observe the play, ask open-ended questions, and interact with instructions or guidance as needed.
Math play is an important part of preschoolers' daily activities. It can easily be provided with a recycled bake pan and some pompoms.
Muffin Pan Math
Printed materials and work sheets are sometimes used with early learners. While work sheets are not recommended for toddler and preschool ages, printed materials such as coloring sheets or animal pictures, or scissor practice, can have a role in overall early childhood education.
The primary choice to support development in the early years should be hands-on exploration with real life objects. This type of interaction engages all the senses as it builds fine motor and cognitive skills.
Repurposing household materials for kids activities provides inexpensive, and readily available, options for early learning activities. A bake pan is just one example of this easy setup.
Grab a muffin tin from the kitchen to get started with this fun math activity.
Supplies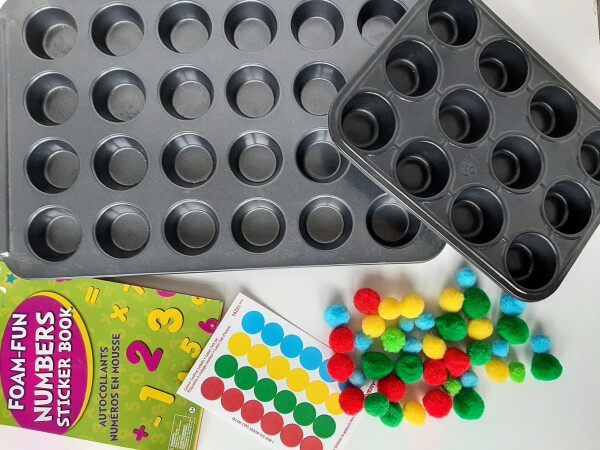 Instructions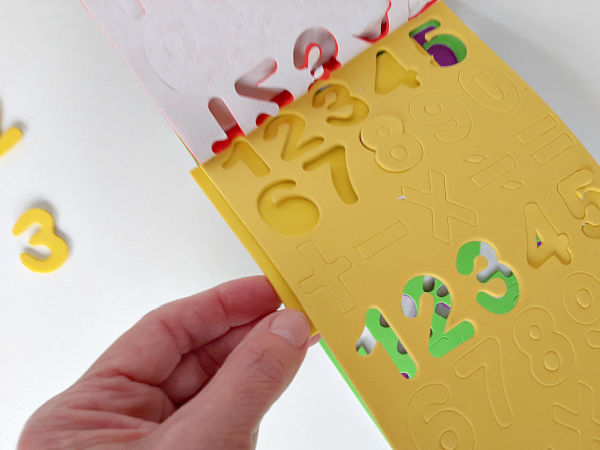 If you find some of the numerals missing from your sticker book, it's easy to make the numerals you need.
Slide a piece of craft foam under the spaces where the original numerals were.
Trace the shape of the numerals onto the craft foam with a pencil.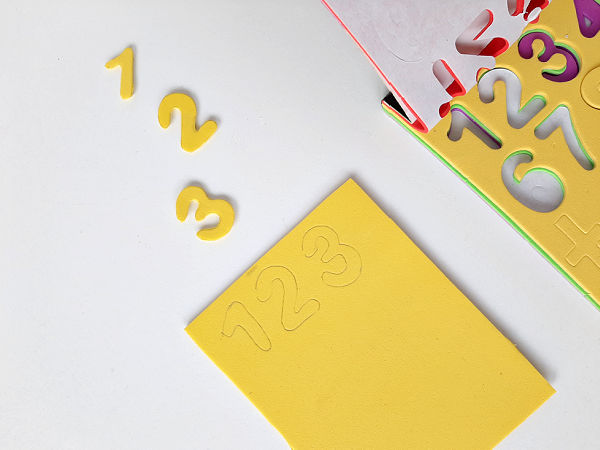 Cut out the numerals from the craft foam.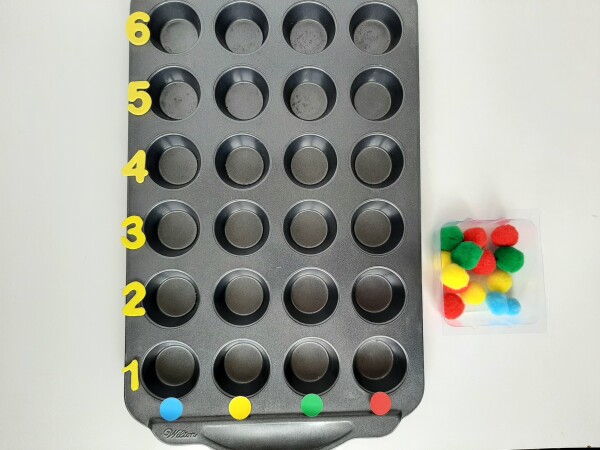 Prepare your muffin pan.
Place self stick dots along the bottom.
Place self stick numerals along the side.
Fill a container with colorful pompoms.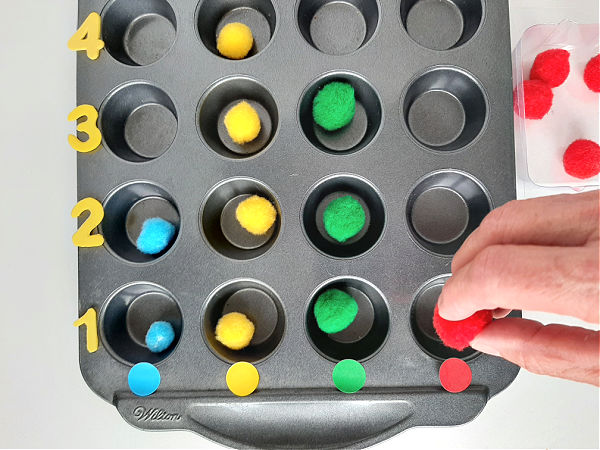 Count the number of pompoms as you add them to the muffin tin.
Graphing with a small muffin pan
Here is another option for a math activity.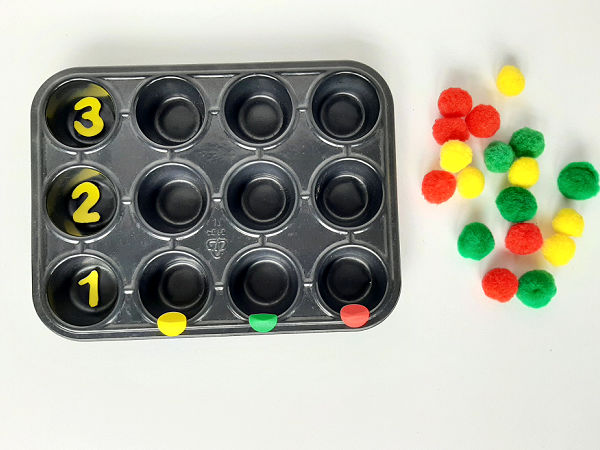 Set up the cupcake pan as shown in the photo.
Count out the number of pompoms you need in each color to fill the tray.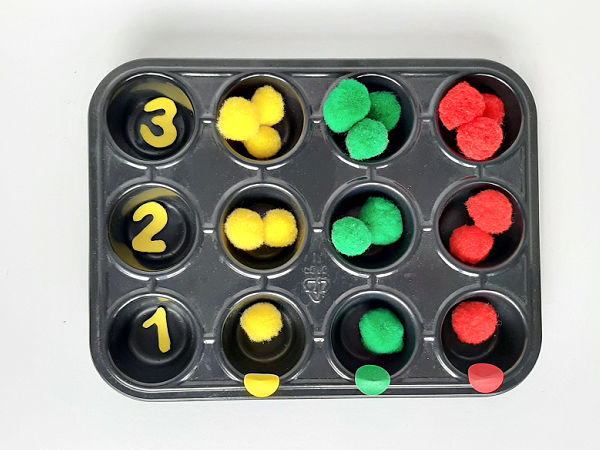 Match the number of pompoms in each color to the quantity indicated by the numeral on the side of the pan.
This is easy and fun beginning math play for toddlers and preschoolers.
Make this activity accessible for free play time.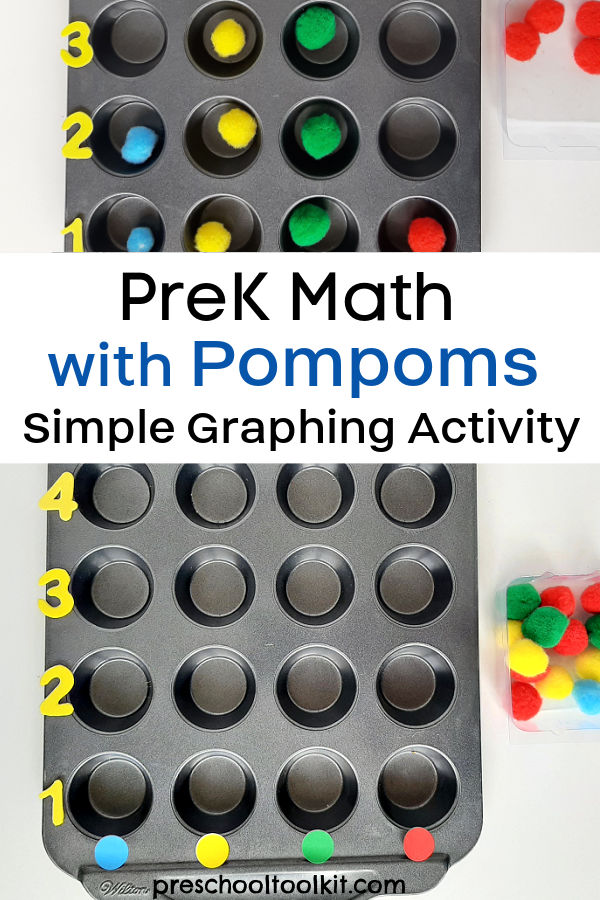 Math Activities