Stay at Home Activities for Canada Day
Stay close to home this summer with backyard games and activities that are fun for the whole family. Celebrate Canada Day or any special holiday with these outdoor play ideas.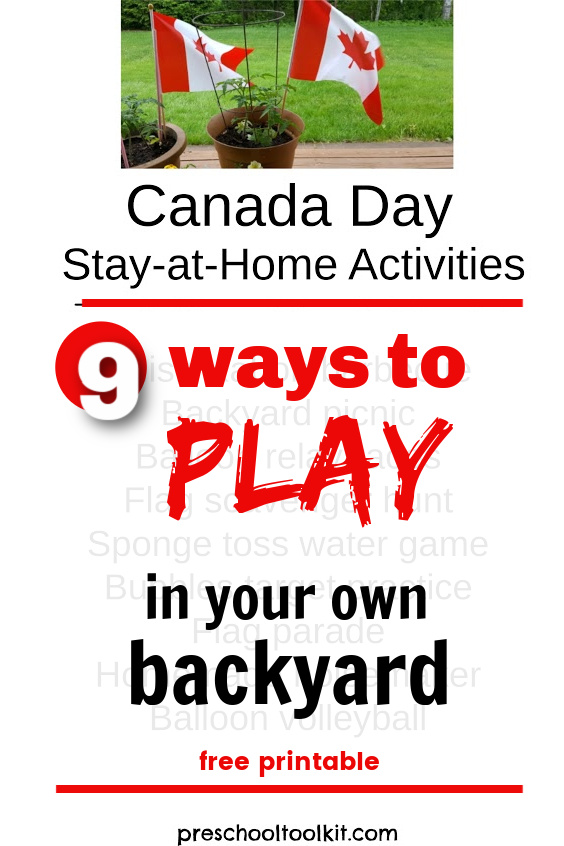 Privacy and Disclosure
for information on cookies and affiliates
Stay-at-home can be fun for everyone with simple backyard games and fun food ideas. The options in this list use everyday materials in fun ways to reflect a national holiday or event.
Popular activities like picnics and scavenger hunts can easily be adapted to represent a theme or event with colors, flags and other icons.
The activities in this post are designed for kids and grownups of all ages. Activities are largely meant for outdoor play, but some options can be taken indoors on a rainy day. Supervision is required with young children.


Related: Stay at Home Everyday Activities


The activities include games, food, and crafts. Materials can be easily substituted for things you have on hand. The ideas and instructions are flexible and intended to spark imaginative play on Canada Day!
This could be the best backyard celebration ever!
Grab the printable list here.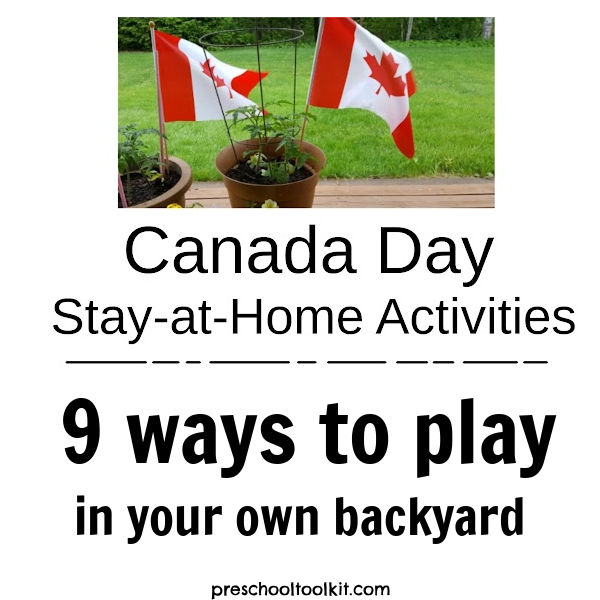 Shish Kabob Barbecue
Kids can make their own Shish Kabob for the barbecue. Provide ingredients kids can easily thread onto skewers such red peppers, small red onions, cherry tomatoes, and mushrooms.


Backyard Picnic
Spread a table cloth, blanket, or beach towel on the deck or on the lawn (printed with Canada Day images if you have them!). Serve red berries, red and white frozen treats, and watermelon.


Balloon Relay Races
Place a red balloon on a cardboard box lid or plastic tray. Walk or run a specified route carrying the tray. Drop the balloon into a designated container without touching the balloon. Race back to the start line for another balloon.
More: Place a basket filled with balloons at the start line and the finish line, a different color for each basket. Go back and forth across the yard to transfer the balloons.
Flag Scavenger Hunt
Hide small flags or flag cutouts around the backyard or deck. Decorate a box or pail with a drawing of the flag. Use the container to collect the hidden flags.


Sponge Toss Water Game
Each participant or team stands behind a tub(s) or wading pool filled with water, facing each other. Dip a sponge in the tub in front of you to soak up water, then toss the sponge toward the tub(s) in front of the opposite participant.
For kids who like things a little less splashy, all participants line up behind the same start line, each with his own water container and sponges. Place target containers at a distance from the start line. Immerse sponge in water to soak completely, then toss toward a container.


Bubbles Target Practice
Set up simple targets made of cardboard or plastic. Add numbers or letters or other designs. Secure a target to the back of a lawn chair, or hang from a deck railing. Blow bubbles while standing at the start line, aiming at the target. Call out a number or letter reached by the bubbles.


Flag Waving Parade
Participants line up carrying small flags. You can also attach flags to tricycles and wagons. March in a flag-waving parade around the deck or yard.


Homemade Noisemaker
Make these fun noisemakers with bells and twigs to celebrate Canada Day.


Balloon Volleyball
In this version of volleyball, each participant has a red or white balloon. Kids simply try to keep their balloons in the air for as long as they can, by gently tapping the balloon into the air before it lands on the ground. Older kids can tap the balloon back and forth like regular volleyball.


Related: Backyard Play without a Playground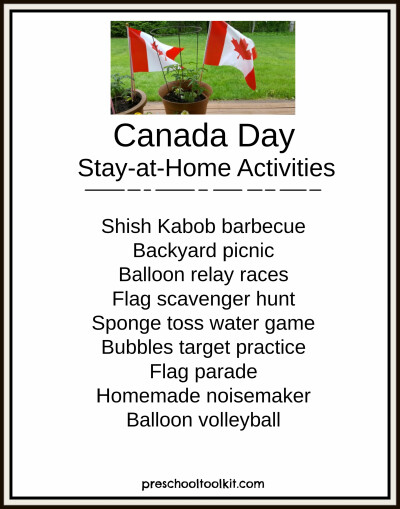 These games are just suggestions, and intended to spark ideas for your own outdoor at-home play.
Promote child-led play that is hands-on and interactive. Make up your own rules as you play!