How to Establish a Daily Schedule for Your Early Learning Program
A daily schedule is easy to create with these helpful tips. Build a convenient schedule that provides time frames and objectives for the activities that support your curriculum.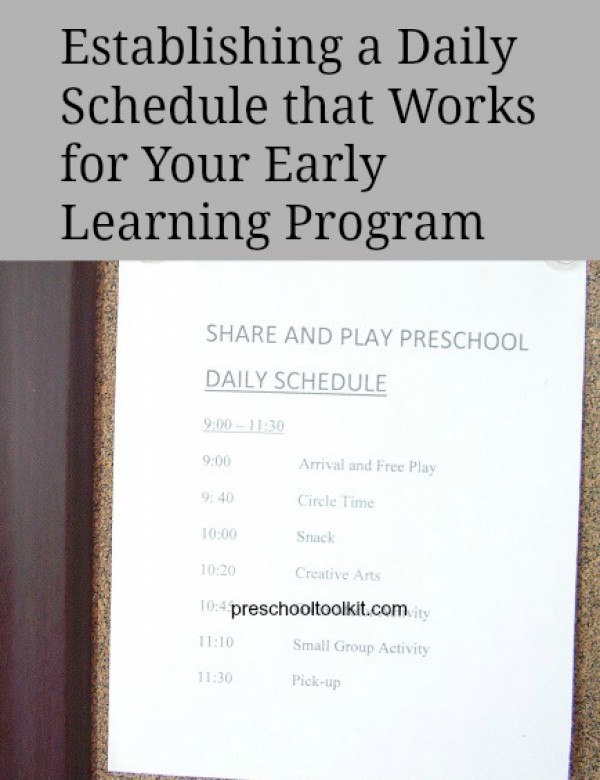 This post contains affiliate links. Privacy and Disclosure

A daily schedule is important to the operation of your early learning program as it outlines a routine order of events for your school day. Once your schedule is in place, you can concentrate on choosing the activities that you and the kids will enjoy throughout the day!
The schedule enables you to manage your time and be prepared for the day's events. Preparedness in turn helps to relieve stress and sets you on a course for a successful day with your early learners.
This is the second post in a four-part series: Developing an Early Learning Program. See the complete list at the end of this post.
Post 2: Establishing a Daily Schedule
Whether you are a parent of a preschooler, homeschooling one or more children, or a teacher in a licensed facility, a daily schedule can help organize your day to minimize stress and guide experiences to positive outcomes.
Daily schedule for preschool program
The daily schedule is important for several reasons.
1. A schedule divides the day into routine events. These may include free play, circle time, music and movement (gross motor), story time, and outdoor play. Teacher-led activities such as sorting shapes at circle time, or dancing with scarves during music and movement time, can then be planned for the appropriate time periods already established in the schedule.
2. A schedule maintains stability and continuity. When children become familiar with the routine ordering of events they can often transition more easily from one activity to another. Teachers may also assist children with anticipating, and engaging in, transitions by employing methods for signaling changes, such as: an egg timer to let a child know when his turn at the computer station is over; a rhyming song for clean up when free play time is ended; or a wall clock with large hands to indicate when parents will arrive for pick-up.
3. A schedule provides a healthy balance of activities. A daily mix of individual and group play, quiet and noisy events, independent and teacher-led activities, and indoor and outdoor play, is optimal for early childhood development.
4. A posted schedule informs parents and guardians of routine events. These events may include drop-off and pick-up times, snack or lunch breaks, and rest periods.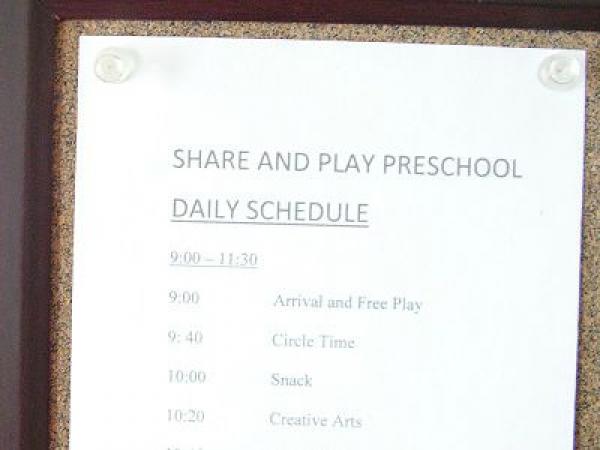 How to establish a daily schedule
Your schedule may be determined by:
Hours of operation: Will snack be served early or mid-way through the program? Will there be a nap period for younger children?
Curriculum model and/or teaching style: Will you allow more time for free play, circle time, or creative art? Will your hours accommodate special guests, outdoor play and field trips?
Learning environment: Is there outdoor play equipment? Do you need time to transition from one play area to another?
Here are two examples of a daily schedule:
Share and Play Preschool
Schedule 1
9:00 Arrival and Free Play (Centers)
9:40 Music and Movement
10:00 Snack
10:20 Circle Time
10:30 Creative Arts
11:00 Outdoor Play
11:30 Pick-up
Schedule 2
9:00 Arrival and Circle Time
9:20 Snack
9:40 Free Play
10:30 Small Group Activity
10:50 Creative Arts
11:30 Pick-up
Teachers and parents realize that even if the order of events remains the same each day, time frames may vary, prompting flexibility in the delivery of the program. Spending more time on a preferred or engaging activity may take precedence over insisting kids move on to another scheduled event: a sunny day can allow for more time spent outdoors than usual; a fun music session may overlap arts and crafts time.
A good example of how a daily schedule is implemented can be found at Teach Preschool blog, where you can follow the class routine from start of class to pick-up time. And Toddler Approved has an at-home schedule for toddlers that is very inclusive.
While licensed child care facilities may be required to post a daily schedule on a bulletin board or message center along with other notices such as the weekly menu or minutes of parent-teacher meetings, a little planning on the part of any parent or teacher in the beginning equals more fun with the kids in the end!
In the third post in the series, I will discuss the value of a planner for your early learning program and introduce options for creating a daily plan.
Here are the links for the posts included in this four-part series:
Part 1: Determining the Goals of your Early Learning Program

Part 2: Establishing a Daily Schedule for Your Early Learning Program (you are here).
Part 3: Why There is Value in a Daily Planner for Your Early Learning Program
Part 4: Planning Quality Content for Your Early Learning Program