Easy to Make Halloween Wreath
This homemade wreath is easy to make and sure to be everyone's favorite Halloween decoration. Only a few materials are required and the project is fun for the family to do together.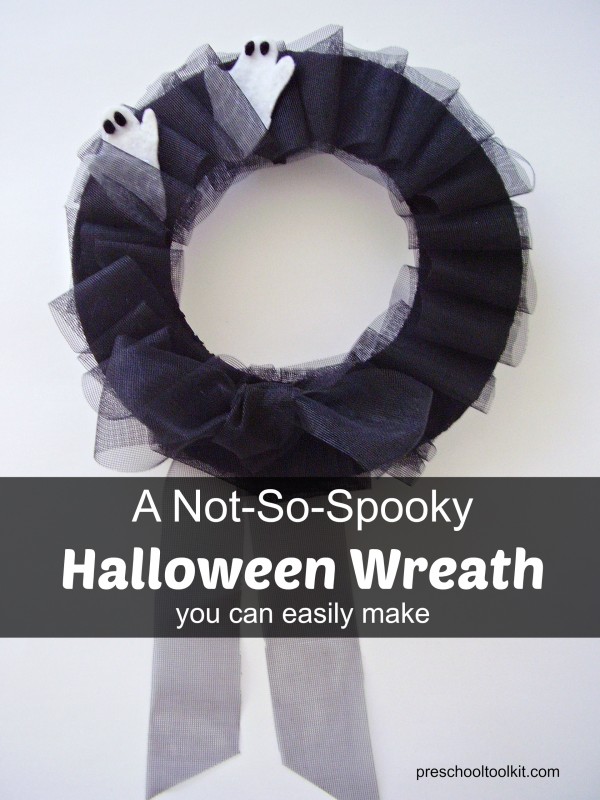 This post contains affiliate links. Privacy and Disclosure
When store aisles are bursting with Halloween decorations, the choices can be daunting - or should I say haunting! You can save money and put recyclables to good use by making your own decorations.
This Halloween wreath is a great place to start. It's easy to make with recyclables and basic craft supplies.


Halloween wreath craft


This craft is sure to be a winner with kids and grownups. It's a great activity for engaging fine motor and sensory skills, and there are lots of options for finishing touches.
Kids can get involved in creating the pumpkins and ghosts to insert in the fabric covering.
Not too scary looking is it? And the process for making it isn't scary at all!
Materials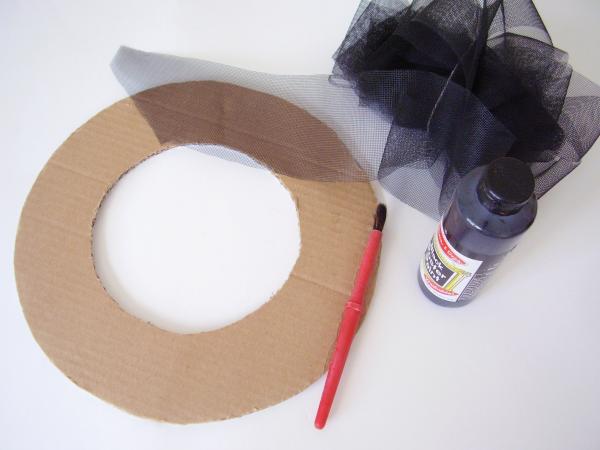 cardboard circle
black paint
paint brush
door screening
stapler
The overall circle measures 11 inches (28 cm) diameter with a 6 inch (15 cm) diameter circle inside.
We used screening left over from a screen door repair kit. You can substitute any fabric with a bit of stiffness to it and some transparency, such as a lace or mesh fabric.
This project was done with a stapler but you could use a glue gun if preferred.

Instructions:
1. Paint the cardboard circle with black craft paint and allow to dry.
2. Cut screening in a strip 2 inches (5 cm) wide.
The length you need will depend on the size of the cardboard circle you start with. I had a very long piece to work with since we trimmed around the door, but one long piece isn't essential - you can join shorter pieces together as you make the wreath.

Here is an illustration of how the screening is folded and applied to the wreath.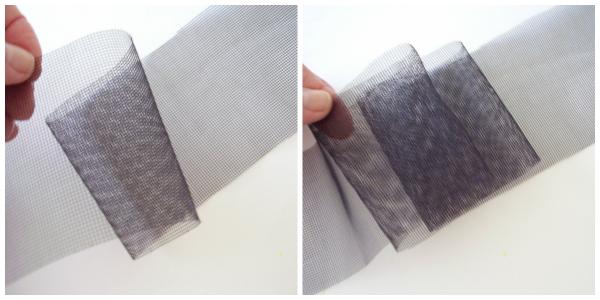 Lift a portion of fabric at the end of the strip approximately 2 inches (5 cm) to make a fold as shown in the photo. Roll it over onto the strip then roll a second piece onto the first piece, and so on. The second fold should overlap the first, leaving at least 1 inch (2.5 cm) of the first fold exposed.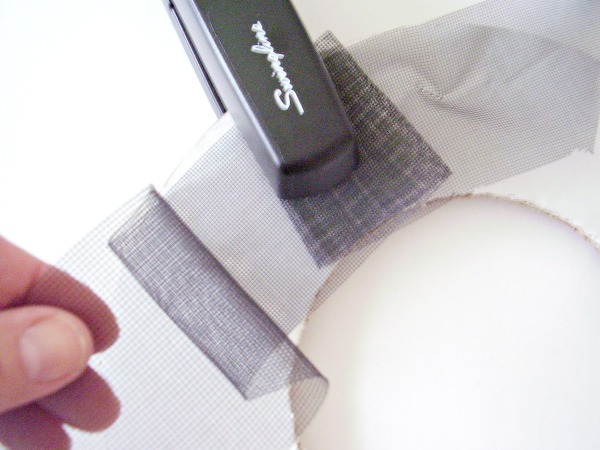 The first fold is stapled in place. The second fold will overlap the first one.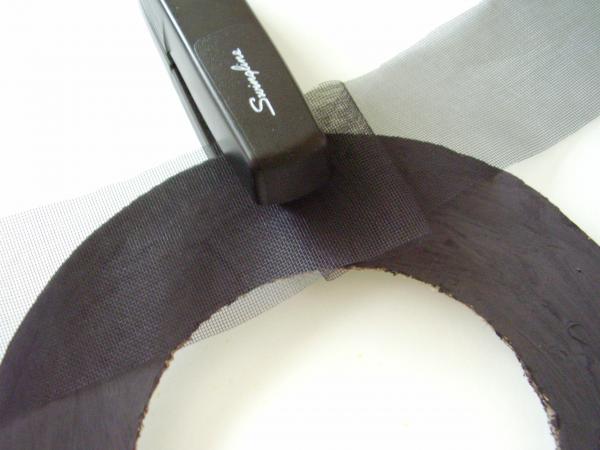 3. Cover the painted wreath with the strip of screening.
Staple the first fold you make in the screening to the cardboard base. Roll the second fold onto the first as shown previously and staple in place. Continue with this procedure until the frame is covered.
4. Touch up any visible staples with black paint.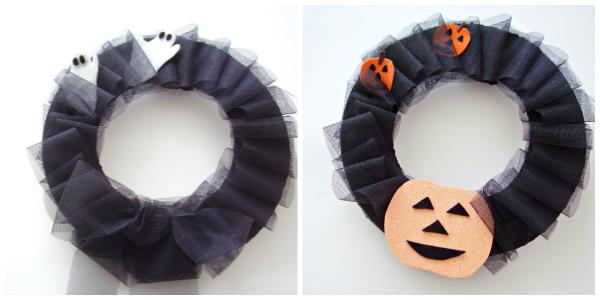 5. Complete the wreath.
Make a bow with some of the screening.
Cut a pumpkin shape from glitter foam. Glue eyes, nose and mouth to make a jack-o-lantern.
Add ghosts or jack-o-lanterns made from scraps of felt.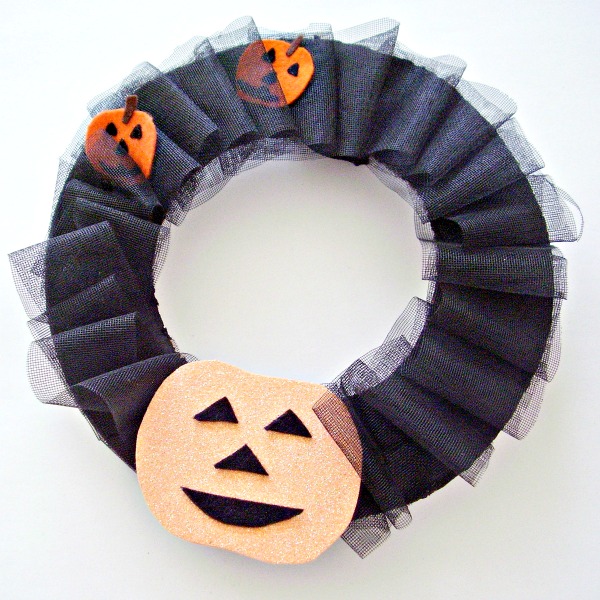 This is a fun project for home or the classroom. Kids can help paint the wreath and add the decorations. Younger kids may need help applying the mesh fabric to the wreath frame.
You'll reuse some items that might otherwise go to the landfill and end up with a fabulous Halloween decoration. You can proudly display the wreath inside or outside your home or classroom.
Halloween crafts and activities on our Pinterest board.
Happy Halloween!