How to Use Scrabble Tiles for Early Literacy Games
Scrabble® tiles can be used in literacy games with preschoolers to support early learning. Sort, count, learn the letters of your name and more, as you explore the alphabet with simple fine motor activities.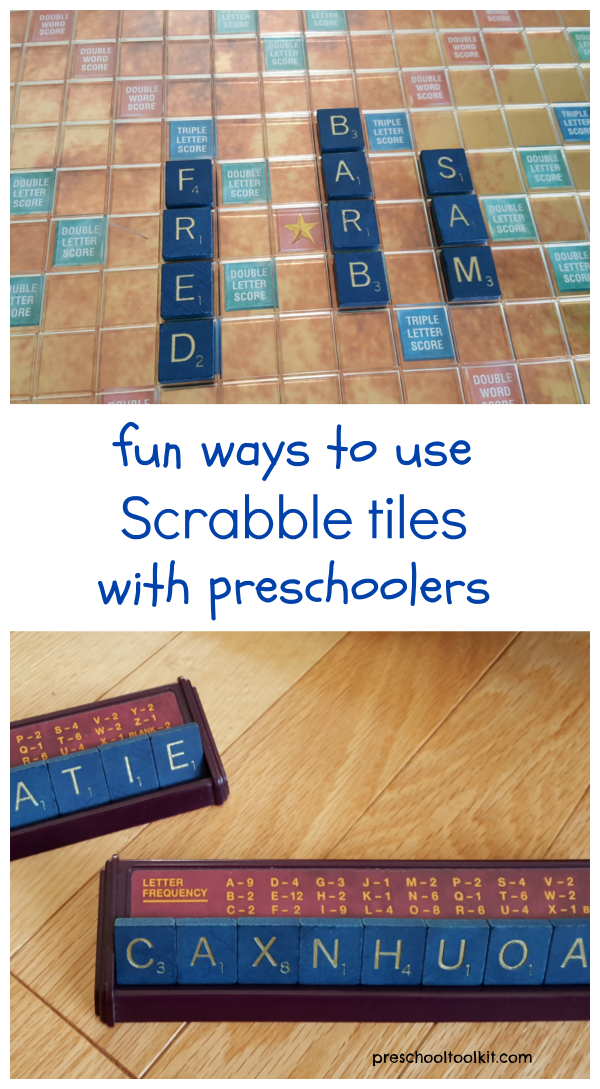 This post contains affiliate links. Privacy and Disclosure
Board games offer great opportunities for family fun. Many board games such as Snakes and Ladders and Candy Land are made specifically for kids. Other games, like Bingo and Monopoly, have kid versions that allow everyone to enjoy these popular games.
Scrabble is one of my favorites because it sharpens math skills, challenges word power, and easily adapts to different skill levels, so everyone can play! And of course there's Scrabble Junior!
But even the regular version of Scrabble has lots of play and learn value for kids.
Literacy games with Scrabble tiles
In this activity, I share new ways to use the tiles with early learners who are just beginning to recognize letters and words.
We have the 50th Anniversary Edition of Scrabble and love the way the board is able to rotate so each player has the board facing him on his turn. The squares on this board are slightly inset so the ridges hold the letters in place. This game board certainly isn't necessary to enjoy the play value of Scrabble tiles.
Watching younger kids play with the board and tiles one day sparked the idea for this post. I am excited to share some ideas for using the tiles with kids who are just learning to identify letters.


How to play
I have a few suggestions for how to play with the tiles. There are probably lots of other ways you can some up with as you and the kids play together.
Visit our Literacy Pinterest board for more hands-on learning activities!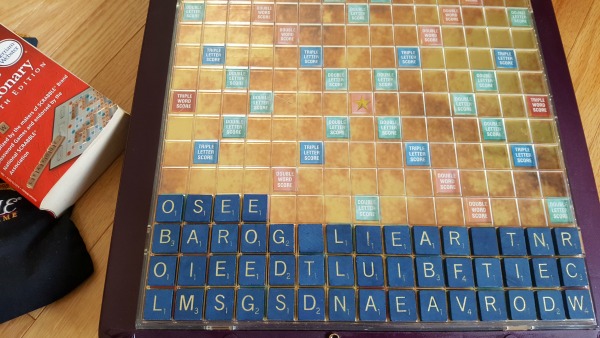 1. Place all the tiles on the board.
Lining up the letters in rows is a great fine motor activity.
Ask your toddler or preschooler to name letters they know as they add them to the board.


Pick out simple words with older kids. Can you see 'bar' and 'ear?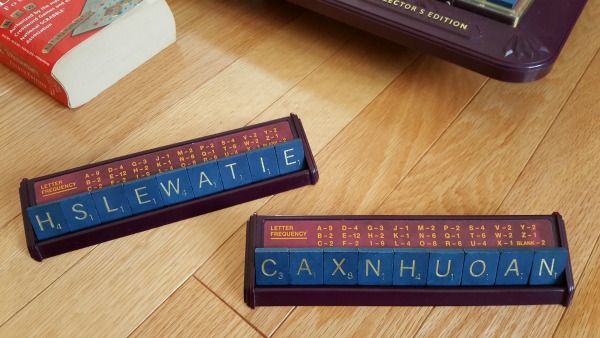 2. Fill the trays with letter tiles.
This activity uses letter identification and counting skills as well as fine motor skills.
Count the number of tiles in the tray and name the numerical value of each letter.


Sort letters by value from highest to lowest.


Older kids can add up the numbers to determine the total in each tray.
It might be a little harder to find words in the letter combinations pictured here!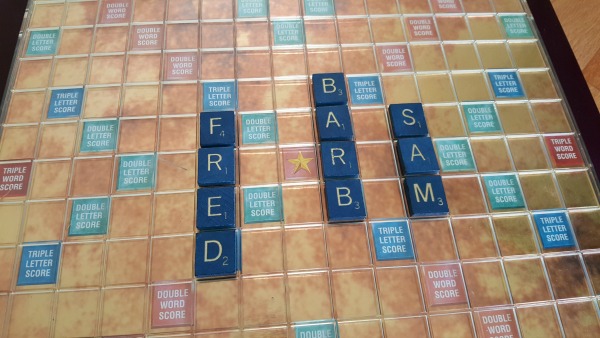 3. 'Write' your name on the board in tiles.
Kids can find the tiles with the letters of their names and place then on the board.
Look for the number values on each letter. Add the numbers for each name.


Is the name placed horizontally or vertically?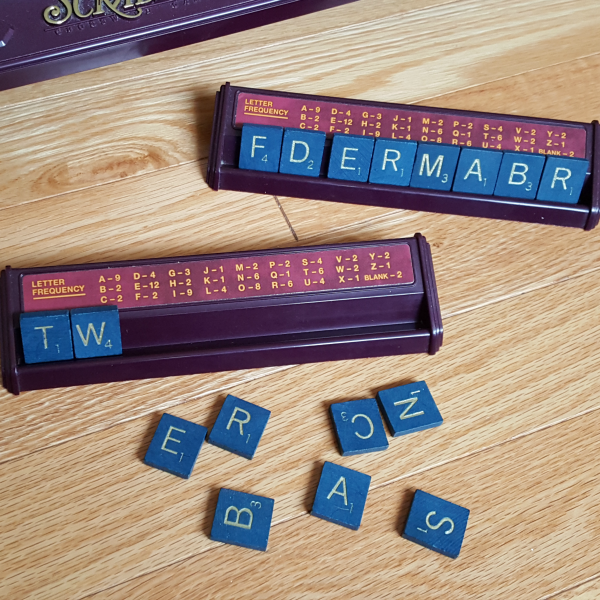 More activities with letter tiles from kid-friendly bloggers:
Make Words with Scrabble Tiles from Creative Family Fun
Scrabble Tiles for Learning from Happy Hooligans
Scrabble Tile Letter Slime from Little Bins for Little Hands
Father's day Gift: Mosaic Coasters from Naturally Educational
Simply having the letter tiles accessible can provide an opportunity for kids to explore letters.
Gradually introduce letter sounds, alphabet rhymes, and letter combinations to spell your child's name or make simple words.
Can you think of other ways to learn with letter tiles?
Crafts using wood tiles:
Picture Frame with Scrabble Tiles from Home Crafts by Ali
Acronym Magnets from Kids Activities Blog
Teacher Appreciation Gift from Teach Mama
Scrabble Decor from Delicate Construction
Family Wall Art from Crafty Morning
Scrabble Tile Wall Art from Artsy Craftsy Mom