Sandbox with Pine Cones Sensory Activity
Add pine cones to the sandbox to support sensory play, indoors or outdoors. The sandbox is an amazing place for kids to explore and learn, engaging fine motor and math skills along with sensory experiences. Enjoy sand play with this simple sandbox activity.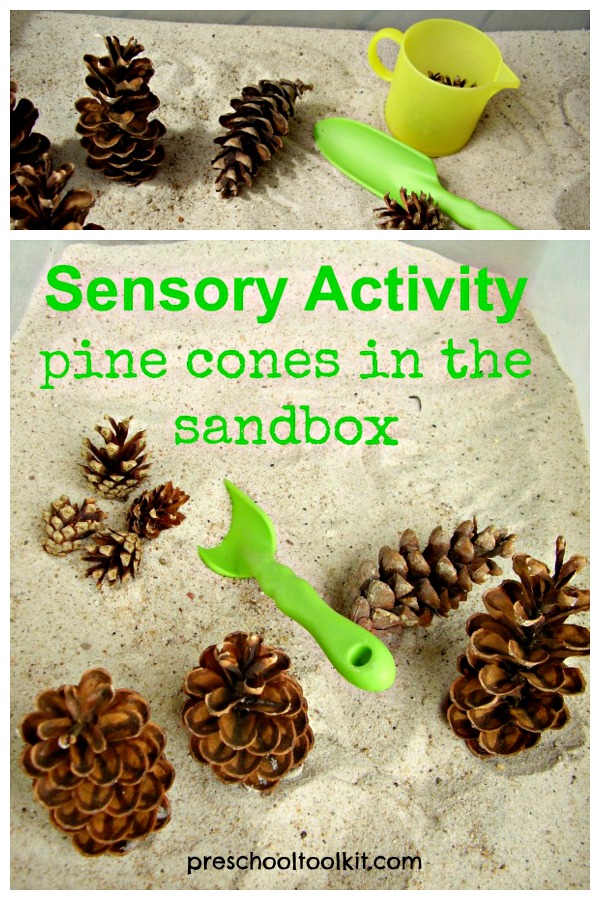 This post contains affiliate links. See our full disclosure.
There's a lot going on in the sandbox - digging, pouring, building and spreading. Sandbox tools that range from shovels to funnels contribute to the fun and learning.
In this activity, we've added pine cones for some additional sensory play. The textures, colors and sizes of pine cones bring unique sensory experiences to the play.
Pine cones in the sandbox
A sandbox with pine cones promotes kids early learning by providing opportunities for sorting and counting games and language experiences along with the sensory play.
How developmental skills are supported:
Kids use fine motor skills to dig and pour.
Language skills are strengthened as you talk about prickly pine cones and soft sand
Early math skills along with creative skills are engaged as kids count, sort and arrange pine cones.
Set up the activity
Place a plastic bin on a drop cloth on the floor or on a table.
Spread a drop cloth under the sand box to protect the surrounding area.
Fill with play sand purchased at a hardware store.
Choose large and small pine cones to add to the sandbox, along with some digging tools, buckets and toy cars.
Suggestions for playtime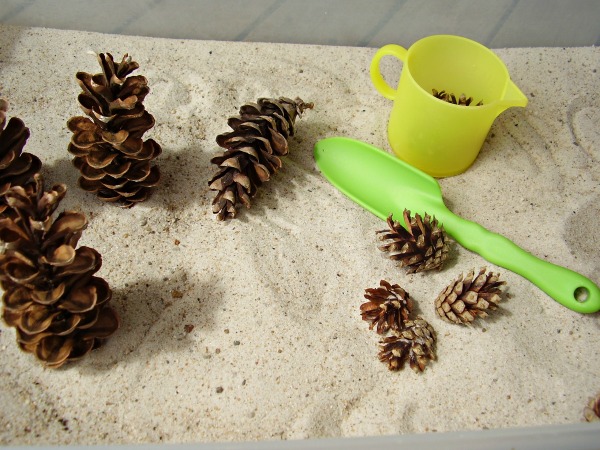 1. Sort and count small cones and large cones.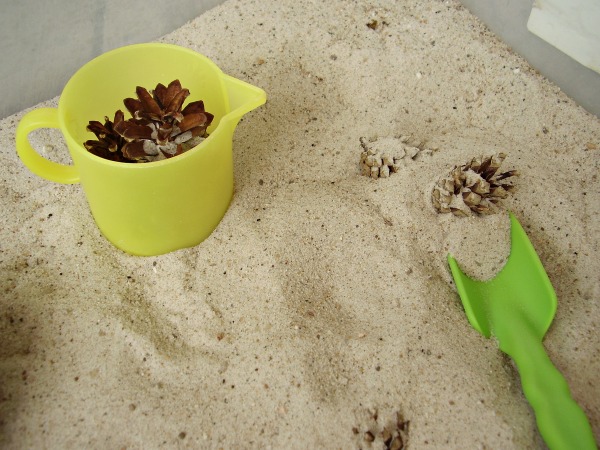 2. Bury small cones; then dig them up and load them into a bucket or toy truck.
3. Stand up large and small cones like trees to make a forest.
4. Position pine cones in a straight line or form a circle.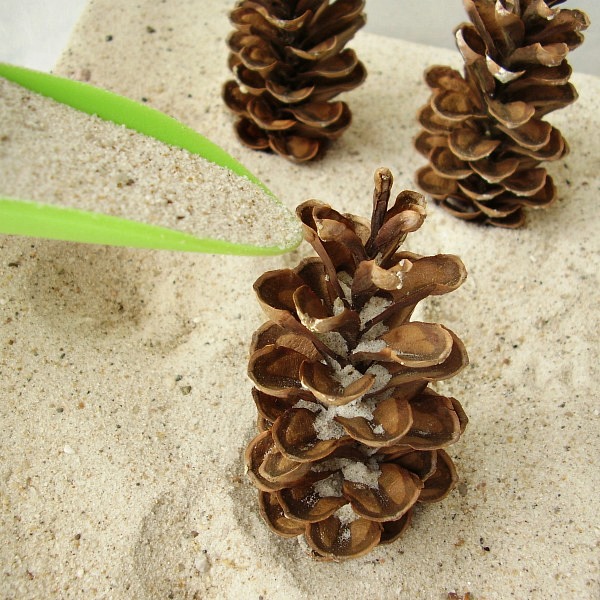 5. Slowly pour sand over the top of a pine cone.
Observe the sand as it trickles down through the spirals (leaves) of the pine cone. How does it look? How does it sound?
This simple sandbox activity is perfect for toddlers and preschoolers. It promotes the use of important developmental skills. It's also a great way to occupy your early learner during quiet times, transition times, and free play times.
The sandbox is a great play area to add to your daily activities.