Pine Cone Trail Outdoor Activity for Toddlers and Preschoolers
Make a trail with pine cones in the backyard to provide an outdoor game for toddlers and preschoolers. A pine cone trail combines gross motor and fine motor skills in a simple hands-on activity.
This post contains affiliate links. Privacy and Disclosure
Toddlers and preschoolers love playing follow the leader, or in this case, follow the trail. Outdoor trails can be made with footprints in the sand, or boot prints in the snow.
Using pine cones to create the trail provides a unique sensory and gross motor play opportunity for early learners.


Related: Pine cones in the sandbox

Create a pine cone trail


We are fortunate to have a large pine tree in our yard. Every spring there is an abundance of pine cones on the ground that are fun to collect for crafts and activities. Creating a long trail for kids to follow is one way to have fun with pine cones.
If you don't have pine cones available in nature, you can usually find them in a department store or craft store.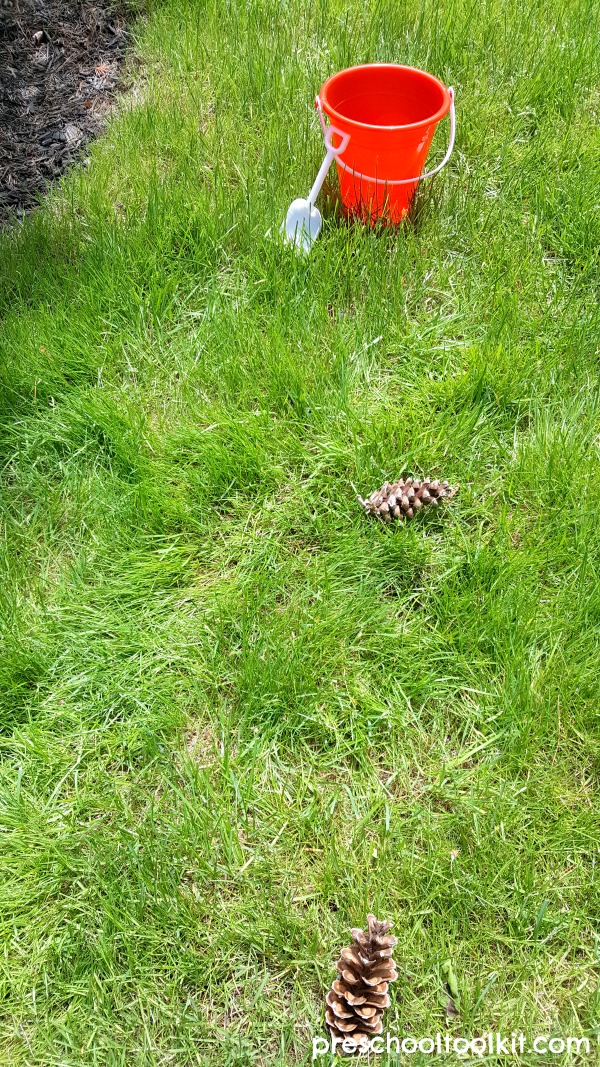 Spread pine cones on the lawn in a long winding trail. Go around trees or bushes or other props in the yard.
Place a bucket or sand pail at the end of the trail. We ended our trail with a red beach pail and shovel under an apple tree in the yard.
After creating the trail, go back to the beginning and follow the pine cone trail!
When you reach the end of the trail, grab the pail and retrace your steps! Walk back along the trail, collecting pine cones in your pail as you go.
To extend the activity try using the sand shovel, or even tongs, to pick up the pine cones.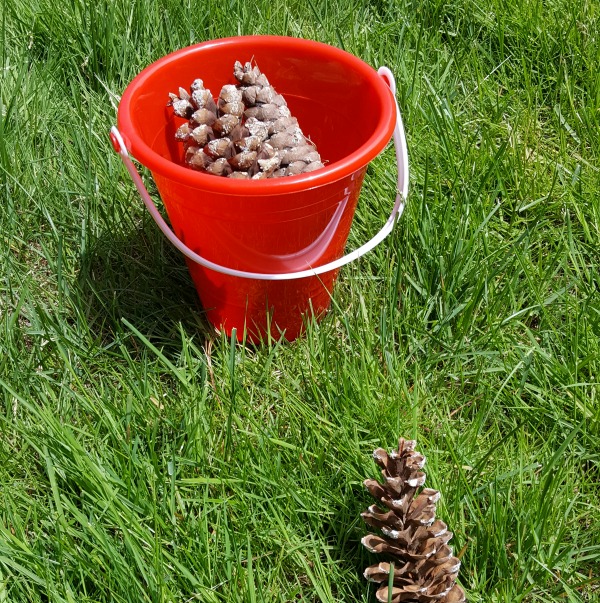 Use pine cones in crafts and activities
Note: We share a pin on our Pine Cones Pinterest board that explains how to clean natural pine cones for crafts and activities.

Math games: count the pine cones; weigh pine cones; sort by size
Observation: talk about the color and texture of the pine cones
Sensory play: add pine cones to the sand bin
Craft activity: decorate with pine cones
Play and learn: introduce interesting facts about pine cones with science activities
More pine cone activities from kid bloggers!


Pinecone Bats from Fireflies and Mudpies
Pinecone Winter Owls from Easy Peasy and Fun
Pinecone Pals from Sunshine Whispers
Pine Cone Science Experiment from Lemon Lime Adventures