Valentine Bean Bag Toss Game for Kids
A popular bean bag toss game can easily be set up with a Valentine theme. Recycled materials and a few basic craft supplies are all you need to get the fun started this Valentine's Day!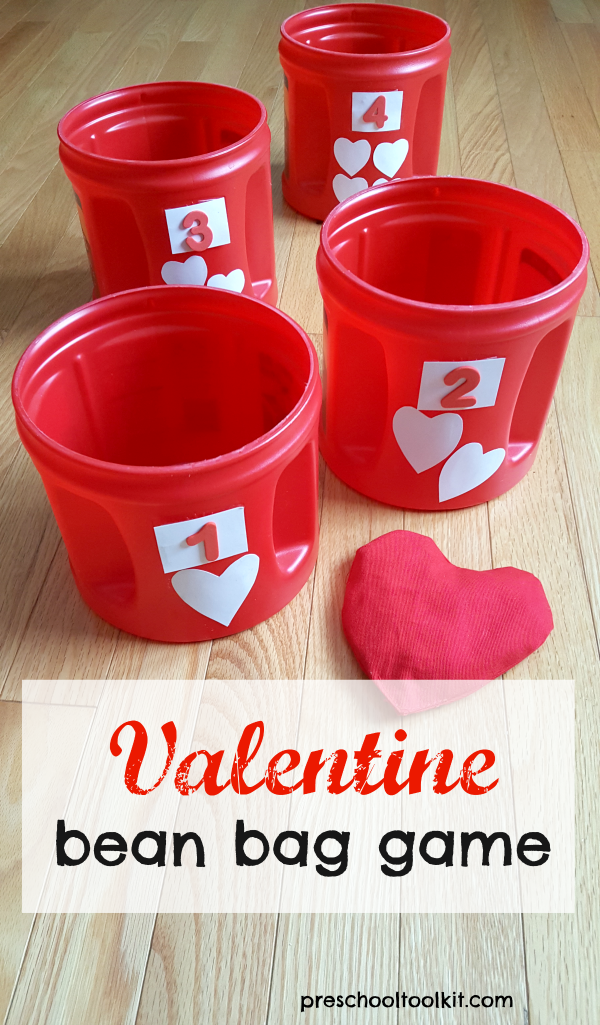 This post contains affiliate links. Privacy and Disclosure
It's fun to plan special games and activities for holidays and events, including Valentine's Day.
As excitement builds around this February holiday, it helps to keep activities in your toolkit that have easy set up and lots of play value. We've already had lots of fun with our lift-the-flaps game, so we're excited to share this simple bean bag game.
Valentine bean bag game
A game of toss challenges and entertains kids. They have lots of fun while learning through play.
This activity combines gross motor play with early learning skills such as number recognition and counting. Kids can help design and decorate the containers, then have fun tossing and collecting the bean bags.
Instructions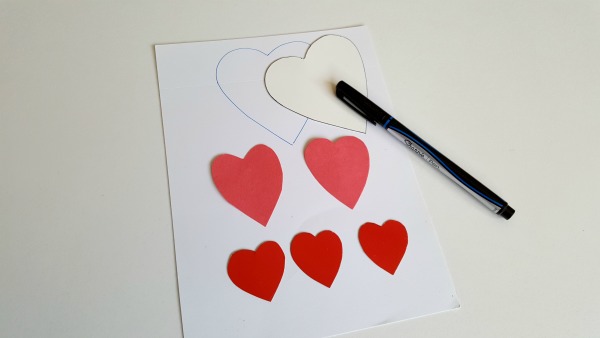 1. Trace heart shapes onto cardstock and cut them out.
You can use different sizes of heart shapes, or make them all the same size.
Kids can decorate the heart shapes with markers or stickers, or cut the hearts from colorful or patterned papers.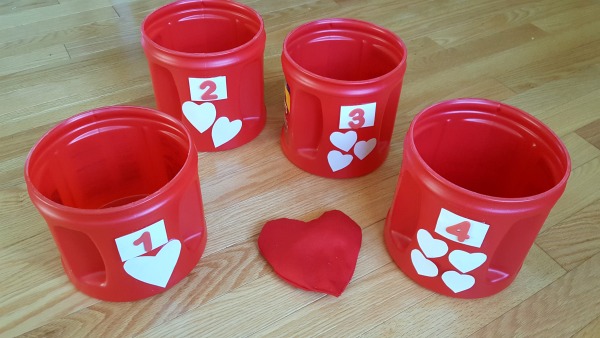 2. Recycle containers. We recycled Folgers red coffee cans for this activity because they were perfect for the Valentine theme, but you can easily cover any container with red construction paper.
3. Add a numeral to each can. We used foam self-adhesive numerals but you can also glue paper or foam numerals to the containers.
4. Glue the corresponding number of paper hearts to each can.
If you use different sizes of hearts, start a conversation about the placement of the hearts on the containers. Only one large heart shape can fit easily on the can, as seen on "1", but several smaller heart shapes can be used on "3" and "4".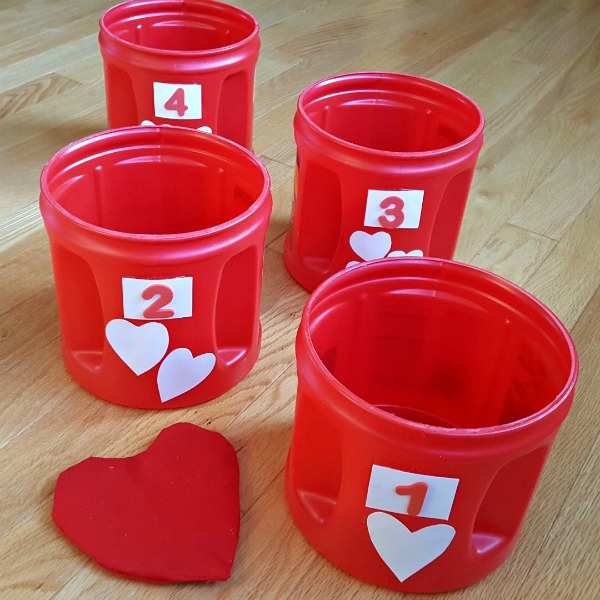 Now you're ready to play!
Place the containers on the floor in numerical order or mix them up!
Make wide circles with your arms before tossing a bean bag.
Toss high in the air; toss low to the ground.
Suggest movements for going to the containers to pick up the bean bags after tossing - hop on one foot, crawl, walk backwards, etc.

For added fun, use heart shaped bean bags you can easily make with this simple tutorial!
Kids will have fun playing this bean bag game as part of the Valentine's Day celebrations.
More bean bag games from kid-friendly bloggers.
10 Bean Bag Games to Play With Kids from Meaningful Mama
Bean Bag Auditory Processing Activity from Mosswood Connections
A Simple Bean Bag Game Your Preschoolers Will Love from Teach Preschool