How to Make a Glittering Foil Crown for Preschool Pretend Play
This glittering crown is easy for kids to make with foil. Preschoolers can wear this festive crown for pretend play, or for celebrating a special occasion such as New Year's Eve.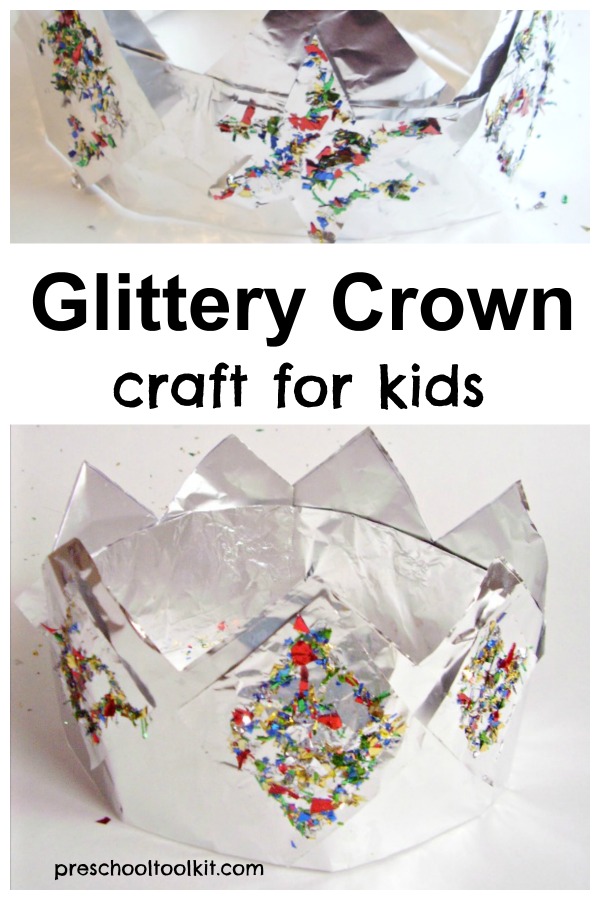 This post contains affiliate links. Privacy and Disclosure


Kids will love decorating a foil crown with sparkly 'jewels'. Make this glittering crown for pretend play or special events like New Year's Eve.
Biodegradable glitter is recommended for kids crafts. Plastic glitter is not eco-friendly. You can also use paper confetti in crafts.
You can buy confetti already cut, or use a hole-punch to create your own.
Kids activities with a crown
Costumes and other props inspire child-led pretend play, and support early learning skills.
This crown craft supports awesome imaginative play! A glittery crown is the perfect addition to a dress-up costume when role-playing kings and queens in a castle.


Wearing a shimmering crown makes and event like New Year's Eve even more special. Dressing up for the countdown is part of the excitement of this annual festivity.


Making a crown supports the development of kids' creative and fine motor skills. Kids can be creative making their crowns, planning designs and choosing decorations.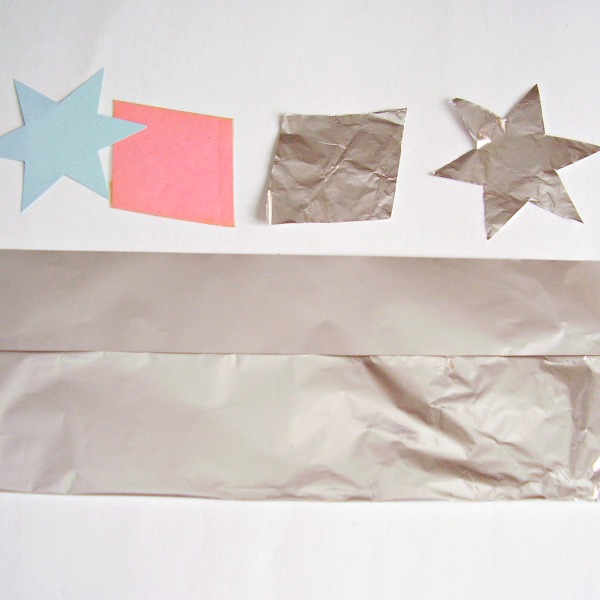 Instructions for a foil crown
1. Start with a piece of aluminum foil approximately 12 in. x 20 in. (30 cm x 51 cm), or long enough to fit comfortably around your child's head.
2. Fold the long side up about two inches, then fold over two more times. This will make a strong band for the crown. The top 2 - 3 inches will become the tips of the crown. (see below)
3. Trace shape cut-outs onto foil, and cut them out to make "jewels" to decorate the crown.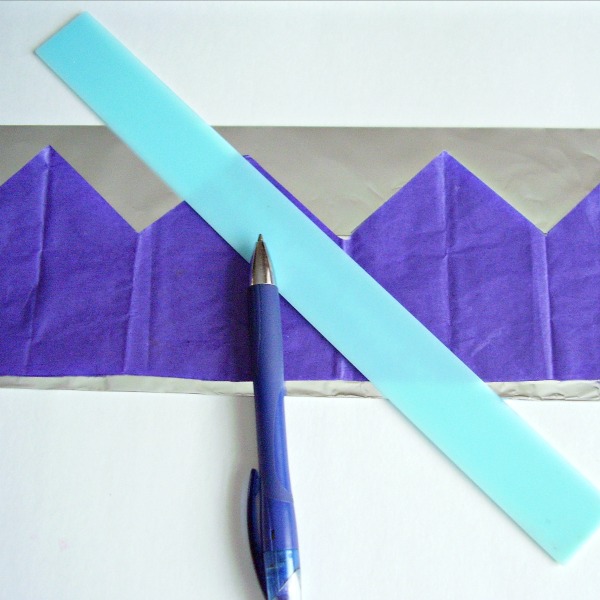 4. Transfer a pattern onto the foil for the tips of the crown, or draw them by hand.
My pattern is a paper crown that came in a holiday popper!


5. Cut out the pattern to form the top of the crown.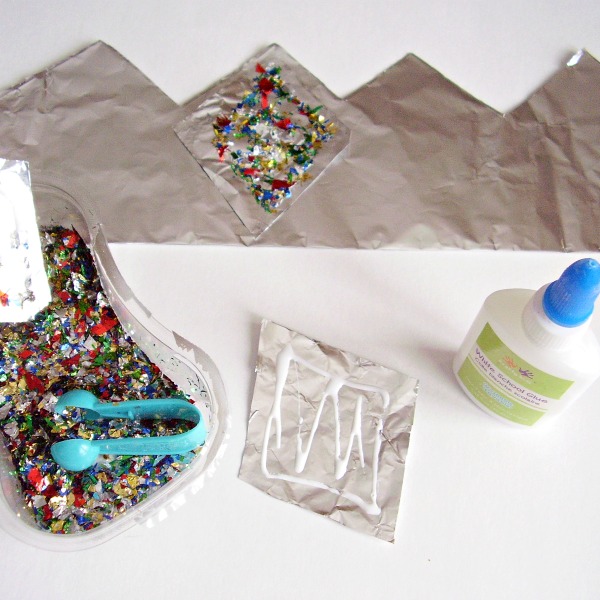 6. Spread glue on the foil shapes, then sprinkle confetti over the glue to make "jewels".
7. Glue the "jewels" to the outside of the band (the fold should be on the inside).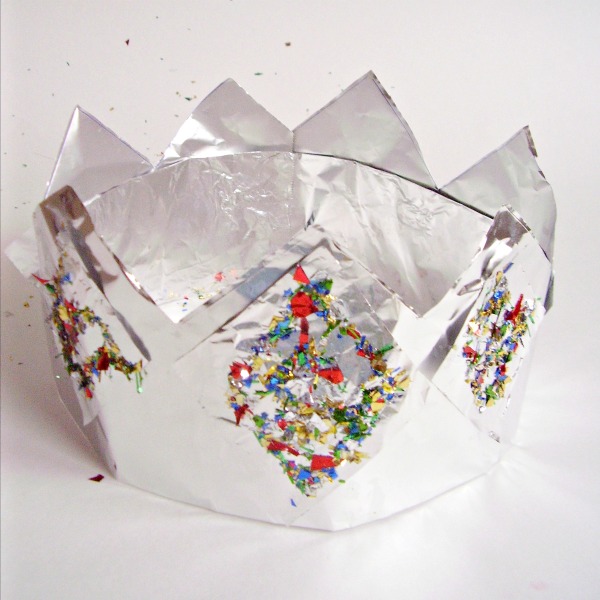 8. Tape the ends together and your glittery crown is ready for pretend play or a New Year's Eve celebration.
Add a cape, a blanket fort, a magic wand, or a broom-handle horse to the pretend play.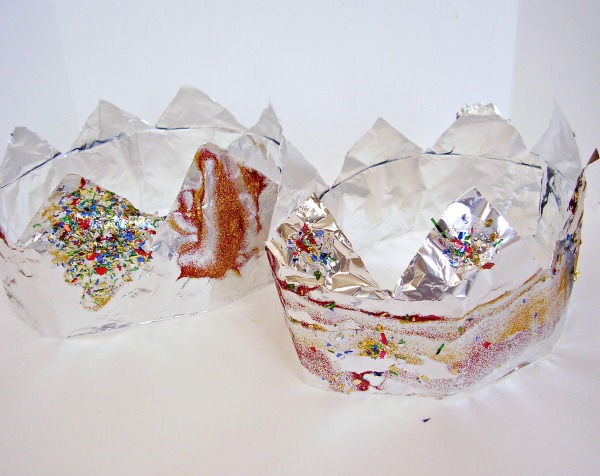 Here's a look at a couple of the crowns we made. The glitter was sprinkled directly on these crowns without the cut-out gems. The crowns were also decorated with glitter glue.
Allow kids to explore the materials and come up with their own unique ideas for making crowns!
Explore the possibilities with your child on our Pretend Play Pinterest board.
Celebrate the New Year with crafts and activities on our New Year's Activities Pinterest board.
More New Year's Eve family activities!
Make glittery Slime with a recipe from Little Bins for Little Hands.
Look for party hats, balloons and more with a Scavenger Hunt from Buggy and Buddy
The traditional Bingo game from Playdough to Plato has a festive touch for New Year's Eve.
What will the New Year bring? Explore together with a Musical Game from Let's Play Kids Music.
Look at back the year left behind with a Year in Review Questionnaire from The Resourceful Mama.