How to Make a Big Big Flower for a Pretend Play Garden
This flower painting activity is perfect for building big imaginations. Kids will love creating big, big flowers for a pretend play garden. Support fine motor skills and creative play with this fun painting activity.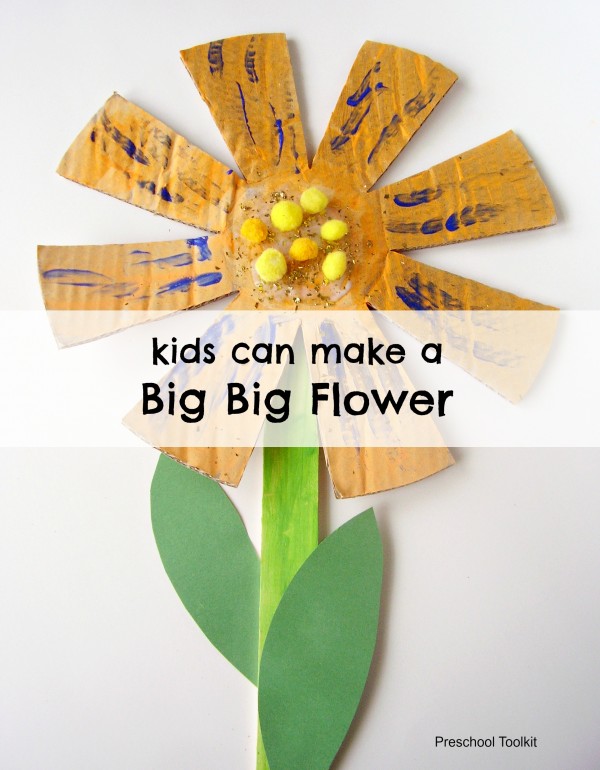 This post contains affiliate links. See our disclosure.
If you like to paint, this is one activity that provides lots of opportunity to do just that. A large piece of cardboard is a perfect canvas for kids to paint on. There's plenty of room to promote creativity and fine motor skills.
Big flower painting activity
To make a big, big flower you have to think big - big petals, big pollen and big leaves. In this activity, kids can easily do this with cardboard and paint and a big imagination!
The circle used for the flower in this tutorial is actually pre-cut packaging from a carton of dishes. The cardboard circles separated the plates in the box.
The pie-shaped cuts in the cardboard give the circle a 'flower' appearance, which sparked the idea for this project.
You can easily cut a similar shape from any large piece of cardboard.
Related: Beautiful Flower Crafts for Preschoolers
Supplies for making a big flower
Instructions for making a big flower
Petals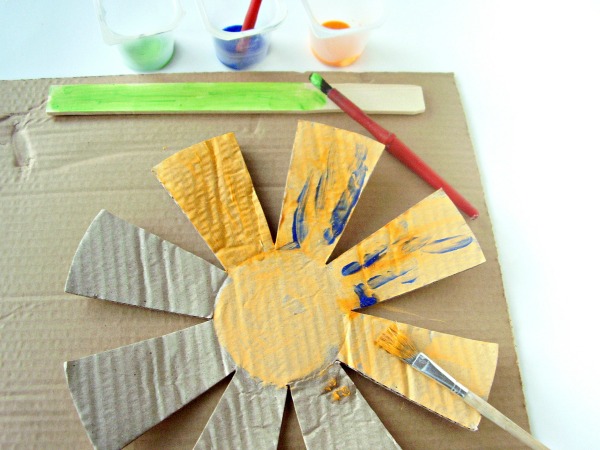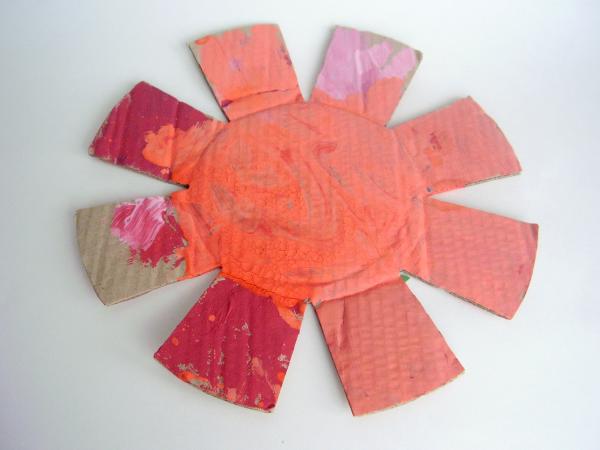 This painting activity requires ample work space. Spread a large drop cloth over the floor or table.
Provide paint in a variety of colors and watch the flowers begin to bloom.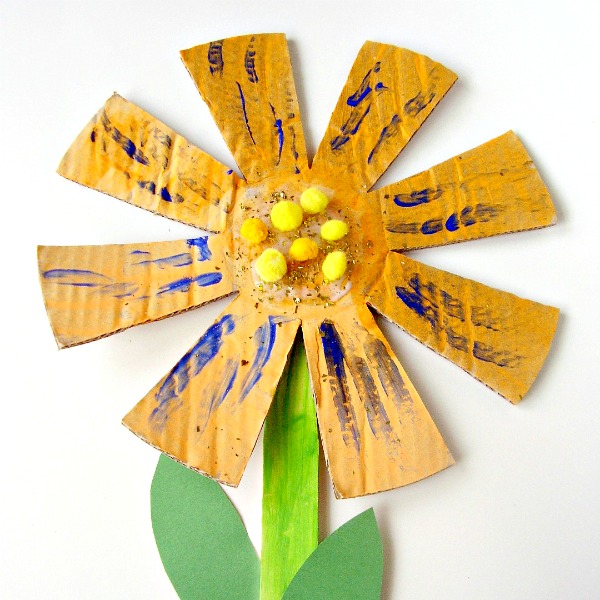 Stem
Paint a stir stick in a bright shade of green for the stem.
Glue the stem to the back of the flower petals.
Pollen
Spread glue in the center of the flower. Add glitter and pompoms to the glue.
We only had a few yellow pompoms so we dipped a couple white ones in yellow paint.
Leaves
Paint pieces of cardboard for the leaves or cut leaves from green construction paper.
Glue leaves to the stem.
Kids will have fun using their big imaginations to make big flowers.
Surprise family and friends with a big, big flower growing in your pretend play garden!
More flower crafts from kid-friendly bloggers!
Tissue Paper Flowers / The Kindergarten Connection
Pom Pom Flowers / The Best Ideas for Kids
Paper Flowers / Easy Peasy and Fun
Spring Flower Bouquet / iHeart Craft Things
Popsicle Sticks Flowers / The Resourceful Mama