Beautiful Flower Crafts for Preschoolers
Kids can have fun creating beautiful flower crafts any time of year. All our flower crafts are gathered together in one post so you can find exactly what you need for creative time at home or in the classroom.
This post contains affiliate links. Privacy and Disclosure
Flower themed crafts offer exciting opportunities for preschoolers to get creative. Beautiful flowers are fun to make in all shapes and sizes and colors.
Kids can create colorful blossoms in summer, heart-shaped petals on Valentine's Day, or pretty bouquets for Mother's Day.
This collection of flower crafts has ideas for these special times and much more, because flower crafts are fun any day of the year!
Flower crafts
The different seasons and special events throughout the year inspire a variety of flower themed crafts and activities.
These hands-on activities support fine and creative skills, along with planning, decision making, and identifying colors and shapes.
From paper gardens to gorgeous bouquets, have fun with these ideas for beautiful flower crafts.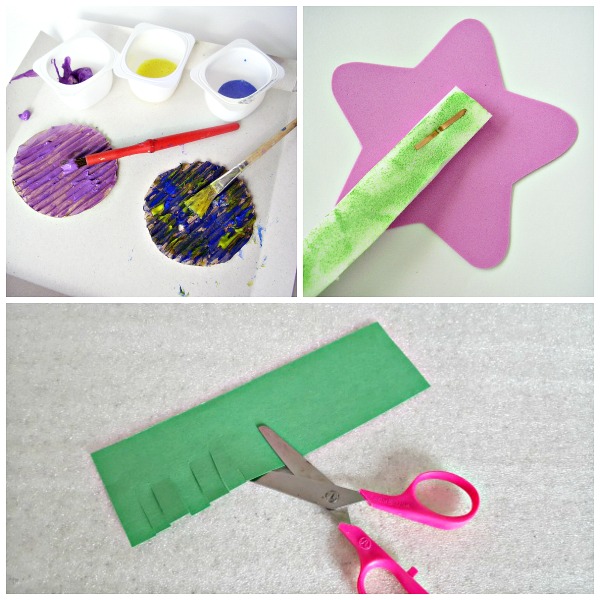 Tips for fun and easy crafting
Use materials you have on hand, make substitutions when necessary, and up-cycle and recycle whenever you can.


Keep materials to a minimum so kids aren't overwhelmed with options.


Allow kids freedom to engage hands-on with the materials with your support or guidance rather than with a lot of steps or instructions. This provides opportunities for everyone to make unique flowers!
Flower crafts provide opportunities for kids to engage hands-on with a variety of materials for sensory as well as creative experiences. Kids also benefit by exercising fine motor and language skills.
We're excited to share these fun activities.
Let's get started!


Flower crafts and activities on Preschool Toolkit blog
Corsage Craft with Artificial Flowers
Kids Can Make a Big Big Flower
Spring Flowers Made with Corrugated Cardboard
Easy for Kids to Make Mother's Day Bouquet
Spring Flowers Craft Using Foam Cutouts
Veggie Stamping Craft for Kids