Easy to Make Touch and Feel Book For Toddlers and Preschoolers
A touch and feel book is a creative way to engage kids sense of touch. This DIY project will provide an opportunity for kids to explore materials that are furry, scratchy and even spongy!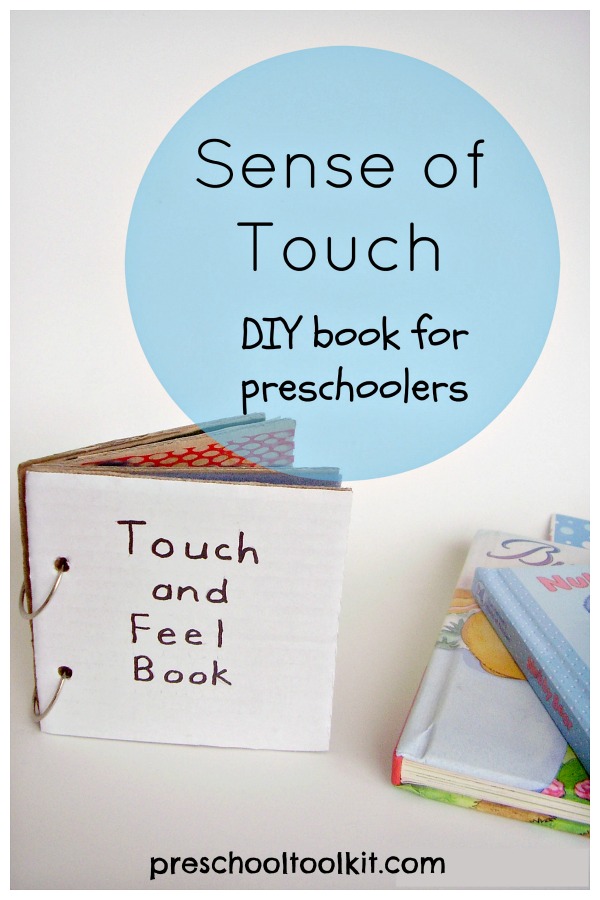 This post contains affiliate links. Privacy and Disclosure
DIY projects come in handy when you are looking for opportunities for kids to learn through play.
Homemade toys are often some of the most interesting ones on the shelf, with amazing play value.
This sense of touch book is an easy way to include a sensory experience in your child's daily activities.

TOUCH AND FEEL BOOKS to purchase online.
How to make a Touch and Feel Book
Kids have fun using all their senses as they explore the world around them.
You and the kids can make this little sensory book together for some interesting hands-on play.
Kids can help by exploring options to glue on the pages. They can also squeeze glue from a bottle or spread with a glue stick for more fine motor and sensory play.
Supplies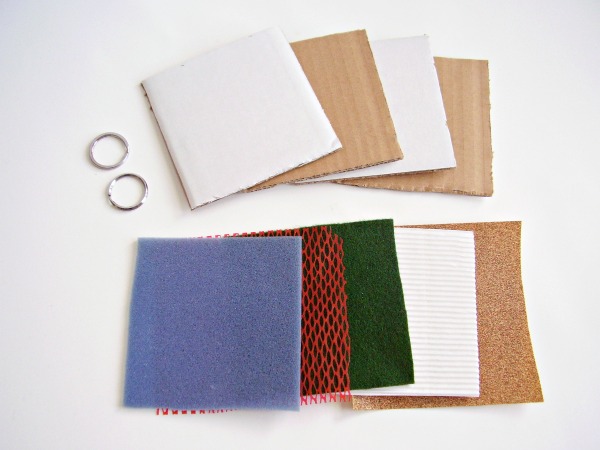 cardboard or card stock
metal rings
glue
fabric and textured paper
Use whatever fabrics and papers you have on hand. Here are a few suggestions:
sandpaper
corrugated paper
faux fur
felt
mesh
foam sheets
greeting cards with raised designs or glittery surfaces
Instructions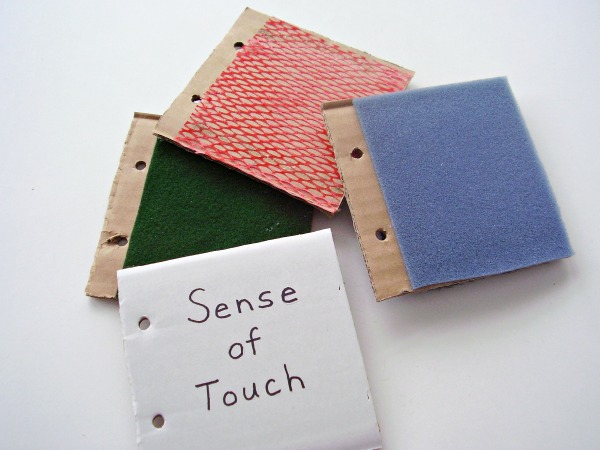 1. Cut pages from cardboard or poster board approximately 5 in. (12.5 cm) square.
2. Hole punch the inside edges.
3. Cut out pieces of textured paper and fabric in a size slightly smaller than the pages. Glue to cardboard pages.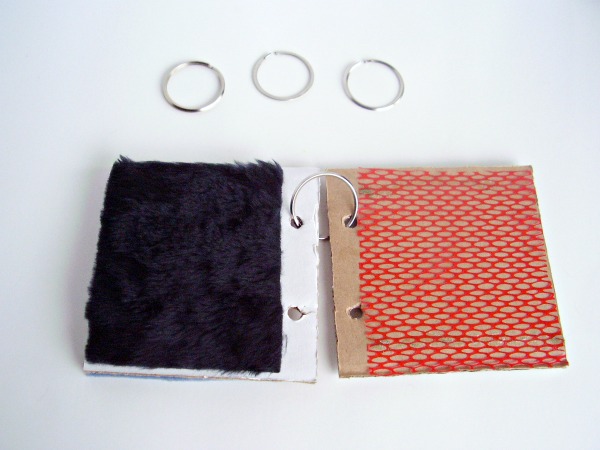 4. Insert rings to link the pages together.
I used a

split key ring

that I snipped in the middle with wire cutting pliers, allowing the key ring to fall into three individual rings.
Plastic snap rings
would be great as well. I was unable find them locally when I was doing this project but they can be purchased online.
Cutting the textured pieces slightly smaller than the book pages makes it easy to loop the rings through the holes.
Related: Explore different textures with this sensory walk activity or add pine cones to the sandbox for a fun sensory experience.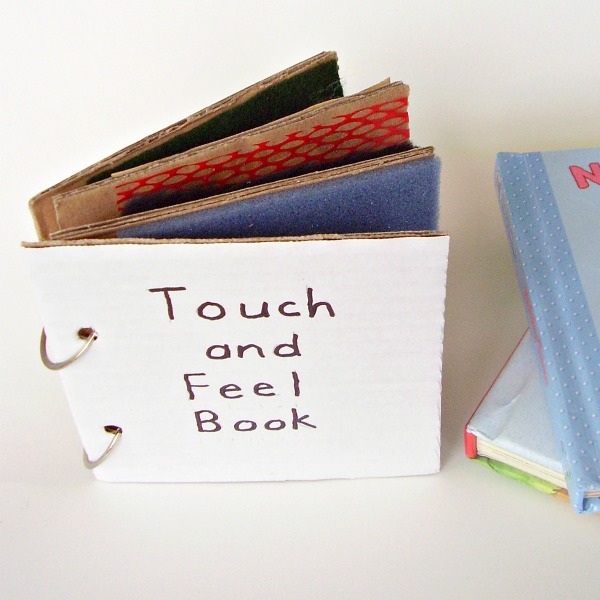 A book with a different texture on each page promotes observation, discovery and discussion.
Keep this handy resource within easy reach so it can be used over and over again.
Introduce words like scratchy, wiggly, spongy to support language skills.
Does this feel scratchy or spongy?
Are you wearing something that feels like this?
Which texture is your favorite?
Explore the sense of touch with more activities:
Learning about the Sense of Touch with Sandpaper from Gift of Curiosity
Sense of Touch Mystery Bag from A Mom with a Lesson Plan
5 Games Exploring Touch from Childhood 101
Exploring the Sense of Touch with Braille Alphabet from The Preschool Toolbox
Touch and Feel Alphabet from No Time for Flash Cards
Follow us on Facebook, Pinterest and Twitter.