How to Make a Fuzzy Little Caterpillar
This fuzzy caterpillar craft is perfect for kids who like making crafts a little bit silly. Promote fine motor and sensory play, along with pretend play, with this caterpillar activity.
This post contains affiliate links. Privacy and Disclosure
This activity combines a craft with pretend play. Kids make a fuzzy caterpillar with googly eyes that can wiggle and bend and act a little silly!
Silly crafts are fun and open-ended. With a bit of imagination you can create anything from a rainbow spider with googly eyes, to a bubble wrap fish with waving fins.
Fuzzy caterpillar craft
Caterpillars are cute and furry and move very slowly, so it's easy to observe them in their natural surroundings.
It's fun to watch a caterpillar as it creeps along a tree branch. You might even catch one being a little silly - bending in the middle to lift its head, or hanging upside down from a tree branch!
If you spot a caterpillar on a nature walk, encourage kids to observe without interrupting its natural environment.
Then recreate the caterpillar and its movements with crafts like this fuzzy one!
Supplies for caterpillar craft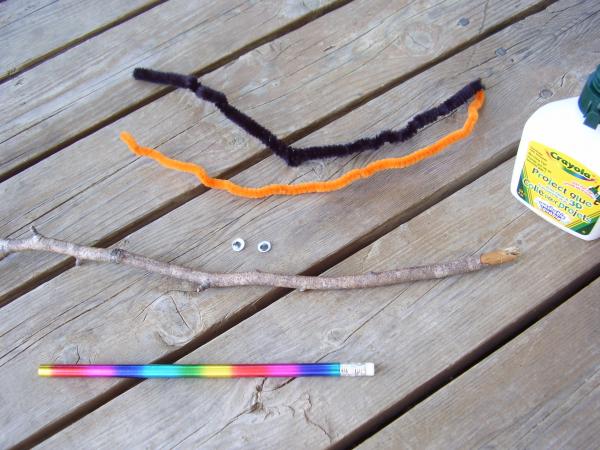 chenille stems
pencil or stick
craft eyes
glue
A chenille stem is the perfect material for making a caterpillar - it's soft and fuzzy and easily bends when it moves, just like a caterpillar.
Instructions for caterpillar craft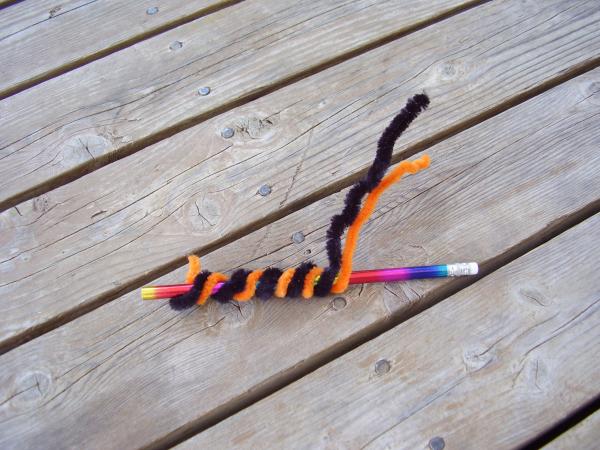 1. Wrap a chenille stem around a pencil or stick. Use one thick chenille stem, or wrap two chenille stems together to make colorful stripes.
You could also wrap the chenille stem around your finger to make the curls.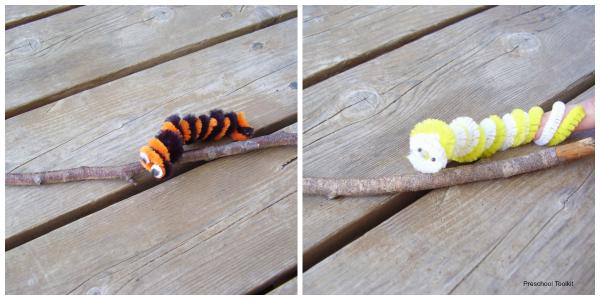 2. Slide the curled chenille stem off the pencil.
3. Glue craft eyes to the front of the caterpillar.
Puppet play
Slide the back end of the caterpillar onto your finger to use it as a finger puppet.
You can easily bend the chenille stem to form different poses. Make your caterpillar act a little silly by bending and wiggling your finger as your caterpillar crawls across a tree branch.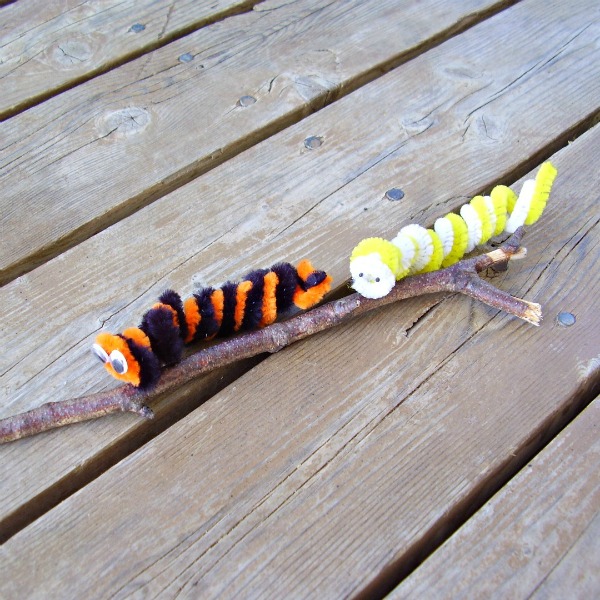 Make lots of silly little caterpillars in a variety of colors for a puppet show with your friends. See how silly your caterpillars can be as they wiggle and bend and nibble on tasty leaves!