How to Make a Reversible Felt Glove for Halloween Fingerplays
Make this reversible felt glove to provide attention-grabbing finger play with preschoolers. Add pumpkin or ghost cutouts to the felt glove for Halloween rhyming, counting, and singing with early learners.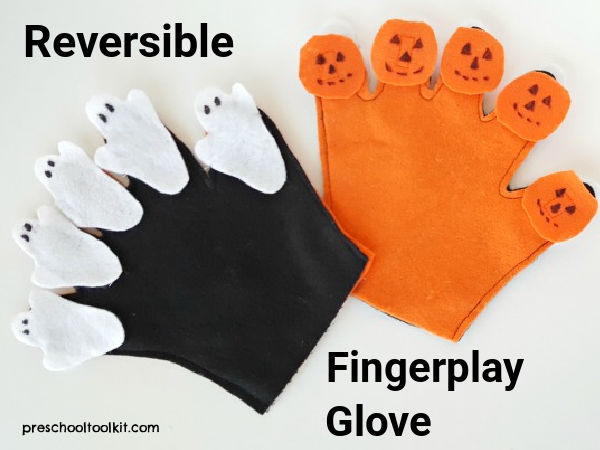 Privacy and Disclosure
for information on cookies and affiliates
What's a sure way to grab kids attention at circle time?
Finger play!
Simply lift your hands and twiddle your fingers to spark curiosity among your audience of early learners.
And what's a great addition to your finger play?
Simple props that highlight finger play movements, songs, and rhymes.
This homemade glove is one prop you can easily make to provide finger play in fun ways all year long.
A prop such as this felt glove adds interest to the words and movements, drawing and holding kids attention.
Grab some Halloween finger plays at the end of the tutorial!
This DIY is made with a Halloween theme. You can adapt it to any season or theme using different felt cut-outs.
DIY felt fingerplay glove
Finger play is an effective tool for building language and fine motor skills.
Kids are drawn to silly lyrics, repetition, countdowns, and hand and finger movements offered in finger play.
Simple rhyming and a singsong tempo contribute to the ability of kids to remember and repeat verses or a chorus.
A felt glove is a valuable tool to have in your toolkit. It is durable, colorful, versatile enough to adapt to seasons or circle time themes.
A fingerplay glove provides opportunities to engage kids in meaningful ways at circle time including:
attracts kids attention
contributes to sensory experiences with color and texture
encourages engagement and participation
highlights or extends a theme
provides learning through play
This simple tutorial shows you how to prepare a fingerplay glove without a printed pattern. It can be sewn by hand or on a sewing machine.
Supplies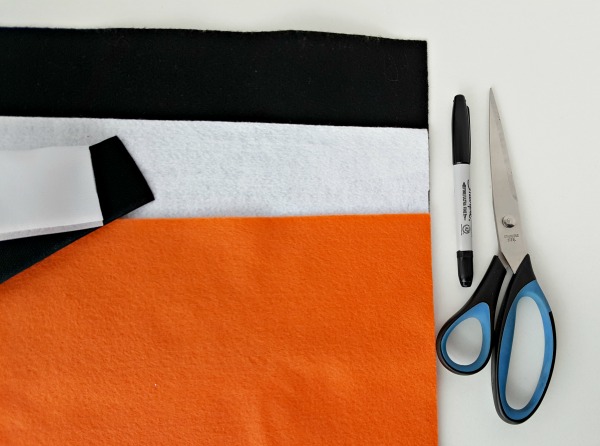 Felt - orange, white and black
hook and loop closure
permanent marker
scissors
Instructions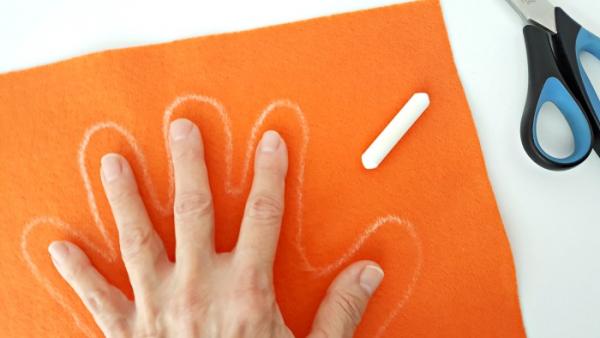 Step 1. Trace hand.
Trace your hand onto a piece of orange felt with chalk.
Make the outline larger than your hand to allow for sewing seams.
Repeat with black felt.
Cut out the felt hand shapes.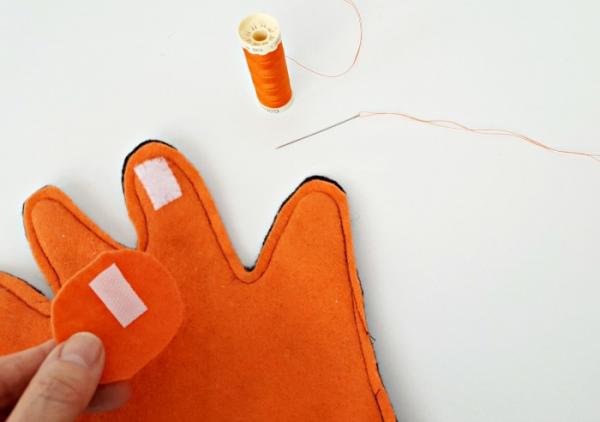 Step 2. Sew cut-outs together.
Stitch the orange and black hand cut-outs together.
I used the sewing machine for this step but you can also sew by hand with a blanket stitch or straight stitch.
Step 3. Attach hook and loop.
Secure one side of hook and loop closure to a finger of the glove, and the other side to the felt cut-out.
I used sew-on Velcro and stitched each piece by hand.
You can sew non-adhesive hook and loop closure on the sewing machine if preferred, before you sew the two hand cut-outs together.
Alternatively you can use self-adhesive dots or strips of hook and loop closure.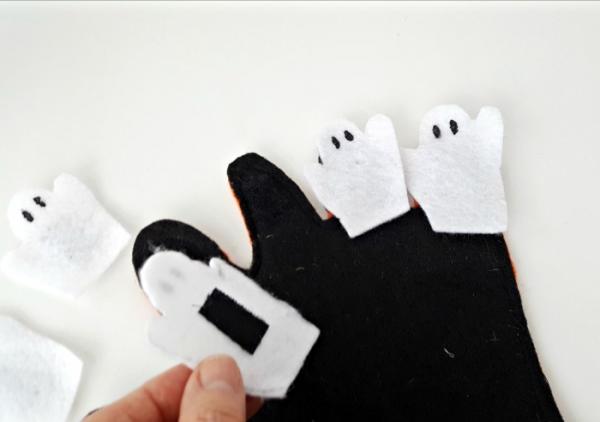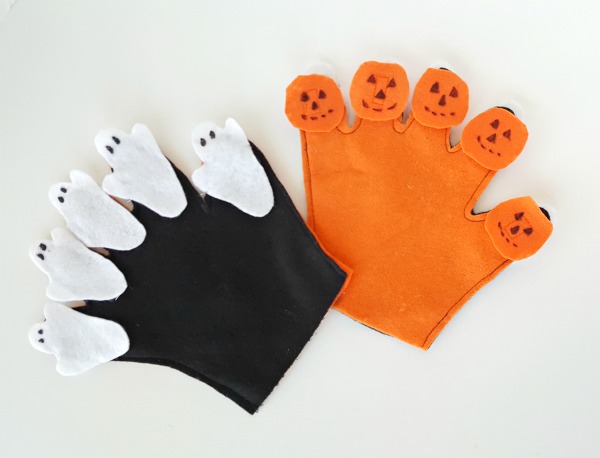 If you look closely you can see the outline of the sewing machine stitch on three of the jack-o-lanterns, around the nose area. I stitched these cut-outs onto the orange felt fingers before sewing the two felt hands together.
I chose to sew most of the hook and loop closure by hand after the gloves were sewn together, although it's more time consuming process.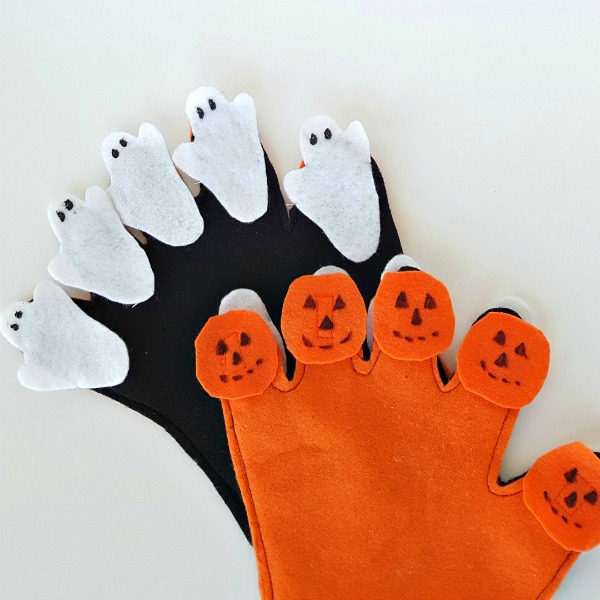 A simple prop like a felt glove is great way to engage kids at home or in the classroom.
Wear a glove on one hand to invite kids to circle time.
Draw attention to an activity with a song or finger motion.
Support basic math skills with countdowns and rhymes.
Encourage kids to copy motions with their hands and fingers.
When doing fingerplay, you can bend and raise each finger to hide and reveal the cut-outs, or you can remove a cut-out completely from the hook and loop attachment.


Circle time fingerplays
Ghost finger plays
5 LITTLE GHOSTS
5 little ghosts came knocking at my door.
1 flew away and then there were 4.
4 little ghosts came to play with me.
1 flew away and then there were 3.
3 little ghosts came to say 'Boo!'
1 flew away and then there were 2.
2 little ghosts came for Halloween fun,
1 flew away and then there was 1.
1 little ghost said "I'm the only one."
So he flew off with his friends and then there were none!
5 Little Ghosts Singing and Storytelling - The Preschool Toolbox
5 Little Ghosts and No-Sew Puppets - Kids Activities Blog
5 Little Ghosts and Footprint Puppets - Toddler Approved
5 Little Ghosts Puppet and Fingerplay - Mama Smiles
Pumpkin finger plays

5 LITTLE PUMPKINS
1 little pumpkin is looking at you
Here comes another one and now there are 2.

2 little pumpkins are looking at me.
Here comes another one and now there are 3.
3 little pumpkins are sitting on the floor.
Here comes another one and now there are 4.
4 little pumpkins we've seen arrive,
Here comes another one and now there are 5.

5 little pumpkins are a marvelous sight,
Dressed up like jack-o-lanterns on Halloween night.
5 Little Pumpkins Sitting on a Vine - The Preschool Toolbox
I Can't Wait for Pumpkin Pie - Preschool Powol Packets
5 Little Pumpkins Feelings Rhyme - jDaniel4'sMom


Awesome hands-on activities for kids!