Awesome Outdoor Play Tree Puzzle
Build a puzzle from a tree trunk in this fun nature activity for kids. You can easily combine the love of puzzles and outdoor play with this awesome sensory and math play.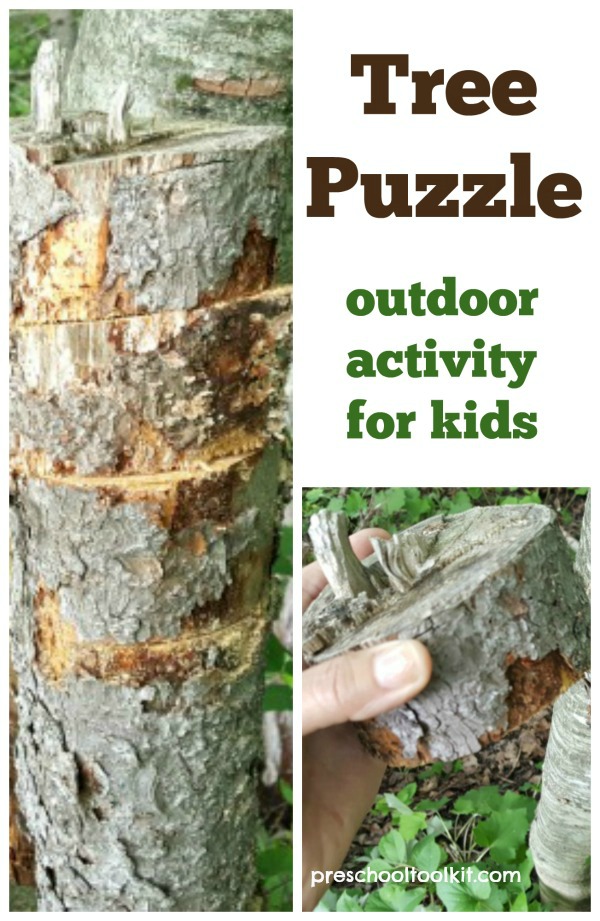 This post contains affiliate links. Privacy and Disclosure
Kids love making puzzles in all shapes and sizes, and they also love outdoor play. An activity that combines the two is sure to be a hit with grownups and kids.
In this outdoor activity, a tree trunk can be used to make a life-sized nature puzzle.
Books about trees
Tree trunk activity


Outdoor play can include everything from backyard games or a trip to the local playground, to seasonal activities like snowball games in winter, or a pine cone trail in summer.
Engaging kids in creative outdoor experiences helps build developmental skills while having fun in natural settings.
Our tree puzzle provides outdoor fun with STEAM along with fine motor and sensory play.


See how the principles of STEAM apply in this activity at the end of the post.


STEAM = Science+technology+engineering+art+math
How to make a tree puzzle!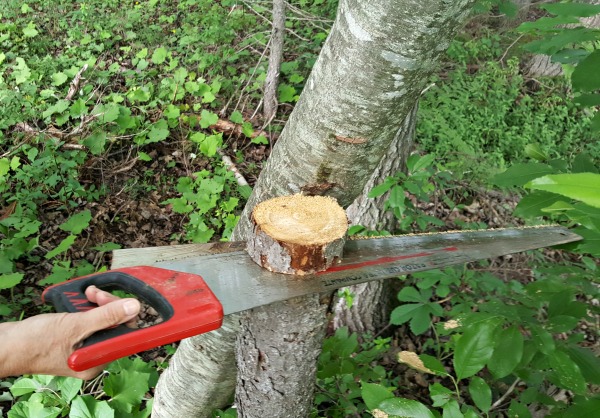 This tree stump in our backyard is what remains from a fallen spruce tree. It is roughly waist height and measures 5 inches (12 cm) in diameter.
We cut three 2 inch (5 cm) sections from the tree stump. You don't need many sections (it's hard work cutting through the trunk!). Any number of pieces will spark curiosity in your early learner.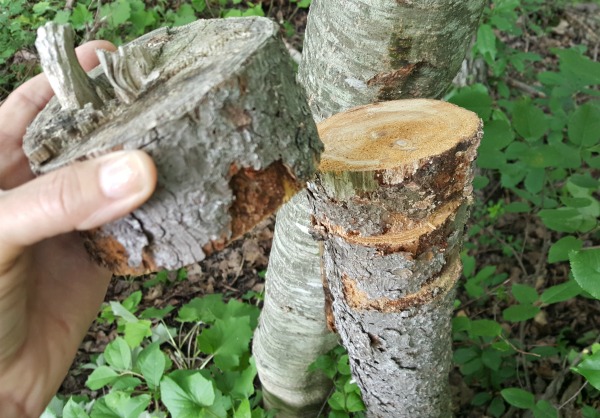 Once you have the puzzle pieces, place them on the tree stump in the original order.
Use characteristics of the tree stump to identify the order: the slant of the cut; the broken bark; the light and dark color of the wood.
You can also mark the sides of the trunk and each piece with black marker in order to place the pieces back in their original positions.
Here's a short video showing how we put the puzzle together!
Outdoor activity building a puzzle from a tree trunk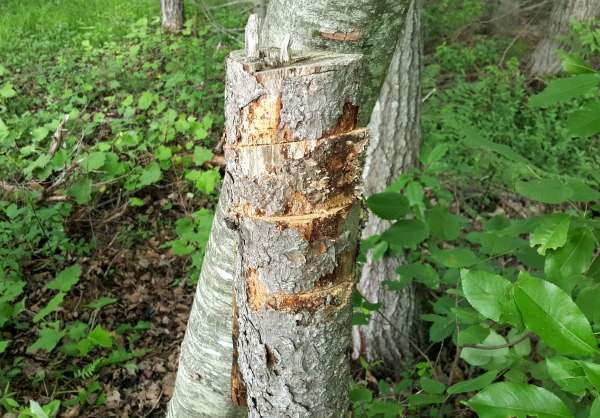 Examine the tree trunk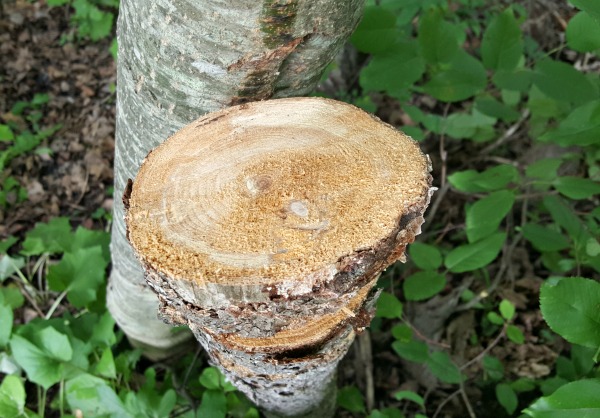 With the tree trunk cut into sections, this is a good time to explore the properties of the tree.
1. Look at the rings and trace them with a finger.
2. Peel off some bark.
3. Smell the fresh cut wood.
Use all your senses to explore the tree!
This tree puzzle is an awesome way to explore nature and have fun measuring, matching, and stacking!
Exciting resource for kids STEAM activities
STEAM KIDS 50+ activities for kids!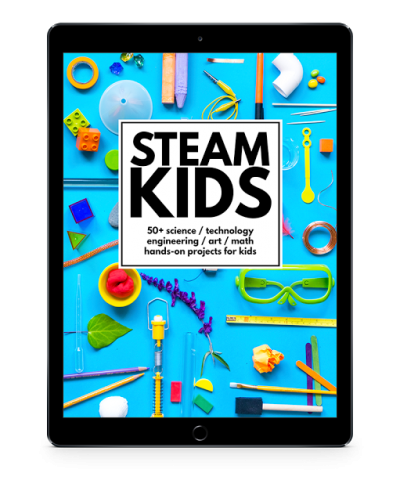 How STEAM is used in this outdoor tree puzzle activity
science = observing the rings of tree trunk
technology = using a saw
engineering = choosing tree stump; planning placement and slant of cut
art = observing colors and textures of the wood
math = counting and measuring wood pieces; matching patterns
Puzzles are a great addition to early learning programs. They can be used for quiet times at home or transition times in preschool. They provide opportunities for one on one time with your child, or learning activities for younger kids while you homeschool older kids.
Kids love puzzles for the repetition and recognition that come with doing a puzzle over and over, as well as for the fun of completing a picture or shape.
We love that puzzles are a great learning activity, building developmental skills such as critical thinking and creativity, and providing fine motor play.
The puzzles we make use recycled or household items so there is little or not cost, and items are readily available.
Here are some of the puzzles we've made using simple materials.
Painted Wood Blocks Puzzle
More puzzles kids can make
Rainbow Craft Stick Puzzle / Powerful Mothering
Cereal Box Puzzle / Kids Activities Blog
Homemade Name Puzzle / Happy Hooligans
More fun on our Math and Science Pinterest boards!