Pretty Lace Butterfly Craft for Preschoolers
A lace butterfly is a fun craft to add to a summer theme with kids. This pretty butterfly is made with just two craft materials and can be used as a finger puppet, a table decoration, or even a bracelet!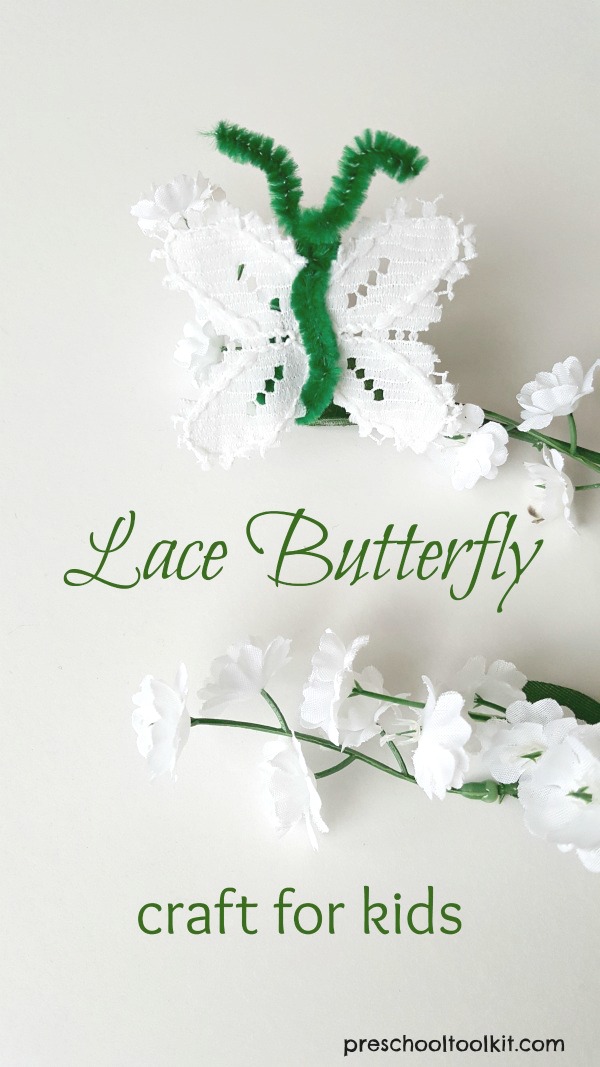 This post contains affiliate links. Privacy and Disclosure
Butterflies may only be seen fluttering through gardens in spring and summer, but they are fun to explore any time of year! These little insects are fun for kids to research in natural environments as well as in books, and to make in arts & crafts sessions.
Making butterflies can be easy and fun using simple instructions and lots of different materials. We've made butterflies with clothespins, others with felt fabric, and even some with leaves!


Here are a few ways to add butterflies to your spring theme:


Lace butterfly craft
Butterfly crafts are a great way to add creativity and hands-on exploration to your study of butterflies. There's lots of opportunity in this lace butterfly craft to use your imagination.
This pretty butterfly needs only two materials to get started - lace trim and a chenille stem or pipe cleaner.
Instructions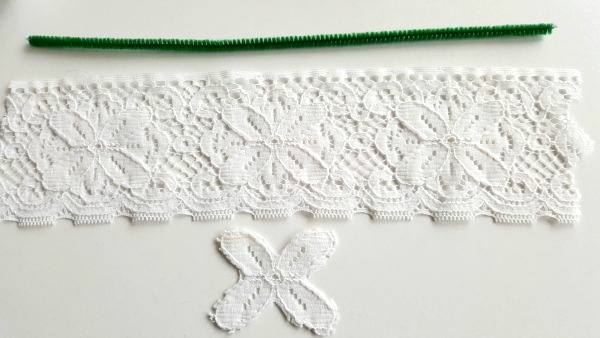 1. Cut out a section of the cotton trim that will become your butterfly wings.
2. Choose a color and thickness of chenille stem for the body of the butterfly.

Step 1 Step 2 Step 3
3. Bend the chenille stem in half and place around the butterfly cutout, leaving more length toward the bend.
4. Twist the shorter ends at the top together to form antennae; twist the longer end close to the lace cutout to secure the body of the butterfly and form a circle.
5. Bend the chenille stem circle toward the back of the butterfly. The circle can be used three ways:
as a stand to support the butterfly as it sits on a table
as a loop to go around your fingers for a finger puppet
as a bracelet to slip onto your wrist
If the chenille stem loop is not long enough to make a bracelet, you can easily add more length to the original chenille stem before twisting.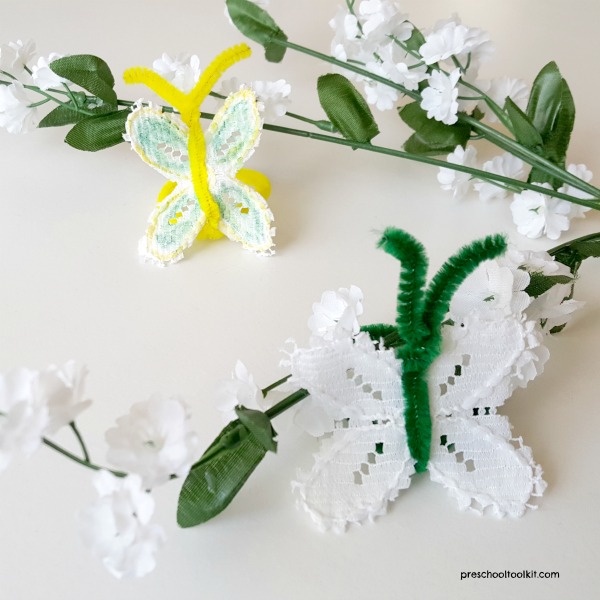 You can be creative with your butterflies. Decorate the wings with markers. Spread glue on the wings and add glitter or sequins.
It's fun to watch colorful butterflies in the spring as they spread their wings and flutter gently, or dart quickly, through the air. Kids can make their handmade butterfly puppets soar up and down through the air too!